Development Zone
Get flash to fully experience Pearltrees
Developing good habits is the basic of personal development and growth. Everything we do is the result of a habit that was previously taught to us. Unfortunately, not all the habits that we have are good, that's why we are constantly trying to improve.
Personal development can affect all aspects of your life, from controlling your negative thoughts to gaining the self-confidence to excel at work.
Image by kalandrakas ( license ).
Need a place to find the best self-improvement blog posts ever? One big list of inspiring geniuses?
Entertainment
Post written by Leo Babauta . Follow me on twitter . This is something I've been wanting to write for some time — a Handbook for Life.
Recently, I discussed the value of investing in yourself – putting time and money into improving you , not building assets. Today, we'll look at one area of investing in yourself as part of an ongoing series on the topic, spread out once per weekday over two weeks.
Success is liking yourself, liking what you do, and liking how you do it. – Maya Angelou To create the success you are seeking takes effort and it takes action. What keeps many of us from realizing the lasting success we desire is in not understanding what actions to take; so we don't take any action.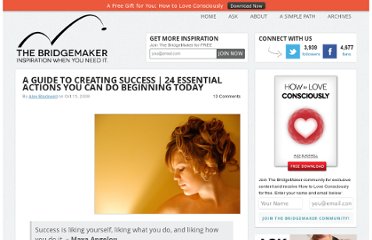 by Henrik Edberg Is truth stranger than fiction?