Health & Beauty
Dear 16-year-old Me. Wedding Ideas: The Rustic and Vintage Wedding. According to TheWeddingReport.com, 'Rustic Weddings' are the new trending wedding theme!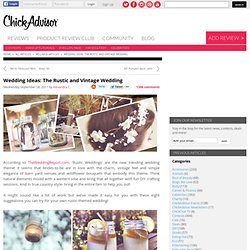 It seems that brides-to-be are in love with the charm, vintage feel and simple elegance of barn yard venues and wildflower bouquets that embody this theme. Think natural elements mixed with a western vibe and bring that all together with fun DIY crafting sessions. And in true country style- bring in the entire fam to help you out! It might sound like a lot of work but we've made it easy for you with these eight suggestions you can try for your own rustic-themed wedding! Gorgeous Manicure Tips. Hands can tell a lot about your personality and they are always forward.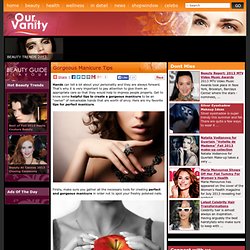 That's why it is very important to pay attention to give them an appropriate care so that they would help to impress people properly. Get to know some helpful tips to create a gorgeous manicure to be an "owner" of remarkable hands that are worth of envy. Here are my favorite tips for perfect manicure. Firstly, make sure you gather all the necessary tools for creating perfect and gorgeous manicure in order not to spoil your freshly polished nails. How-To: The Cascade/Waterfall Braid. The waterfall braid also known as the cascade braid recently exploded as the new "trend braid" of the season.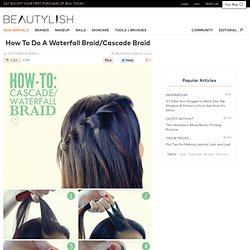 The waterfall effect looks cool and complex, but it's easier to style than you think. Give this beautiful braid a try when Beautylish takes you through the how-to! How to: pore strips. You know those Biore pore strips you buy at the drugstore for about $12 a pop? Yeah, those. Today I'm going to teach you how to make your own homemade pore strips. Why? Because: CalorieConnect.com. Water Marble Tutorial. Supplies: orange stick or... Water Marble Tutorial.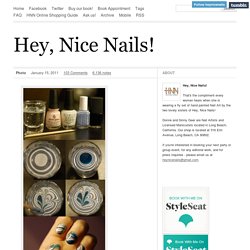 Supplies: orange stick or toothpick, shot glass or cup (the smaller the circumference, the less polish you end up wasting), room temp. water, nail polish, tape (optional, but it helps with the clean up) I like to begin by prepping my nails with base coat and one coat of polish. Here I used China Glaze Innocence for a nice neutral base.
Steps: Exercise & Muscle Directory. Professional Pedicure with 6-step|Beauty Tips. Professional Pedicure learn some good steps and information about Professional Pedicure and pretty feet.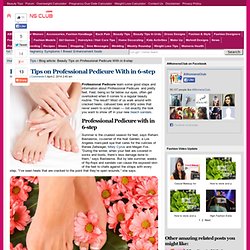 Feet, being so far below our eyes, often get overlooked when it comes to a regular beauty routine. The result? Most of us walk around with cracked heels, callused toes and dirty soles that never seem to scrub clean — not exactly the look you want to show off in your new beach sandals. Summer is the cruelest season for feet, says Reham Bastawros, co-owner of the Nail Garden, a Los Angeles mani-pedi spa that cares for the cuticles of Renee Zellweger, Miley Cyrus and Megan Fox. "During the winter, when your feet are covered in socks and boots, there's less damage done to them," says Bastawros. 8 Beauty Secrets Stars Don't Want You to Know. These beauty secrets are surprisingly inexpensive to do at home!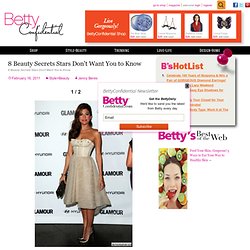 -Jenny Beres Besides surgery and Botox, there's got to be something we're missing. Secrets that celebrities use to keep themselves award-show ready, knowledge that we'd all love to get our hands on! I mean, how does Eva Mendes look so fabulous all the time? We did some research and found that occasionally someone lets a valuable piece of beauty advice out of the bag. Bra Size: 5 Signs You're Not Wearing the Right One. I recently went for a professional bra fitting by the lovely ladies of Wacoal.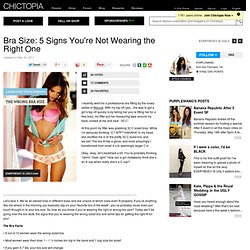 With my top off (yes…the way to get a girl's top off quickly is by telling her you're fitting her for a free bra!) , my fitter put her measuring tape around my back, looked at me and said: "32 C". At this point my fitter was grabbing 32 C sized bras. While I'm seriously thinking "C? How to Make Your Breasts Beautiful with Exercises | Sports & Fitness - Geniusbeauty.com: Magazine for Beautiful Women. As centuries pass by, the standards of a beautiful bosom have changed for a number of times, today an ideal bust is considered the one with a shape that remains the same no matter what movements your body performs.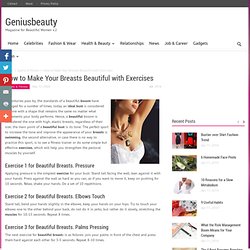 Hence, a beautiful bosom is considered the one with high, elastic breasts, regardless of their size; the main point of a beautiful bust is its tone. The perfect sport to increase the tone and improve the appearance of your breasts is swimming, the second alternative, in case there is no way to practice this sport, is to see a fitness trainer or do some simple but effective exercises, which will help you strengthen the pectoral muscles by yourself. Exercise 1 for Beautiful Breasts.
---