Distros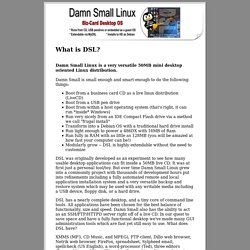 Damn Small Linux is a very versatile 50MB mini desktop oriented Linux distribution.Damn Small is small enough and smart enough to do the following things: Boot from a business card CD as a live linux distribution (LiveCD)Boot from a USB pen driveBoot from within a host operating system (that's right, it can run *inside* Windows)Run very nicely from an IDE Compact Flash drive via a method we call "frugal install"Transform into a Debian OS with a traditional hard drive installRun light enough to power a 486DX with 16MB of RamRun fully in RAM with as little as 128MB (you will be amazed at how fast your computer can be!)Modularly grow -- DSL is highly extendable without the need to customize DSL was originally developed as an experiment to see how many usable desktop applications can fit inside a 50MB live CD. It was at first just a personal tool/toy.
Welcome to Backtrack-Linux.org, home of the highest rated and acclaimed Linux security distribution to date. BackTrack is a Linux-based penetration testing arsenal that aids security professionals in the ability to perform assessments in a purely native environment dedicated to hacking. Regardless if you're making BackTrack you Install BackTrack, boot it from a Live DVD or thumbdrive, the penetration distribution has been customized down to every package, kernel configuration, script and patch solely for the purpose of the penetration tester. Note: BackTrack Linux is no longer being maintained. Please check www.kali.org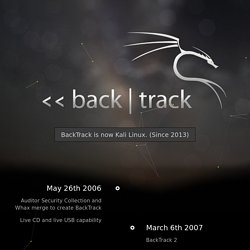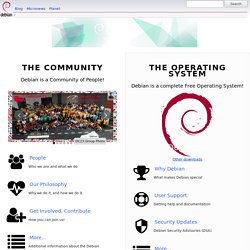 Download Debian 7.4(32/64-bit PC Network installer) Debian is a free operating system (OS) for your computer. An operating system is the set of basic programs and utilities that make your computer run.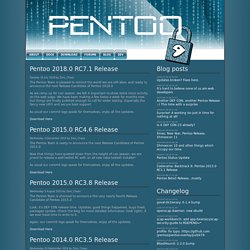 Pentoo
Friday 09 March 2013 by Zero_Chaos The Pentoo Team is tickled to death to announce the first Release Candidate of Pentoo 2013.0 After four grueling months of holidays, and parties (and enjoying Shmoocon 9 a little too much) we have some amazing results that simply must be shared! As usual all tools are updated and all major bugs addressed.