Graffiti
LDN. London Street Art, documented.
There are many forms of diverse Street Art around London. Here is a small selection of some exemplary work found around the capital. Street Artists A-Z LDNGraffiti has had an overhaul and painstakingly searched the database to create a set of 'A-Z' listings of Street Artists found in and around London... Banksy vs Team Robbo - Updated: 23/02/2014 On 19/12/2009 Street Artist Banksy adapted a piece of graffiti painted in 1985 by London Graffiti Pioneer Robbo.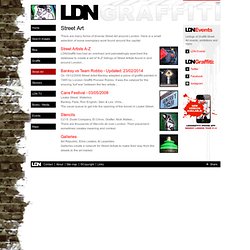 somewhereto_ in association with Project Platform are launching an illustration pop-gallery called 'Pen&Ink' at the One By One store in Soho, private viewing this Friday 4 April 2014, 7pm – 10pm. Providing a unique platform combining fashion, design and illustration culture, 'Pen&Ink' highlights the young emerging talent making shapes on the art scene today, giving […] The Lurkers have just released a super limited run of tshirts with their logo on. Available in Medium, Large and XL, they cost £25 a pop and are available now – grab yours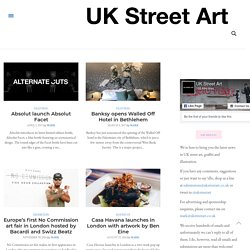 NEW YORK CITY TRAINS, MID '80s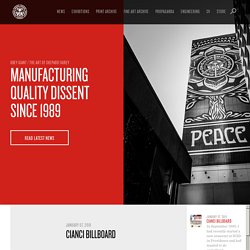 50 Shades of Black Box Set Accompanying the artworks featured in the upcoming 50 Shades of Black opening, Shepard Fairey has created a limited edition box set with screen prints of each of his 50 new album cover designs inspired by the 12-inch record cover format. The 50 Shades of Black box set is the largest number of images to date and is a work of art itself!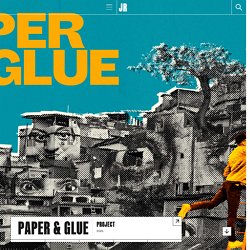 JR was recently invited by the New York City Ballet to create a large-scale art installation, in collaboration with the dancers of the Company, for their 2014 Art Series. His work will be on view at three special New York City Ballet Art Series performances on January 23rd, February 7th and February 13th, where all tickets are priced at $29, and all audience members will receive a limited edition commemorative piece. Performances will go on sale to the public on January 6th, however, JR's friends and followers have access to a special allotment of seats (limit 4/performance) for advance purchase starting now, through this Sunday January 5th at 12PM (EST), using the special code 99PRINTS on nycballet.com/artseries .