Graffiti
OaKoAk. LDN. London Street Art, documented. There are many forms of diverse Street Art around London.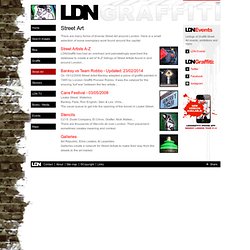 Here is a small selection of some exemplary work found around the capital. Street Artists A-Z LDNGraffiti has had an overhaul and painstakingly searched the database to create a set of 'A-Z' listings of Street Artists found in and around London... Banksy vs Team Robbo - Updated: 23/02/2014 On 19/12/2009 Street Artist Banksy adapted a piece of graffiti painted in 1985 by London Graffiti Pioneer Robbo. UK Street Art | Exhibitions, prints, interviews and news. NEW YORK CITY TRAINS, MID '80s. Keep Calm Gallery.
JR's TED Prize wish: Use art to turn the world inside out. OBEY GIANT - WORLDWIDE PROPAGANDA DELIVERY. New York City Graffiti @149st. OSGEMEOS. JR Art - Photographe. Banksy. Roa's Work.
---