FunGenerators
Unusual (and fun!) Date Ideas. NetflixIG.jpg (JPEG Image, 2400x1600 pixels) - Scaled (44%) Dear blank, please blank. Brain Pickings. PSFK - the go-to source for new ideas and inspiration for creative professionals. TED: Ideas worth spreading. PonderAbout. Zeno's "Paradox of the Arrow" passage from Biocentrismby Robert Lanza M.D.Related Posts:The Paradox Of The Infinite CircleThe Liar ParadoxThe Barber Paradox Tags: paradoxes Posted in Time Comments It's just an exercise in logic by an ancient philosopher.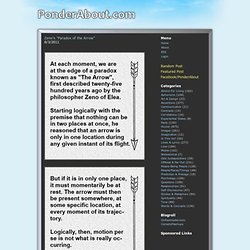 GoodMorning GoodNIght. 12:16pm | Jun 20th, 2010 "Love is a temporary madness; it erupts like volcanoes and then subsides.
And when it subsides you have to make a decision.
---