Templates & Examples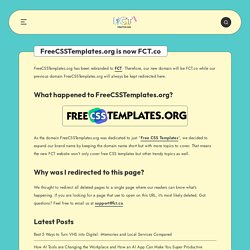 Latest Free CSS Templates Below are the 12 newest CSS templates. You can also browse all CSS templates. About FreeCSSTemplates.org First of all, welcome to our site :) Here you'll find a number of free CSS templates we've created, all of which are:
Realizare site restaurante si alimente - model 1175
Free Web Layouts
Template designers We have quite a few staff positions open, we only need template designers... You don't need a lot of experience, we just need intermediate designers who can work somewhat fast. You will be paid according to what you do, payments are sent to staff once a week, if your interested contact us and send 3 designs.
Free Web Design Community - Browse designs
Free Web Design Community is a place to download and share free web design templates. Please register if you would like to contribute, otherwise just browse through our collection. All designs are based on XHTML/CSS and validated to be standards-compliant. We are grateful to: Build a Website Builder using iBuilt. 9531 views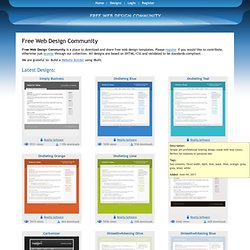 Free Web Design Community - Download XHTML/CSS Templates
Free Website Templates - Free Template
Web Templates - Download free xhtml css templates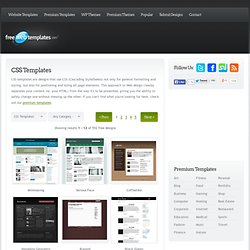 CSS templates are designs that use CSS (Cascading StyleSheets) not only for general formatting and styling, but also for positioning and sizing all page elements. This approach to Web design cleanly separates your content (ie. your HTML) from the way it's to be presented, giving you the ability to safely change one without messing up the other. If you can't find what you're looking for here, check out our premium templates.
CSS Tags Use the CSS Generator below to create your own custom CSS Codes for your website. Color Selector (Put your mouse over the color you want and the code will appear below) HTML Color Code: Body Features (Text and background across enitre page)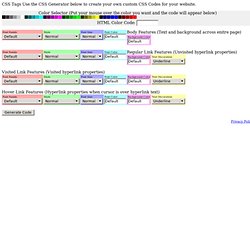 CSS Tags
Joomla Template - Refraction
Would you like to be able to seamlessly modify the content of the website based on this particular template? It's never been easier - now you can order the addition of the CMS to this template which will be done by our partners from MotoCMS.com. Hosting Requirements: PHP v. 5.2, 5.3 or 5.4; Zend Optimizer v3.3 (for PHP 5.2) or Zend Guard Loader (for PHP 5.3 & 5.4).
Flash template #21748 by Delta