Templates & Examples
Realizare site restaurante si alimente - model 1175
Free Web Layouts
Free Web Design Community - Browse designs
Free Web Design Community - Download XHTML/CSS Templates
Free Website Templates - Free Template
Web Templates - Download free xhtml css templates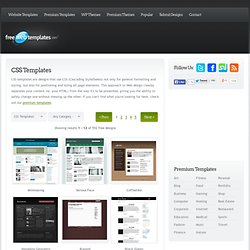 CSS templates are designs that use CSS (Cascading StyleSheets) not only for general formatting and styling, but also for positioning and sizing all page elements. This approach to Web design cleanly separates your content (ie. your HTML) from the way it's to be presented, giving you the ability to safely change one without messing up the other. If you can't find what you're looking for here, check out our premium templates .
Free Layouts.com | Free MySpace Layouts, Web Templates
CSS Tags
Joomla Template - Refraction
Thank you for your request. It has been successfully submitted. Approximate response time is 12 hours.
Flash template #21748 by Delta