Geek...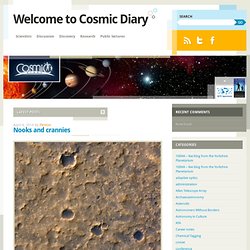 A piece of Mars: This 521×391 m (1709×1283 ft) scene shows a rocky plain with many small impact craters (the bigger ones are ~45 m, or 148 ft across). Dark rippled sand fills the floors of the craters. Why? Once it blows in, it's hard for the sand to get out. It gets caught in the nooks and crannies of the terrain.
Cosmic Diary
The 1 percent have long had smartphones from Porsche and Vertu to quench their high-end thirst, but when it comes to dual-SIM handsets, the elite have had to settle for something a little more ordinary. For those in need, Gresso created Azimuth, the first dual-SIM luxury handset. Starting at $2,000, the phone is made of titanium, with both the keys and logo crafted out of 18K or white gold. Since appearances are all that matter, you're getting some pretty low-end specs under the hood, including 2GB of "internal memory," a 1.3-megapixel camera, Bluetooth 2.0 and a tiny 1,100mAh battery.
Ciencia | Sociedad | Clarín.com
Internet | Clarín.com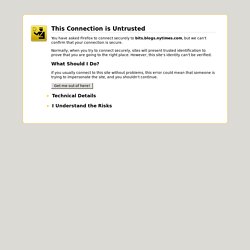 Eric Risberg/Associated PressTom Perkins, a founder of the venture capital firm Kleiner Perkins Caufield & Byers. Simmering tensions between the tech elite and San Francisco activists are coming to a boil. Now a prominent financier has resorted to the ultimate in name-calling.
Ciencia en ABC.es | Noticias de ciencia
¿Qué sucede cuando un líquido se congela y se evapora al mismo tiempo? Las sustancias solo pueden ser líquidas en presencia de algún gas que aplican la presión suficiente para mantenerse en ese estado. Si esa presión no existe o es mínima, la sustancia "saltará" de estado sólido directo al gaseoso a medida que su temperatura aumenta. Si esto sucede en un espacio cerrado, el gas (vapor) producido aumentará creando presión a medida que sucede, de tal forma que un estado líquido, que antes no era posible, ahora sí es posible. Pero, ¿qué pasa si controlamos el ambiente para que el vapor generado sea eliminado a medida que se crea?, el video muestra...