VC
Startup Document Center. Template for Venture Capital Valuation Model. Business Plan Template Executive Summary. The NYC Lean Startup Meetup (New York, NY. OODA.Boyd.svg. Cancel Edit Delete Preview revert Text of the note (may include Wiki markup) Could not save your note (edit conflict or other problem).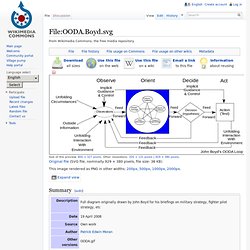 Please copy the text in the edit box below and insert it manually by editing this page. Principles of Lean Startups, presentation for Maples Investments. Image via WikipediaSteve Blank and I had the opportunity to create a presentation about lean startups for Maples Investments.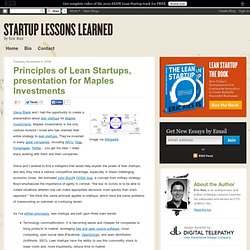 Maples Investments is the only venture investor I know who has oriented their entire strategy to lean startups. They've invested in many great companies, including IMVU, Digg, Kongregate, Twitter... you get the idea. I really enjoy working with them and their companies. Steve and I worked to find a metaphor that would help explain the power of lean startups, and why they have a serious competitive advantage, especially in these challenging economic times. Accel Home. Series AA Termsheet | florianfeder.org. Founders Fund. Meeting with a VC | bijansabet.com. Much has been written about the VC process over the years.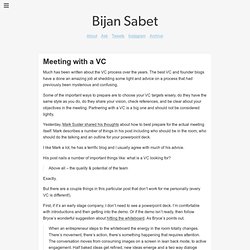 The best VC and founder blogs have a done an amazing job at shedding some light and advice on a process that had previously been mysterious and confusing. Some of the important ways to prepare are to choose your VC targets wisely, do they have the same style as you do, do they share your vision, check references, and be clear about your objectives in the meeting. Partnering with a VC is a big one and should not be considered lightly.
Going to Raise VC? Here's a Primer on Process, People & Powerpoint Deck. If you want a very quick primer on all the stuff nobody ever tells you about raising venture capital check out this video where Mark Jeffrey & I break it down on This Week in VC.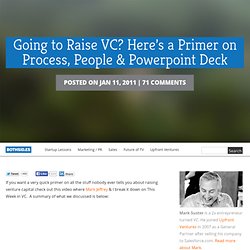 A summary of what we discussed is below: Not 100% in order of the video, but close. All of this is covered in more detail on the TWiVC video above (and much of it is covered in text on this blog on the "Raising VC" tab) 1. Will a VC sign an NDA (non-disclosure agreement)? 500 Startups: Blowing up Startups Since 2010. Support the Startup Founders Visa with a tweet. It's been an exhilarating first day here in Washington DC for the Geeks on a Plane tour.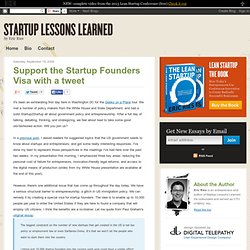 We met a number of policy makers from the White House and State Department, and had a solid Startup2Startup all about government policy and entrepreneurship. After a full day of talking, debating, thinking, and strategizing, we feel about read to take some good old-fashioned action. Will you join us? In a previous post, I asked readers for suggested topics that the US government needs to know about startups and entrepreneurs, and got some really interesting responses. Ventures — Portfolio. Adimab is the first fully integrated, yeast-based antibody discovery platform.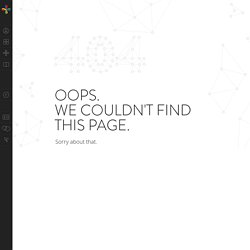 CoolPlanetBioFuels is developing negative carbon and carbon neutral fuels based on plant photosynthesis, which absorb carbon from the air. Corduro offers a range of payment services for Internet, mobile, and traditional retail transactions. Dasient is a leader in anti-malware technology. Their suite of products protects the websites of e‑commerce, media, web hosting, financial services, and other global enterprises from losses of data, revenue and reputation caused by web-based malware attacks.
English Central makes improving one's English fun and effective by turning popular web videos into powerful language learning experiences. Venture Capital (VC) Blog Directory – 2011 Edition. This is the 4th edition of the Venture Capital Blog Directory (1st edition, 2nd edition, 3rd edition).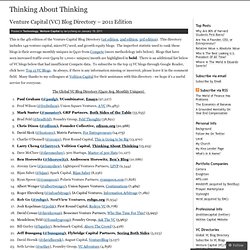 This directory includes 149 venture capital, microVC/seed, and growth equity blogs. The imperfect statistic used to rank these blogs is their average monthly uniques in Q410 from Compete (more methodology info below). Blogs that have seen increased traffic over Q409 by 1,000+ uniques/month are highlighted in bold. A VC. Global Venture Capital (VC) Blog Directory – Ranked By Monthly Uniques. It's exciting times these days after we launched Volition Capital on Monday (01/11/10).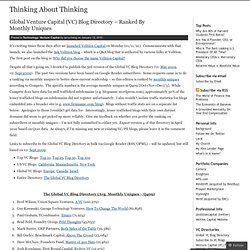 Commensurate with that launch, we also launched the Ask Volition blog – which is a Q&A blog that is authored by various folks at Volition. The first post on the blog is: Why did you choose the name Volition Capital? Reader - Israeli VC Blogs. Cdixon.org – chris dixon's blog. Thoughts. Foundry Group - Home. 4 Questions and 4 Pressure Tests To Decipher A VC's Interest In Your Company. I have heard from a number of entrepreneurs over the past couple of months about how they wished VCs would give them a "quick no" more often.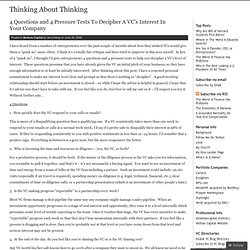 I think it's a totally fair critique and have tried to improve in this area myself. In lieu of a "quick no", I thought I'd give entrepreneurs 4 questions and 4 pressure tests to help you decipher a VC's level of interest. These questions presume that you have already given the VC an initial pitch of your business, so they have enough information to at least be initially interested. The Top 20 VC Power Bloggers Of 2010. A lot of venture capitalists and super angels are not only active investors, but also active bloggers.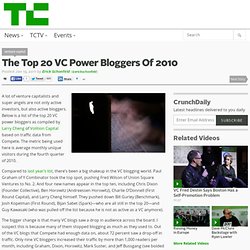 Below is a list of the top 20 VC power bloggers as compiled by Larry Cheng of Volition Capital based on traffic data from Compete. The metric being used here is average monthly unique visitors during the fourth quarter of 2010. Compared to last year's list, there's been a big shakeup in the VC blogging world. Paul Graham of Y Combinator took the top spot, pushing Fred Wilson of Union Square Ventures to No. 2. And four new names appear in the top ten, including Chris Dixon (Founder Collective), Ben Horowitz (Andreessen Horowitz), Charlie O'Donnell (First Round Capital), and Larry Cheng himself.
Lightspeed Venture Partners Blog. Business Intelligence (BI) is the gift that keeps on giving. For years, startups have popped up, promising better insights and faster decision making capabilities, consistently resulting in new waves of highly valued companies. Take a look at the past decade, which has seen massive consolidation as well as a hot new set of public companies. For example, SAP snapped up Business Objects for $6.8B in 2009, IBM acquired Cognos for $5B in 2008, and Oracle acquired Hyperion for $3.3B in 2007. The most recent set of public BI companies include upstarts such as Tableau, Qlikview, and Splunk which each captured the markets' imagination with promises of Big Data and Analytics.
Israel. Reader (1000+)
---