Dining & Boozing
The Scottish Actress Kelly Macdonald on Eating Out, at Home. A Spirited Cheese Pairing Part 2. The Food Scene in East Nashville. Christopher Berkey for The New York Times Top row: habanero guacamole, a chicken taco and fried avocado taco, and chicken tortilla soup at Mas Tacos Por Favor; the restaurant's food truck; Olive & Sinclair chocolate.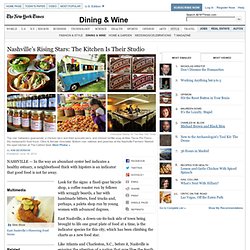 Bottom row: relishes and peaches at the Nashville Farmers' Market; the open kitchen at The Catbird Seat. You Know You Want One: Personal Robots Not Ready For You Yet : All Tech Considered. Courtesy of Willow Garage/YouTube This video shows a PR2 robot programmed by designers at UC Berkeley working at six times its actual speed.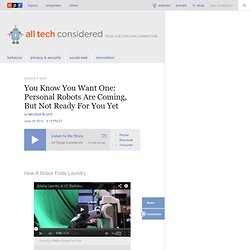 It takes about six minutes for the robot to fold one towel. Meet Jake. At 500 pounds, he stands 4 feet 4 four inches tall, with a spine that stretches another foot. NeverSeconds. Pair Syrah | Cheese Cupid. Hello Kitty Airlines Inflight Meals - Cute Food on Hello Kitty Airplanes. What's that in the sky?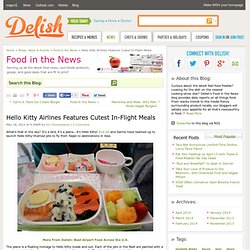 It's a bird, it's a plane...it's Hello Kitty! Eva Air and Sanrio have teamed up to launch Hello Kitty-themed jets to fly from Taipei to destinations in Asia. More From Delish: Best Airport Food Across the U.S. Drink Up — Way Up, At Virgin Atlantic's Swingin' New Mile-High Inflight Bars. Richard Branson has never been known for behaving conventionally; when he's not climbing Mount Everest or racing James Cameron to the bottom of the Mariana Trench, he can be found in the desert touching beaming down to his Norman Foster-designed spaceport.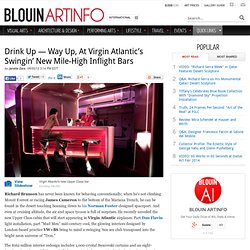 And even at cruising altitude, the air and space tycoon is full of surprises. He recently unveiled the new Upper Class cabin that will start appearing in Virgin Atlantic airplanes. Part Dan Flavin light installation, part "Mad Men" mid-century cool, the glowing interiors designed by London-based practice VW+BS bring to mind a swinging '60s sex club transposed into the bright neon universe of "Tron. " The $162 million interior redesign includes 1,000-crystal Swarovski curtains and an eight-foot-long bar, the world's largest inflight watering hole. Surprisingly, the bar's color palette is mostly neutral.
Flesh in the Pan - The Daily Show with Jon Stewart - 10/27/05. The Wrath of Grapes. Timothy Egan on American politics and life, as seen from the West.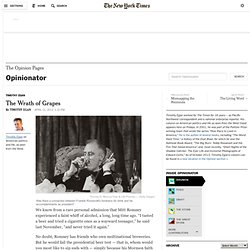 Thomas D. Mcavoy/Time & Life Pictures — Getty ImagesWas there a connection between Franklin Roosevelt's fondness for drink and his accomplishments as president? We know from a rare personal admission that Mitt Romney experienced a faint whiff of alcohol, a long, long time ago. "I tasted a beer and tried a cigarette once as a wayward teenager," he said last November, "and never tried it again." Tacos Shouldn't Come That Orange. : Wait Wait ... Don't Tell Me! Hide captionWarning: Object is as orange as it appears.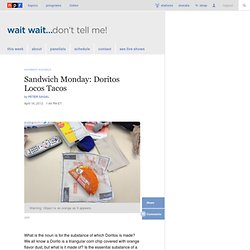 What is the noun is for the substance of which Doritos is made? We all know a Dorito is a triangular corn chip covered with orange flavor dust, but what is it made of? Farewell Gastro-Porn: Is the Foodie Frenzy Finally Fizzling Out? THIS has been a bad year for grand restaurants in the three- to four-star range and the clang of their closing doors raises the question – is the whole gastro-frenzy that stirred into life in the mid-1970s finally lurching towards closure?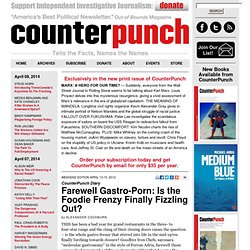 Goodbye Iron Chefs, sayonara "molecular gastronomy" in the style of Ferran Adria, farewell those overcooked paragraphs of fine restaurant writing that became the hottest reading in the New York Times. On March 7 the high society eatery La Côte Basque (used as a chapter heading in habitué Truman Capote's Answered Prayers) closed its doors. This last Wednesday the New York Times mourned at length the Chicago restaurant Charlie Trotter's, slated for extinction in August. According to the Times, Trotter's "had a huge and lasting impact on Chicago's culinary landscape, if not the nation's." Okay, a couple of big time restaurants bite the dust in the great recession. You're probably not what you eat. Researchers are hoping to demonstrate that the new Nordic diet, which includes lots of cabbage and other vegetables, makes us healthier.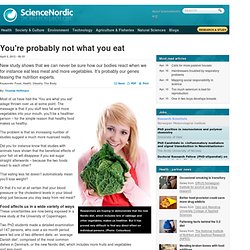 But it has proved very difficult to find any direct effect on individual persons. (Photo: Colourbox) Most of us have had the 'You are what you eat' adage thrown over us at some point. The message is that if you stuff less fat and more vegetables into your mouth, you'll be a healthier person – for the simple reason that healthy food makes us healthy. Pink Panty Droppers Recipe at Epicurious.com - StumbleUpon. This makes a great fizzy pink lemonade.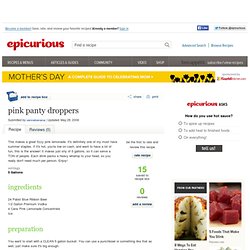 It's definitely one of my must have summer staples. If it's hot, you're low on cash, and want to have a lot of fun, this is the answer! It makes just shy of 5 gallons, so it can serve a TON of people. The Shanty Bar. If I were to rate The Shanty Bar in Williamsburg on decor alone, I'd give it top points.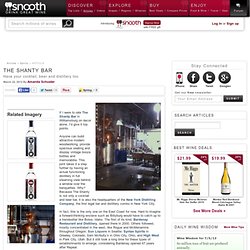 Anyone can build attractive modern woodworking, provide spacious seating and display vintage booze bottles and memorabilia. This joint takes it a step further by having an actual functioning distillery in full steaming view behind a window over the banquettes. Smoretini Shooters | How Sweet It Is - StumbleUpon. Me again. Here to convince you that you need yet another trendy, insanely-flavored bottle of booze. I do what I can. StumbleUpon. Swedish Fat Tuesday Delicacy Kept Alive In Portland. Hide captionFilling semlor with sweet almond paste requires great concentration from Astrid Foster, age 7. Get the recipe for semlor. Deena Prichep/NPR Filling semlor with sweet almond paste requires great concentration from Astrid Foster, age 7.
Dining After 'Downton Abbey': Why British Food Was So Bad For So Long : The Salt. Hide captionMichelle Dockery as Lady Mary: As Downton Abbey viewers know, dining in fine style was de rigueur in Edwardian England. Courtesy (C) Carnival Film & Television Limited 2011 for Masterpiece Michelle Dockery as Lady Mary: As Downton Abbey viewers know, dining in fine style was de rigueur in Edwardian England.
If you've ever watched the television show Downton Abbey, you've probably deduced that dining was a very, very big deal in the lives of the landed gentry of Edwardian England. Why Astronauts Crave Tabasco Sauce : The Salt. Hide captionAstronauts may have a particular affinity for Tabasco sauce in space because their sense of smell and taste is distorted. John Rose/NPR Astronauts may have a particular affinity for Tabasco sauce in space because their sense of smell and taste is distorted.
If you think astronauts just want dehydrated dinners and freeze-dried ice cream, think again. After a few days in space, they start reaching for the hot sauce. In fact, they may start craving foods they didn't necessarily like on Earth. Modern Drunkard Magazine. Meursault. Meursault London.
---