Misc
Why take pills if you can eat these 11 everyday foods that can help cure most common illnesses? #1 MUSCLE ACHE The Solution: Tart cherries—one cup, or two glasses of juice, daily, before and during exercise The Science: Contains the same anti-inflammatory enzymes as ibuprofen, without the potential kidney and stomach-related side effects. #2 MEMORY LOSS The Solution: Sunflower seeds—a quarter cup daily The Science: These vitamin E-loaded seeds will protect the neurons in your brain from oxidative stress, which means you keep your memory longer. Discover the secret memory boosting foods that will increase your brain power, which can make your life easier in any situation. #3 WEAR MUSCLES The Solution: Apples—one daily The Science: Leave the peel on—it's full of ursolic acid, which fuels the production of insulin-like growth factor-1 (IGF1) and insulin, two hormones important in building muscle.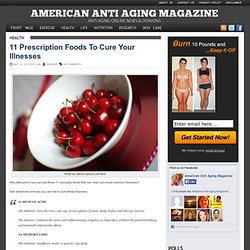 One Pill Makes You Autistic — And One Pill Changes You Back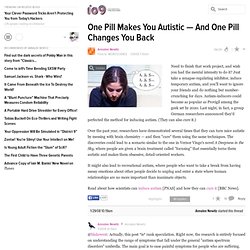 Being on the autism spectrum definitely gives many of us an unfair advantage in some aspects, but a huge disadvantage in othe aspects. We often suffer for years from bullying and alienation from a society where still little real awareness and understand is present, within the autism community The National Autism Society and others are doing a great job, but out side that circle even to myself who was diagnosed with aspergers and other learning differences dyslexia, dyspraxia and other co morbid conditions less than 2 years now, mention autism to me before then and I would of had no idea. Many of us its not as simply as having aspergers our differences can vary so much from one person to the next, we can be quite complex and extreme in some areas and brilliant in others and nearly always very misunderstood. The way I see it: Apart from being on the autism spectrum I have many co morbid / associated conditions… in fact a whole list, not sure anyone has it right, including myself.
Acupressure Guide Online » PointFinder
Introduction Acupressure, acupuncture, and related practices Do-in, G-Jo, Shiatsu, and Myotherapy, practiced in Asia for thousands of years, have only gained wider acceptance in the West in recent times. Traditional Asian medicine emphasizes personal responsibility for one's health. This page is designed to put the relief of common and minor discomforts and symptoms into your own hands. By learning how to stimulate your own pressure points, you can relieve minor or moderate symptoms, and reduce the need for nonprescription drugs. Unlike most drugs, relief is usually immediate.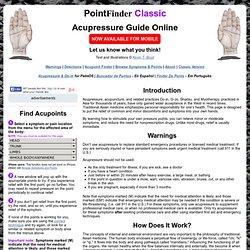 This Is Brain Surgery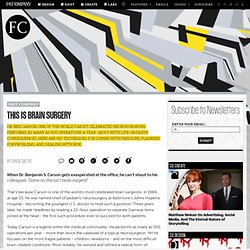 When Dr. Benjamin S. Carson gets exasperated at the office, he can't shout to his colleagues, "Come on, this isn't brain surgery!" That's because Carson is one of the world's most celebrated brain surgeons.