Personality tipes
Google. INFP Personality Type Profile | Myers Briggs | PersonalityDesk. MBTI Basics - The 16 MBTI Types. ISTJ Quiet, serious, earn success by thoroughness and dependability.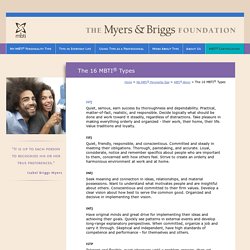 Practical, matter-of-fact, realistic, and responsible. Decide logically what should be done and work toward it steadily, regardless of distractions. Take pleasure in making everything orderly and organized – their work, their home, their life. Value traditions and loyalty. Tipo de personalidad en 41 preguntas. Temperament Website - Portrait of the Idealist® Healer (INFP) Healers present a calm and serene face to the world, and can seem shy, even distant around others.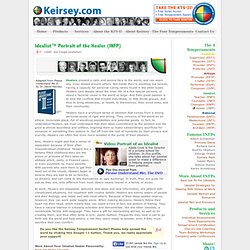 But inside they're anything but serene, having a capacity for personal caring rarely found in the other types. Healers care deeply about the inner life of a few special persons, or about a favorite cause in the world at large. And their great passion is to heal the conflicts that trouble individuals, or that divide groups, and thus to bring wholeness, or health, to themselves, their loved ones, and their community. Healers have a profound sense of idealism that comes from a strong personal sense of right and wrong. They conceive of the world as an ethical, honorable place, full of wondrous possibilities and potential goods. INFP Profile. Introverted iNtuitive Feeling Perceiving by Joe Butt Profile: INFP Revision: 3.0 Date of Revision: 26 Feb 2005 "I remember the first albatross I ever saw. ...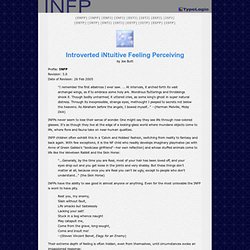 Portrait of an INFP. As an INFP, your primary mode of living is focused internally, where you deal with things according to how you feel about them, or how they fit into your personal value system.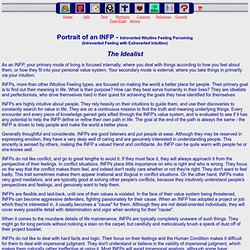 Your secondary mode is external, where you take things in primarily via your intuition. INFPs, more than other iNtuitive Feeling types, are focused on making the world a better place for people. Their primary goal is to find out their meaning in life. What is their purpose?
---