Televisión y Radio
El consejo de administración de RTVE ha estudiado este miércoles la posibilidad de renunciar a algunas de sus series de más audiencia, como 'Águila Roja' o 'Cuéntame como pasó' y ha encargado al director de TVE, Santiago González, que elabore "de manera urgente" un plan para aumentar los contenidos de producción propia con el objetivo de poder hacer frente al recorte de 200 millones de euros dictado por el Gobierno para los presupuestos de este año, según han informado fuentes del consejo. Esta medida afectaría a sus principales ficciones como las mencionadas 'Águila Roja' y 'Cuéntame cómo pasó', que o bien han acabado su temporada (es el caso de la producción Globomedia) o la finalizan esta misma semana, como la que protagoniza la familia Alcántara. El Consejo ha determinado que no hay porqué tomar una decisión precipitada sobre la emisión de los nuevos capítulos de la siguiente temporada, prevista inicialmente para finales de año.
Terapia de choque en TVE: congeladas todas sus grandes series hasta 2013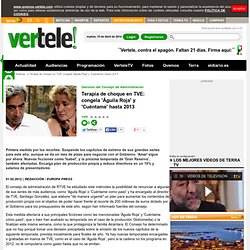 playCuatro
Programming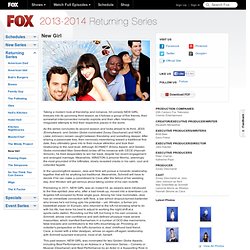 Breakout comedy NEW GIRL returns for its sophomore season this fall with all-new misadventures of a hip, young schoolteacher, her three male roommates and her beautiful best friend. Taking a modern look at friendship and romance, the hit ensemble comedy already has garnered Golden Globe nominations for Best Television Series - Comedy or Musical and Best Performance by an Actress in a Television Series - Comedy or Musical for series star Zooey Deschanel, as well as a Writers Guild Award nomination for Outstanding Achievement in Television. This past season, viewers were introduced to JESS (Deschanel) who, after a bad break-up, found not only a new place to live, but also a new outlook on life, when she moved into a downtown Los Angeles loft occupied by three single guys.
laSextaTv
Programación Tv - Programación | LaGuiaTV.com