Iso
The 2009-2014 World Outlook for Personal Services
More Consumer Services reports by Icon Group International, Inc. The 2013-2018 Outlook for Personal Services in the United States by Icon Group International, Inc. This econometric study covers the latent demand outlook for personal services across the states and cities of the United States. Latent demand (in millions of ...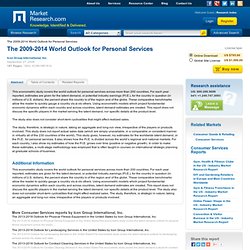 by Markus Kuhn Standard paper sizes like ISO A4 are widely used all over the world today. This text explains the ISO 216 paper size system and the ideas behind its design. The ISO paper size concept In the ISO paper size system, the height-to-width ratio of all pages is the square root of two (1.4142 : 1). In other words, the width and the height of a page relate to each other like the side and the diagonal of a square.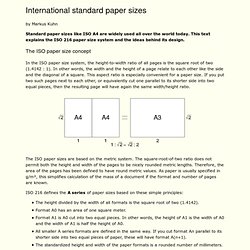 A4 paper format / International standard paper sizes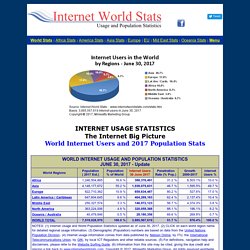 NOTES: (1) Internet Usage and World Population Statistics are for June 30, 2012. (2) CLICK on each world region name for detailed regional usage information. (3) Demographic (Population) numbers are based on data from the US Census Bureau and local census agencies. (4) Internet usage information comes from data published by Nielsen Online , by the International Telecommunications Union , by GfK , local ICT Regulators and other reliable sources. (5) For definitions, disclaimers, navigation help and methodology, please refer to the Site Surfing Guide . (6) Information in this site may be cited, giving the due credit to www.internetworldstats.com . Copyright © 2001 - 2013, Miniwatts Marketing Group. All rights reserved worldwide.