Blogging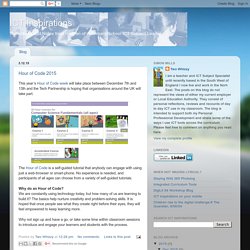 Since September I have been using a set of PowerPoint Templates to help organise, standardise and simplify my lesson planning and organisation. The templates carry a standard style Unit/Lesson/Challenge TitleWALT (We Are Learning To) Overall Lesson Objective Differentiated WILFs (What I Am Looking Fors), these are leveled and coloured Red, Amber, Green in rubric format to enable a view of progression in learning.
ICT Inspirations
Consolarium
September 26th, 2011 CPDConsolarium: GBL and Technologies loan service for Scottish schools Derek Robertson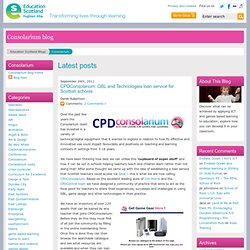 30Nov Posted in Uncategorized | No Comments » **This is a completely unofficial view of what may come to pass in 2012**
Parklands Primary BLT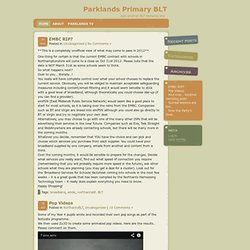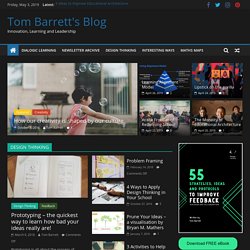 Curriculum planning in this vein doesn't cater for the tangent or the divergent thinker- well it might entertain it briefly but will eventually settle back on the steady path to where we were always going. Curricular of this ilk are not setup for serendipity. If I knew exactly the music that was going to be played on the radio all of the time, well in advance and had no control over it, I would miss out on those beautiful moments when you hear a wonderful track that hasn't been played for ages and there you are in that completely unexpected moment savouring every note. Much of this is to do with teacher control and the lack of willingness to let go of the reins and venture from the path a little. But it is also to do with a lack of ambition about what we plan, many models of curriculum, as well as units of work, are legacy systems:
Nicholas Hughes
Who is CAS? http://www.computingatschool.org.uk/ Its is a organisation who's job is to develop support and training for teaching Computing and in particular the computer science aspects of the new curriculum. They where one of the organisations who worked on the proposed curriculum and have been recently funded by the DfE. What is a Master Teacher?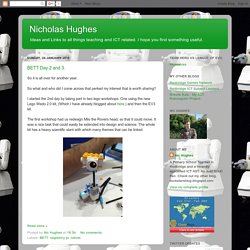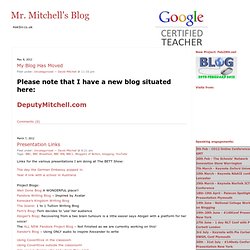 I've been thinking about the whole topic of Twitter for some time. It's a strange place, don't get me wrong, Twitter has changed me on a professional level. Many of you will know that 3 years ago, I was trying to leave the profession but Heathfield and Twitter together changed me.
To be honest, 2013 was never going to top 2012 was it? Last year I got married, turned 30 and released my first book. 2013 would've had to be very special to come close. Although it didn't have anything as huge as those events, it was a year of change for sure. So, in no particular order, here are 13 memories of the year. 1 – Digital Leaders – It feels like forever ago when I started working with Digital Leaders in school, but last year was the best in terms of what my small group achieved.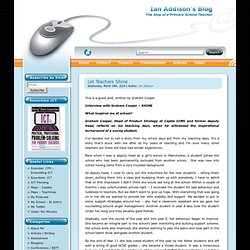 Ian Addison's Blog
Mr Cobb's Class Blog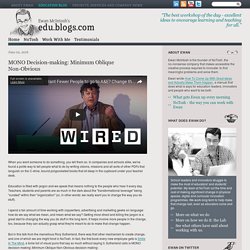 Ewan McIntosh | Digital Media & Learning
Pixar, since it was purchased by Disney, gives off an air of resilient creative and commercial success, but the journey is rarely that smooth. In fact, the more creative the output, the more commercially successful it is, for Pixar at least, and the processes used by the teams is remarkably close to what we see in highly effective classrooms. During a keynote en français in Québec, I wondered why learning today sometimes felt less personalised than 30 years ago when personal computers first hit my primary school. Inspiration came to me from my daughters, Catriona and Anna, as for the nth time they sang along to the karaoké version of Disney's Frozen title track, Let It Go:
It has been very successful with parents and children alike. What homework projects do you give to your children? A little while ago I wanted to rethink homework for my class.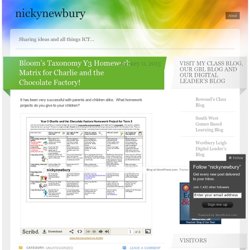 nickynewbury
Feb 23 2014 Technology – Empowering us all I was looking for examples of how technology changes lives and found this video of Steve Gleason a former American Footballer using a Microsoft Surface, I think it was part of a commercial at the Super Bowl recently. It really is inspiring stuff! Always good to balance the more negative impacts of technology in the media and society with life changing stories. I'm really excited about hearing more of these stories from teachers all over the world at the Microsoft Expert Educator Global Forum in a couple of weeks time.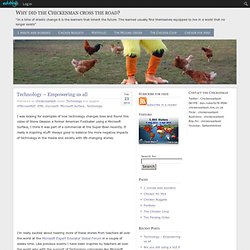 "In a time of drastic change it is the learners that inherit the future. The learned usually find themselves equipped to live in a world that no longer exists"
Access Denied
Great to be back in Newport, for the first of two days alongside the children, and staff, of Ysgol Gymraeg Casnewydd. Welsh really is a beautiful language, and perfect for poetic, descriptive, invention. We carried out our lessons in that fascinating cross between two languages. As someone who grew up only a few miles across the River Severn, yet never managed more than a poor impression of spoken Welsh, it has always been intriguing to carry out lesson sessions in a mixture of tongues. Well done indeed to our intrepid explorers for doing so with such style, and alacrity. The younger children have yet to write in English, as there schooling is carried out entirely in Welsh.
Enabling Environments - Effective Practice in my Early Years Classroom
10 Tools for Digital Storytelling in Class Digital storytelling is simply using computer-based tools to tell stories. There are many different ways to do this – from making movies, recording voices, creating animations or electronic... 8 Word Cloud Makers for Teachers A word cloud is an attractive way of visualising a large chunk of text in a more pleasing way.
PrimaryICT