Blogging
ICT Inspirations. Consolarium. September 26th, 2011 CPDConsolarium: GBL and Technologies loan service for Scottish schools Derek Robertson.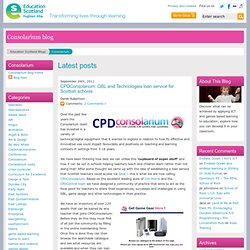 Parklands Primary BLT. Edte.ch. Curriculum planning in this vein doesn't cater for the tangent or the divergent thinker- well it might entertain it briefly but will eventually settle back on the steady path to where we were always going.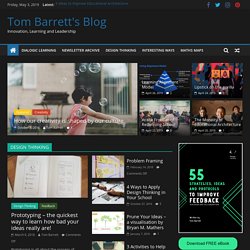 Curricular of this ilk are not setup for serendipity. If I knew exactly the music that was going to be played on the radio all of the time, well in advance and had no control over it, I would miss out on those beautiful moments when you hear a wonderful track that hasn't been played for ages and there you are in that completely unexpected moment savouring every note. Much of this is to do with teacher control and the lack of willingness to let go of the reins and venture from the path a little. But it is also to do with a lack of ambition about what we plan, many models of curriculum, as well as units of work, are legacy systems: Nicholas Hughes. Mr. Mitchell's Blog. Home.
Ian Addison's Blog. Mr Cobb's Class Blog. Ewan McIntosh | Digital Media & Learning. Pixar, since it was purchased by Disney, gives off an air of resilient creative and commercial success, but the journey is rarely that smooth.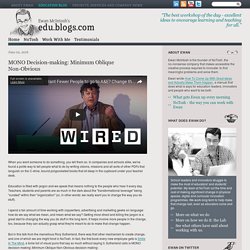 In fact, the more creative the output, the more commercially successful it is, for Pixar at least, and the processes used by the teams is remarkably close to what we see in highly effective classrooms. During a keynote en français in Québec, I wondered why learning today sometimes felt less personalised than 30 years ago when personal computers first hit my primary school. Inspiration came to me from my daughters, Catriona and Anna, as for the nth time they sang along to the karaoké version of Disney's Frozen title track, Let It Go: Nickynewbury. "In a time of drastic change it is the learners that inherit the future. The learned usually find themselves equipped to live in a world that no longer exists"
Access Denied. Tim Rylands' Blog - to baldly go....... Using ICT to inspire. Learning with 'e's. Enabling Environments - Effective Practice in my Early Years Classroom. Access Denied. PrimaryICT.
---