UNITED NATIONS
Outrage: Obama Admin. Says Texans Can't Arrest UN Observers Even if They Violate Texas Law
In a development that should outrage every red-blooded, patriotic American, the Obama Administration announced that international observers in the United States cannot be arrested by state law enforcement even if the United Nations representatives violate state law. As we publicized earlier this week , "United Nations-affiliated election monitors from Europe and central Asia will be at polling places around the U.S. looking for voter suppression activities by conservative groups."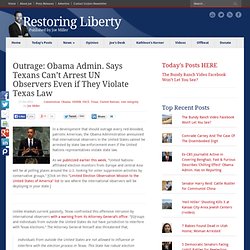 UN Cholera Transmission By Peace_KeeperZ
Bolivian President Evo Morales believes that in 2012 the United Nations will finally agree that chewing of coca leaves is a legal ancient tradition of all people living in the Andes. Bolivia signed an agreement with the United Nations in 1961 that gave the country 25 years to eradicate the growing of coca. Over 20 years since the deadline passed, the country is the third largest grower of coca in the world after Colombia and Peru.
Bolivia's Morales wants UN to lift ban on chewing coca leaves in 2012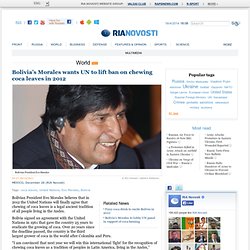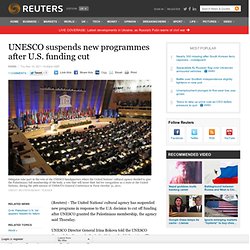 UNESCO suspends new programmes after U.S. funding cut
PARIS | Thu Nov 10, 2011 10:43pm GMT PARIS (Reuters) - The United Nations' cultural agency has suspended new programs in response to the U.S. decision to cut off funding after UNESCO granted the Palestinians membership, the agency said Thursday. UNESCO Director General Irina Bokova told the UNESCO General Conference in Paris the U.S. cut had left a $65 million (41 million pound) hole in the agency's 2011 budget.
UN must probe OWS crackdown'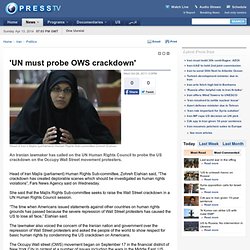 'UN must probe OWS crackdown'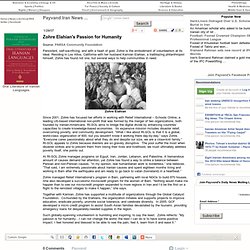 Zohre Elahian's Passion for Humanity
Source: PARSA Community Foundation Persistent, self-sacrificing, and with a heart of gold, Zohre is the embodiment of volunteerism at its ideal. Residing in Los Altos, California with her husband Kamran Elahian, a trailblazing philanthropist himself, Zohre has found not one, but several ways to help communities in need.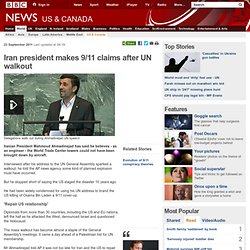 22 September 2011 Last updated at 23:19 ET
Ahmadinejad speech at UN prompts mass walkout
Abbas submits Palestine statehood bid, gets standing ovation at UN
Seize opportunity of Arab Spring, Cameron urges UN
'Third Intifada' fears amid violence on Israel-Palestine clash frontline
UN Releases D.R. Congo Mapping report
Letter dated 12 April 2001 from the Secretary-General to the President of the Security Council
drcongo
United Nations High Commissioner for Refugees
The Office of the United Nations High Commissioner for Refugees ( UNHCR ), also known as the UN Refugee Agency , is a United Nations agency mandated to protect and support refugees at the request of a government or the UN itself and assists in their voluntary repatriation, local integration or resettlement to a third country. Its headquarters are in Geneva , Switzerland and is a member of the United Nations Development Group . [ 1 ] The UNHCR has won two Nobel Peace Prizes , once in 1954 and again in 1981. [ 2 ]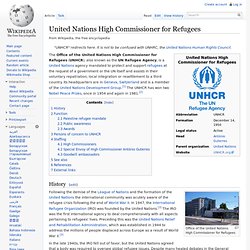 Navanethem "Navi" Pillay (born 23 September 1941) is the United Nations High Commissioner for Human Rights .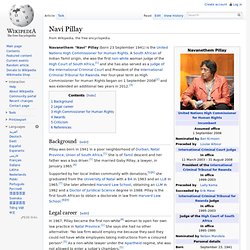 Navanethem Pillay
UNHCR: UK
UNHCR Fefugee Agency
UNHCR: Jobs and Internships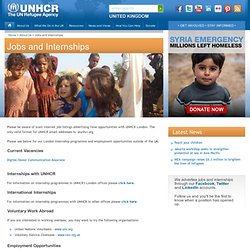 Please be aware of scam internet job listings advertising false opportunities with UNHCR London. The only valid format for UNHCR email addresses is: @unhcr.org