#OccupyTogether
Occupy Together
Far East Blog » Dear Occupiers: A Letter from Anarchists
The outrage at Monsanto's "Frankifood Seeds" is growing exponentially! It is Global Genocide! and Monsanto know full well they are killing their victims/customers. The unequivocal evidence is not from wacky fringe science either! It is from Government Laboratories!
Occupy the World: Indians are targeting Coca-Cola to support #ows
Occupy Australia
OCCUPY! An Activist's Guide to Protestors' Rights By Andy Marlow $ 0.99 Rating: Not yet rated.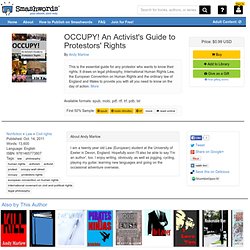 OCCUPY! An Activist's Guide to Protestors' Rights - A book by Andy Marlow
Far East Blog » Dear Occupiers: A Letter from Anarchists