COCOA CHILDREN & NESTLE
Decisions Inadmissibility decision In Chapman v. Belgium , concerning a dispute between NATO and one of its former staff members about his contract of employment, the Court has declared the application inadmissible. Work-related rights Cases against the United Kingdom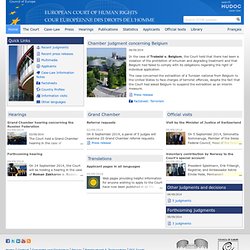 European Court of Human Rights - Home page
European Court Of Human Rights APPLICATION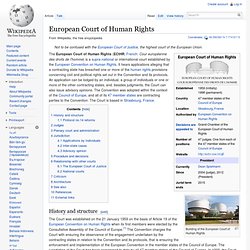 European Court of Human Rights
Building of the European Court of Human Rights The European Court of Human Rights ( ECtHR ; French : Cour européenne des droits de l'homme ) is a supra-national or international court established by the European Convention on Human Rights . It hears applications alleging that a contracting state has breached one or more of the human rights provisions concerning civil and political rights set out in the Convention and its protocols. An application can be lodged by an individual, a group of individuals or one or more of the other contracting states, and, besides judgements, the Court can also issue advisory opinions.
Contact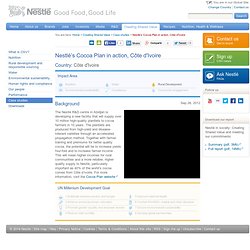 You are here: Home > Creating Shared Value > Case studies > Nestlé's Cocoa Plan in action, Côte d'Ivoire Nestlé's Cocoa Plan in action, Côte d'Ivoire Country : Côte d'Ivoire Impact Area Nutrition Water Rural Development Environmental sustainability Compliance Community engagement
Nestlé's Cocoa Plan in action, Côte d'Ivoire
Originally published in Forbes Magazine Companies, People, Ideas Deborah Orr 04.24.06 Anticorporate protesters went after Nestlé for its infant formula. Now they're at it again--this time accusing the company of using cocoa harvested by forced labor. With their bright pink wigs, colorful placards and painted smiles, the crowd in front of San Francisco's Metreon movie theater last July looked like extreme fans come to celebrate the opening of the latest Willie Wonka film. But these merrymakers had a downbeat message for Nestlé, maker of Wonka chocolate candy.
Nestle's Slave Labor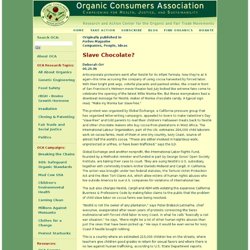 Nestlé
Nestlé S.A. ( French pronunciation: [nɛsle] ; English / ˈ n ɛ s l eɪ / , / ˈ n ɛ s l i / ) is a Swiss multinational nutritional , snack food, and health -related consumer goods company headquartered in Vevey , Switzerland. It is the largest food company in the world measured by revenues. [ 3 ] [ 4 ] Nestlé's products include baby food , bottled water , breakfast cereals , coffee, confectionery, dairy products , ice cream , pet foods and snacks. 29 of Nestlé's brands have annual sales of over 1 billion Swiss francs (about $ 1.1 billion), [ 3 ] [ 5 ] including Nespresso , Nescafé , KitKat , Smarties , Nesquik , Stouffer's , Vittel , and Maggi .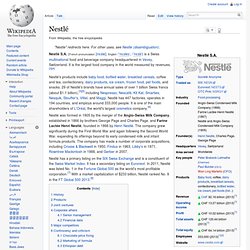 IHS Child Slave Labor News :: The Sour Side of Chocolate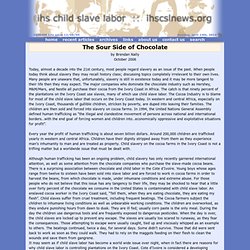 by Brendan Nally October 2006 Today, almost a decade into the 21st century, most people regard slavery as an issue of the past. When people today think about slavery they may recall history class; discussing topics completely irrelevant to their own lives. Many people are unaware that, unfortunately, slavery is still in existence today and it may be more tangent to their life then they may expect. The major companies who dominate the chocolate industry such as Hershey, M&M/Mars, and Nestle all purchase their cocoa from the Ivory Coast in Africa.
ILRF Update March 2009: Nestlé and Child Labor in the Cocoa Industry - Independent experts analyze Nestle's actions and words
Panorama - Tracing the bitter truth of chocolate and child labour