AnonDrX #Al14$tH£Dr4GuN
Open Wireless Movement launches, with OpenITP support. | openitp.org. Details Published on Thursday, 01 November 2012 10:19 Congratulations to the Open Wireless Movement on their launch!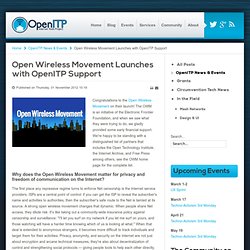 The OWM is an initiative of the Electronic Frontier Foundation, and when we saw what they were trying to do, we gladly provided some early financial support. We're happy to be standing with a distinguished list of partners that includes the Open Technology Institute, the Internet Archive, and Free Press among others, see the OWM home page for the complete list. Why does the Open Wireless Movement matter for privacy and freedom of communication on the Internet?
CogniTech Recog
Struggles - Leading the Way. @@SOVERIEGN($)_CITIZEN. Th3_V4t1con. The History Of @Anonymity13. The Shorty Awards - Honoring the best of Twitter and social media. I_C01N. Scientology. KOMODO. DRUGS @AliasTheDraGun. MAFIA Espiranza DraguNostra. Private Investigators Forum & Directory| E-Legal Gathering. HOLYBo_OkZ. PM Q'Z. EDUCATION. CISSP. PRECIOUS & METAL. AnonDrX. Anondrx Predrax.
S1L1c0N. Br41NCh1p.
---