Backbone JS
addyosmani (Addy Osmani)
Large-scale JavaScript Application Architecture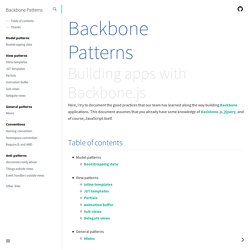 Here, I try to document the good practices that our team has learned along the way building Backbone applications. Inline templates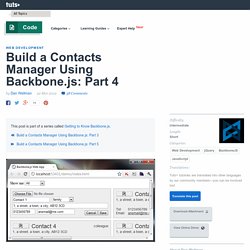 Build a Contacts Manager Using Backbone.js: Part 4
In part four of this series, we saw how easy it is to add and remove models from our collection, and keep the page updated in sync with the changes.
Large-scale JavaScript Application Architecture
Backbone Boilerplate
Adventures in Mockjax | Ja.mesBrown JavaScript and Web Development
If you are developing web applications that utilize Ajax (and most do today) and are using jQuery and/or Backbone.js, you should be building with mock Ajax JSON responses. You can view the code on Github: https://github.com/ibjhb/mockjaxExample or the examples: http://ibjhb.github.com/mockjaxExample/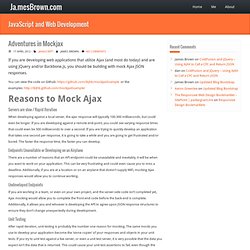 Backbone.js + jQuery = Best OO Friends Example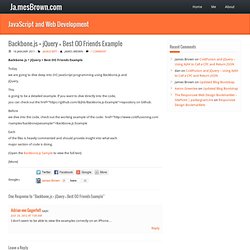 Backbone.js + jQuery = Best OO Friends Example | Ja.mesBrown JavaScript and Web Development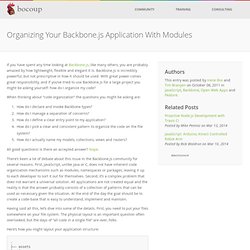 If you have spent any time looking at Backbone.js, like many others, you are probably amazed by how lightweight, flexible and elegant it is. Backbone.js is incredibly powerful, but not prescriptive in how it should be used.
To Do's Example
As data visualization often needs to reach a broad audience the browser is becoming the number one tool to publish and share visualizations. A lot of visualizations require user-interaction to unleash their full potential, thus interactive applets that run directly in the browser are a a great way to analyze the data at hand. Beside the usual suspects like Flash, Silverlight and Processing, JavaScript is quickly gaining ground in the field of interactive visualization embedded in websites.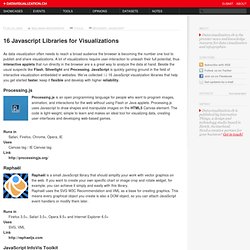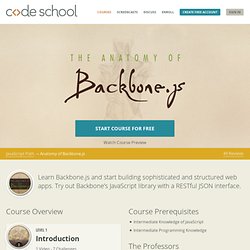 Anatomy of Backbone.js
byronanderson I had just been thinking that my javascript was getting messy and hard to maintain, and this course shows up to introduce me to Backbone.js . The course is in line with the level of javascript that you should know after completing the other javascript courses this site offers- jQuery Air: First Flight and Captain's Log, and CoffeeScript. The course's difficulty derives almost entirely from understanding the value-add of Backbone.js itself- you don't need to set up the server-side code or the layout html! The exercises are just handhold-y enough to keep things moving at a good clip.
JavaScript Architecture: Backbone.js Routers
Updated Aug 11, 2012 to reflect current library versions. In JavaScript Architecture: Backbone.js Views we discussed how to build dynamic apps that change views on the fly using JavaScript.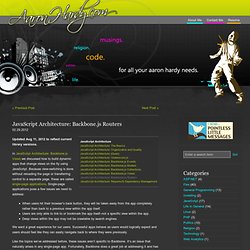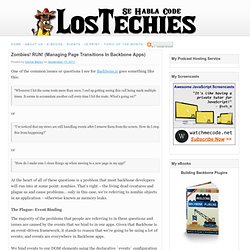 UPDATE: Backbone.EventBinder
Zombies! RUN! (Managing Page Transitions In Backbone Apps)
Nailing the Interactions on Pageless Apps (with Backbone.js) | Matt Kelly | Bay Area jQuery Conf 2011 on Vimeo
Backbone Fundamentals – A Free Work-In-Progress Book For Developers Of All Levels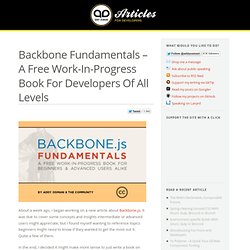 About a week ago, I began working on a new article about Backbone.js. It was due to cover some concepts and insights intermediate or advanced users might appreciate, but I found myself wanting to reference topics beginners might need to know if they wanted to get the most out it.