Neurociencia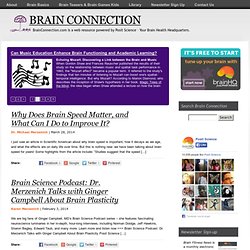 It's time to say happy birthday to our beloved crossword puzzle! The first one was published 100 years ago. In this short video about the crossword's centennial, Mo Rocca interviews New York Times puzzle writer Will Shortz and Dan Feyer, four-time champion of the American Crossword Puzzle Tournament and the best solver in the country. Now for the big question: do crosswords help you keep your brain sharp? A team of researchers from University of Iowa published the first study to directly compare brain training and crossword puzzles - and found that people who did BrainHQ fared better than those who did crosswords.
This web site provides browsers with images and information from one of the world's largest collection of well-preserved, sectioned and stained brains of mammals. Viewers can see and download photographs of brains of over 100 different species of mammals (including humans) representing over 20 Mammalian Orders. Also available are examples of stained sections from a wide variety of brains of special interest, including Humans, Chimpanzees, Monkeys, various Rodents and Carnivores, California Sealion, Florida Manatee, Big Brown Bat, American Badger, American Raccoon, Yellow Mongoose, Zebra, Cow, and the Atlantic Bottlenose Dolphin. A complete list of all available specimens is available. How brain evolution has occurred is discussed. Viewers will learn why these collections are important, why and how they were assembled, and why it is important to protect, preserve and maintain them.
Brain musseum
The Human Brain Atlas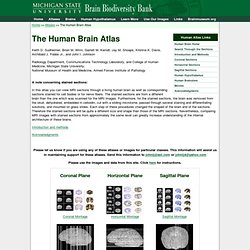 Keith D. Sudheimer, Brian M. Winn, Garrett M. Kerndt, Jay M. Shoaps, Kristina K. Davis, Archibald J.
La Comunidad
La frase "¿por qué lo llaman amor si quiere decir sexo?" suele expresarse cuando alguien siente un fuerte deseo carnal, y lo disfraza de enamoramiento o conexión especial. Ocurre a menudo, pero el fenómeno contrario también existe y se está volviendo cada vez más común, especialmente entre los adultos jóvenes: asegurar con desdén que se busca sólo sexo cuando en realidad existe un intenso deseo –consciente o inconsciente- de conexión amorosa. En la revisión más extensa (pdf) de estudios científicos y trabajos sociológicos sobre las características y condicionantes de la "hook-up culture" (sexo casual sin compromiso), Justin García del Kinsey Institute cita un estudio según el cual el 65% de mujeres y 45% de hombres confiesan que en su último hookup (rollo esporádico de una noche), en realidad estaban esperando que ese encuentro pudiera llevar a una relación más estable.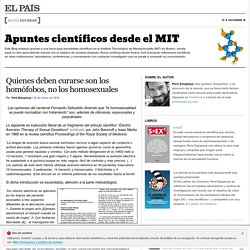 Fundamentos de Neurociencia
La nueva versión del Manual diagnóstico y estadístico de los trastornos mentales, la quinta ya (DSM-5), acaba de ver la luz en mayo de 2013. La APA ha creado una plataforma para empezar a dar a conocer los cambios que introduce el nuevo manual, como por ejemplo que ya no se requerirá la presencia de amenorrea para diagnosticar anorexia nerviosa. Puede encontrarse información en la web DSM 5 Changes, así como pequeñas notas informativas en forma de twits siguiendo su cuenta @DSM5Changes.