Educación
streamie – Un programa para gestionar Twitter desde tu navegador
wikisaber.es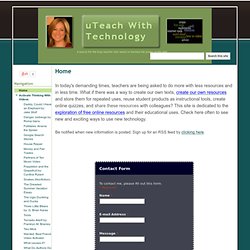 uTeach With Technology
In today's demanding times, teachers are being asked to do more with less resources and in less time. What if there was a way to create our own texts, create our own resources and store them for repeated uses, reuse student products as instructional tools, create online quizzes, and share these resources with colleagues? This site is dedicated to the exploration of free online resources and their educational uses. Check here often to see new and exciting ways to use new technology.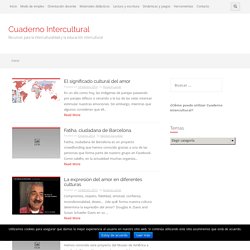 En un día como hoy, las imágenes de parejas paseando por parajes idílicos o cenando a la luz de las velas intentan estimular nuestras emociones. Mientras que algunos consideran que imágenes como estas reflejan el ideal de amor universal, otros ven en ellas el espejo de una sociedad tendente al individualismo y al consumo. Sigue leyendo El significado cultural del amor
http://www.eduteka.org/modulos/8/255/661/1 NOTAS DEL EDITOR: [1] Libro "Web 2.0 How-To for Educators" escrito por Gwen Solomon & Lynne Schrum y editado por ISTE. Recomendamos ampliamente su lectura; puede adquirirse en línea en Amazon. La metodología propuesta por Solomon & Schrum es adaptada, a su vez, del método "5W+H" ampliamente utilizado en periodismo. Las cinco W (también conocidas como 5W+H) son un concepto ampliamente utilizado en redacción de noticias, investigación científica e indagaciones policiales. Se las considera básicas en la recopilación de información.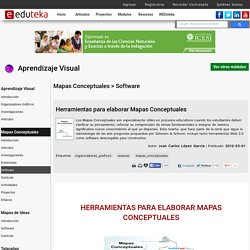 Instituto Marítimo de Valparaíso
WTT - We The Teachers
100 Web 2.0 Tools Every Teacher Should Know About 44.24K Views 0 Likes We're always trying to figure out the best tools for teachers, trends in the education technology industry, and generally doing our darnedest to bring you new and exciting ways to enhance the classroom. But I wanted t... 20 Free and Fun Ways To Curate Web Content 23.98K Views 0 Likes
Quizinator is free to use, for as long as you want. Seriously. Additional premium features will be available soon for a subscription, but the core features of Quizinator will always be free. Flexible and Customizable Use our customizable, drag and drop, question libraries to quickly create worksheets, studysheets, handouts, exams, quizzes, and more.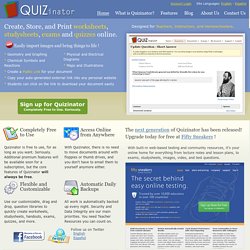 Pre-Algebra, Edition, Mathematics, Glencoe