Educación
Streamie – Un programa para gestionar Twitter desde tu navegador. Con presencia en la Chrome Store, Streamie nos ofrece una aplicación que permite gestionar el contenido de nuestro Twitter desde un entorno muy limpio y sencillo de usar.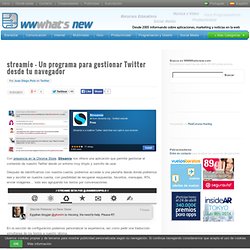 Después de identificarnos con nuestra cuenta, podremos acceder a una pestaña desde donde podremos leer y escribir en nuestra cuenta, con posibilidad de recuperar respuestas, favoritos, mensajes, RTs, enviar imágenes… todo eso agrupando los textos por conversaciones. En la sección de configuración podemos personalizar la experiencia, así como pedir una traducción simultanea de los textos a nuestro idioma.
The Super Book of Web Tools for Educators. Wikisaber.es. uTeach With Technology. In today's demanding times, teachers are being asked to do more with less resources and in less time.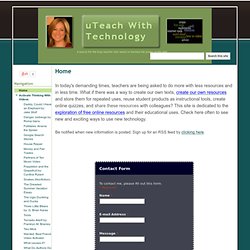 What if there was a way to create our own texts, create our own resources and store them for repeated uses, reuse student products as instructional tools, create online quizzes, and share these resources with colleagues? This site is dedicated to the exploration of free online resources and their educational uses. Check here often to see new and exciting ways to use new technology. Cuaderno Intercultural. Modulo Aprendizaje Visual - MAPAS CONCEPTUALES > Software. NOTAS DEL EDITOR: [1] Libro "Web 2.0 How-To for Educators" escrito por Gwen Solomon & Lynne Schrum y editado por ISTE.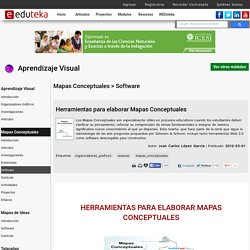 Recomendamos ampliamente su lectura; puede adquirirse en línea en Amazon. La metodología propuesta por Solomon & Schrum es adaptada, a su vez, del método "5W+H" ampliamente utilizado en periodismo. Las cinco W (también conocidas como 5W+H) son un concepto ampliamente utilizado en redacción de noticias, investigación científica e indagaciones policiales. Se las considera básicas en la recopilación de información. Free Online Whiteboard and Collaboration Tool - Scribblar.com.
Instituto Marítimo de Valparaíso. Wolfram|Alpha for Educators. WTT - We The Teachers. The 35 Best Web 2.0 Classroom Tools Chosen By You [UPDATED] 100 Web 2.0 Tools Every Teacher Should Know About 44.24K Views 0 Likes We're always trying to figure out the best tools for teachers, trends in the education technology industry, and generally doing our darnedest to bring you new and exciting ways to enhance the classroom.
But I wanted t... 20 Free and Fun Ways To Curate Web Content 23.98K Views 0 Likes. Quizinator. Glogster EDU. Pre-Algebra, Edition, Mathematics, Glencoe.
---