Tools
Educational technology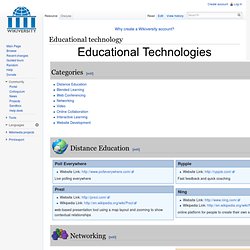 MemoryMiner is a "digital storytelling" software for Mac and Windows. With it, through photos you can discover what connects peoples' lives across time and place and allows you to link the stories depicted in your photos based on people, places, ad time. Simply by dragging and dropping, you can specify who is in the photo and when and where the photo was taken. Additionally, you can drag and drop audio, video, documents, or URLs onto your photos and add text to them as well and can easily publish your digital story to the web.
WEB TOOLS Ferramentas web
Mikomo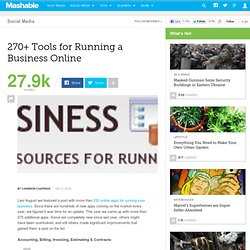 Last August we featured a post with more than 230 online apps for running your business. Since there are hundreds of new apps coming on the market every year, we figured it was time for an update. This year we came up with more than 270 additional apps. Some are completely new since last year, others might have been overlooked, and still others made significant improvements that gained them a spot on the list.
Log-in
Depois de comentar recentemente que o Google Goggles traduz textos usando OCR, e pouco mais de um ano de comentar 3 ferramentas de reconhecimento OCR online, chegou o momento de ampliar a lista de ferramentas que nos permitem reconhecer texto de imagens ou documentos PDF. Neste caso free-online-ocr.com nos permite enviar imagens ou documentos PDF pedindo o formato de destino: doc, rtf o txt, mantendo a estrutura da informação e devolvendo o resultado sem necessidade de cadastro. Também gira automaticamente as páginas, sendo ideal para transformar documentos escaneados em arquivos que possam ser editados. Uma excelente ferramenta que vale a pena ter sempre presente.
Free Online OCR – De PDF ou imagem a Word, RTF ou TXT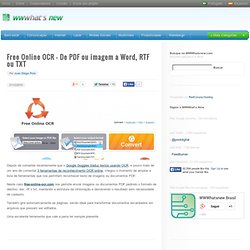 eFront: Facebook for e-Learning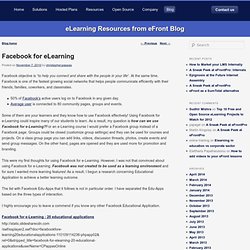 Facebook objective is "to help you connect and share with the people in your life". At the same time, Facebook is one of the fastest growing social networks that helps people communicate efficiently with their friends, families, coworkers, and classmates.50% of Facebook's active users log on to Facebook in any given day.Average user is connected to 80 community pages, groups and events. Some of them are your learners and they know how to use Facebook effectively! Using Facebook for e-Learning could inspire many of our students to learn. As a result, my question is how can we use Facebook for e-Learning?
Study Tracker bookmarklet Take charge of your GPA with StudyTracker – you can't manage what you don't measure. StudyTracker is GradeGuru's first iPhone application. Stay on track to achieving your grade goals. Assess your performance in each of your courses to see where you need to invest your time.
With the start of the new school year, many teachers and students are seeking new products and technologies to help them through their upcoming academics. With the increase of teachers using blogs and wikis, and students networking and utilizing online tools, the demand for easier and more efficient ways of learning is on the rise. To me, the growing interest for web-based learning is amazing, which brought me to thinking; what if I were to consolodate some of the helpful online products and services that can help students, teachers and administrators alike?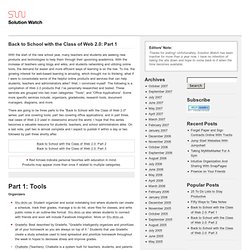 E-learning tools for schools and education