Computing
The 32 Totally Essential (and Free) Apps for Every New PC - Page 1. You have to admit, Windows is a pretty barebones operating system, feature-wise.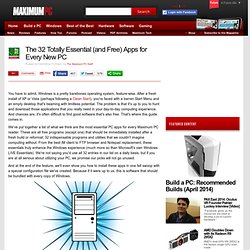 After a fresh install of XP or Vista (perhaps following a Clean Start), you're faced with a barren Start Menu and an empty desktop that's beaming with limitless potential. The problem is that it's up to you to hunt and download those applications that you really need in your day-to-day computing experience. And chances are, it's often difficult to find good software that's also free. That's where this guide comes in. We've put together a list of what we think are the most essential PC apps for every Maximum PC reader. Special ALT Characters. How To Rip DVDs with VLC. Yesterday we took a look at the new feature in VLC 1.0 which allows you to record DVDs to your computer.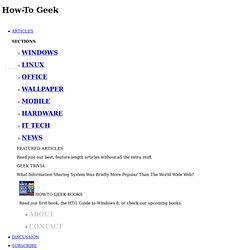 There is also an overlooked feature in VLC that allows you to rip your DVDs as well. Here we will take a look at how to rip DVD movies with VLC for Windows. 3D Animation Workshop: 3D Modeling Tutorials, Lessons, and Software Reviews. Skulpt. 25 Incredible jQuery Slider Tutorials and Plugins | Web Design Blog | Web... To purchase WDF's very own jQuery slider, click here.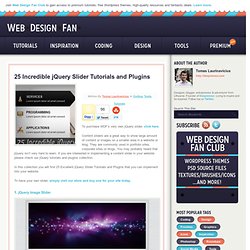 Content sliders are a great way to show large amount of content or images on a smaller area in a website or blog. They are commonly used in portfolio sites, corporate sites or blogs. You may probably heard that jQuery isn't very hard to learn. Free File Hosting - Online Storage; Upload Mp3, Videos, Music. Backup Files. Useful Free Web UI Elements PSD Packs chethstudios Design Magazine.
Everyone Likes Freebies, and when those freebies saves you a lot of time they surely become priceless and worth a mention, and we are here with a neat and useful roundup of all the web UI Elements every designer/web developer must download.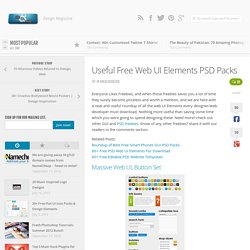 Nothing more useful than saving some time which you were going to spend designing these. Need more? Top 29 Free UX Tools and Extensions. Ever wonder how usable your site appears to someone with a disability, slower connection, or different setup?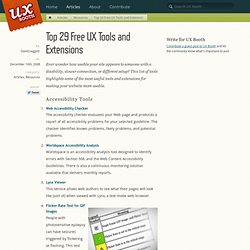 This list of tools highlights some of the most useful tools and extensions for making your website more usable. Accessibility Tools. If Windows users want to give themselves some lovin' then you need Ninite ... Beautiful Slide Out Navigation: A CSS and jQuery Tutorial. Today I want to show you how to create an amazing slide out menu or navigation for your website.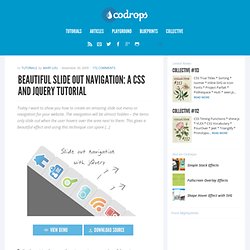 The navigation will be almost hidden – the items only slide out when the user hovers over the area next to them. This gives a beautiful effect and using this technique can spare […] View demoDownload source. Sorting Algorithm Animations. JScreenFix - Fix stuck pixels and image persistence. CSSWARP - CSS Text to Path Generator. CSS-only Menus.
CSS3 Generator. Timeline. Lineup for witnesses Oswald taken to second lineup Deputy sheriff identifies Oswald Bullet 399 handed to SS Chief Rowley.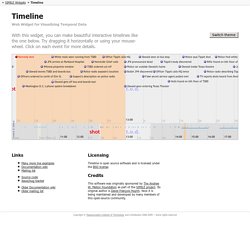 ColorBox - customizable lightbox plugin for jQuery 1.3 & 1.4. A lightweight customizable lightbox plugin for jQuery Fork me on GitHub View Demos Download Released under the MIT License.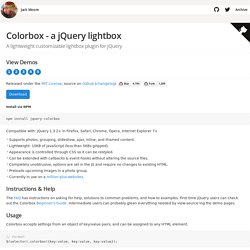 Object-Oriented PHP for Absolute Beginners. Home : Articles : Object-Oriented PHP for Absolute Beginners Tutorial by Matt Doyle | Level: Beginner | Published on 8 April 2011 Categories: This tutorial introduces you to object-oriented programming in PHP.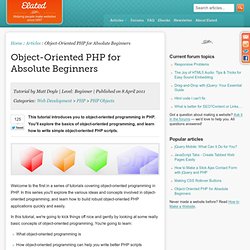 Ajax Upload - ZURB Playground - ZURB.com. You're going to need jQuery and the AJAX Upload jQuery plugin.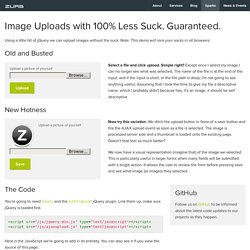 Link them up, make sure jQuery is loaded first. Here is the JavaScript we're going to add in its entirety. You can also see it if you view the source of this page. 40 Online Generators for Web Designers Should Bookmark. Online Generators for Web Designers can be a great way to save time in your web design projects. High-quality generators can create graphics or code or even layouts in a matter of seconds or minutes, things that might take an hour or more if done by hand. Online generator are those tools that help us to create those popular "XHTML valid" CSS banners, micro buttons or css website templates in seconds. In such cases online generators can be of great help which do the necessary job and some tools don't have to be downloaded also.
10 Rock Solid Website Layout Examples. Layout can both be one of the easiest and one of the trickiest facets of web design. Sometimes a designer can bust out an amazing layout in minutes and sometimes that same designer can struggle for the better part of day with the same task. Each project is unique and calls for a unique solution, but I've found it helpful to keep a few rock solid and incredibly versatile alignments in mind that I can bust out when I get stuck. The ten layouts below should be enough to get you through even the worst cases of designer's block when you can't figure out the best way to arrange the content on your page. Keeping It Simple Page layout is equal parts art and science. GPU Benchmarks. Founded in 2006 the group idled for a few years before becoming active in 2010.
We aim to release a major project every quarter which we either promote in-house, release to the community as open source or sell. The m group consists of a loose collective of staff who work ad-hoc on their various projects. Online IDE. Font API - Google Code.
Design. 18 Latest jQuery Plugins for Your Next Project | Onextrapixel - Showcasing... jQuery has been one of the more popular JavaScript Framework that emphasizes interaction between JavaScript and HTML. Many developers like to experiment with it because it is fast and easy to use. 2009 has been a very exciting year for most of the open source projects, blogs and businesses. Over this past year, there has been tremendous growth in the jQuery community. jQuery released version 1.3 in January 2009 and more plugins have been appearing online as well.
As a jQuery fan, we like to keep up-to-date with the latest jQuery Plugins available online as often as possible. Included in this article are 18 great jQuery Plugins that was released in 2009. OpenCourseWare | Electrical Engineering and Computer Science | 6.189 A...
Programming. Useful Websites. Billable: Billing Made Simple. Period. Understanding. Optimizing. Data Organization. MiniAjax.com / Highlighting Rich Experiences on the Web. GotoAndLearn() - Free video tutorials from Lee Brimelow on Adobe Flash.
---