Design - teorie
Article Archive. What did you get done today?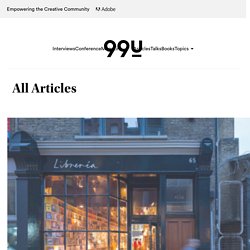 Knowing the answer makes a huge difference in your motivation levels. read more → The entrepreneurs and creatives who make a lasting impact often aren't the most talented, they are the most empathetic. CMYK Selected Color Codes. CMYK (Cyan-Magenta-Yellow-blacK) Color Codes This page lists the CMYK (Cyan-Magenta-Yellow-blacK) representation of color of the form cmyk(C%, M%, Y%, K%), where C, M, Y, and K are the percent values for the cyan, magenta, yellow, and black values of the color.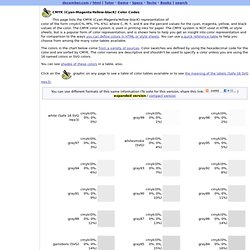 The CMYK color system is used in printing inks for paper. How to Deal with Images on the Web - Web Design Usability Guide. They say a picture is worth a thousand words.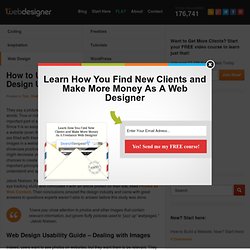 True or not, images are an important part of any website we create. Since it is so easy to embed an image in a website (even the process of creating your own images is very easy), most websites are filled with them. There are some very good examples out there on how to deal with images in a website from different points of view, but most of the websites do not showcase positive examples. And while this is not entirely dangerous for a design, it might decrease your chances to sell, in case you have a call-to-action page, or the chances to create good reading flow. It is more a matter of details than a matter of important principles, but dealing with images should be something designers understand and apply better. 10 Awesome Infographics for Graphic Designers. As a graphic designer, you've probably designed at least a few infographics for your clients – or even for fun.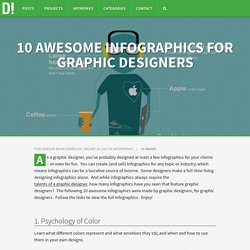 You can create (and sell) infographics for any topic or industry, which means infographics can be a lucrative source of income. Some designers make a full-time living designing infographics alone. And while infographics always require the talents of a graphic designer, how many infographics have you seen that feature graphic designers? The following 10 awesome infographics were made by graphic designers, for graphic designers. Follow the links to view the full infographics. Five Manifestos for the Creative Life. By Kirstin Butler How a numbered list can start a personal revolution.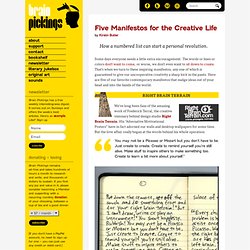 Some days everyone needs a little extra encouragement. The words or lines or colors don't want to come, or worse, we don't even want to sit down to create. That's when we turn to these inspiring manifestos, any one of which is guaranteed to give our uncooperative creativity a sharp kick in the pants. Here are five of our favorite contemporary manifestos that nudge ideas out of your head and into the hands of the world. Arta prelucrarii lemnului. Assumption reversal : Creative Choices. The big idea Assumption reversal was developed by Stephen Grossman, a creativity consultant who wanted to find a way to overcome the paradoxes that are often inherent in many problems.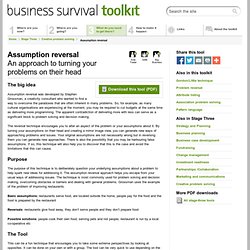 So, for example, as many cultural organisations are experiencing at the moment, you may be required to cut budgets at the same time as delivering more programming. The apparent contradiction of delivering more with less can serve as a significant block to problem solving and decision making. The reversal technique encourages you to alter an aspect of the problem or your assumptions about it. By turning your assumptions on their head and creating a mirror image view, you can generate new ways of approaching problems and issues. Conceptual Conversations For Creative Ideas. When we, in the business world, are looking for creative ideas, there is a tendency to brainstorm or use another form of structured idea generation which aims to do precisely that: generate ideas.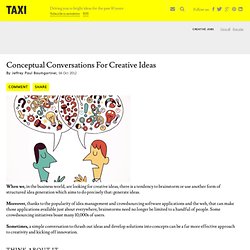 Moreover, thanks to the popularity of idea management and crowdsourcing software applications and the web, that can make those applications available just about everywhere, brainstorms need no longer be limited to a handful of people. Some crowdsourcing initiatives boast many 10,000s of users. Sometimes, a simple conversation to thrash out ideas and develop solutions into concepts can be a far more effective approach to creativity and kicking off innovation. Think About It As useful as these initiatives are, it is sometimes more effective to bring a small group of people together and encouragement them to have a conversation in which they talk about the problem and potential solutions and even begin to develop more complete concepts based on those solutions.
15 TED Talks Every Web Designer Should Watch. Whether you're looking for inspiration or insight, these 15 videos cover everything from personal happiness to the future of web design and internet.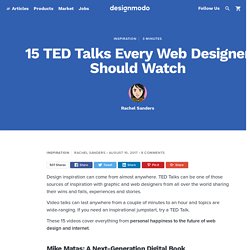 Mike Matas: A Next-generation Digital Book Mike Matas demonstrates the first full-length interactive book: Al Gore's "Our Choice". Displayed on the iPad and combined with the written text is an hour of documentary footage, interactive graphics, audio and maps. Not only does this book introduce new concepts of illustrative art, but it also offers new ways to interact with and organize data to share stories. Despre autenticitate în designul contemporan, o dezbatere necesară | Designist. Am fost aseară la dezbaterea despre autenticitate în designul contemporan, organizată de Intro în cadrul expoziţiei retrospective Eames by Vitra, la The Ark.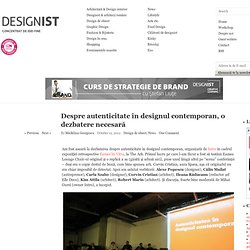 Primul lucru pe care l-am făcut a fost să testăm Eames Lounge Chair-ul original şi o replică a sa (găsită şi adusă aici), puse unul lângă altul pe "scena" conferinţei – deşi era o copie destul de bună, cum bine spunea arh. Corvin Cristian, aura lipsea, aşa că originalul nu era chiar imposibil de detectat. Designing type systems. I remember a conversation from back in my student days where my typophile friends and I debated what the ultimate typeface of the twentieth century was, a typeface that summed up all of the era's advancements and knowledge into a coherent whole, one that would be a reference for years to come.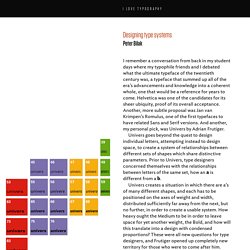 Helvetica was one of the candidates for its sheer ubiquity, proof of its overall acceptance. Another, more subtle proposal was Jan van Krimpen's Romulus, one of the first typefaces to have related Sans and Serif versions. And another, my personal pick, was Univers by Adrian Frutiger. Univers specimen, Deberny et Peignot, Paris, 1964.
Thanks to Linotype GmbH for providing the illustration. Simple Design Solutions: Learn a Thing or Two from IKEA - Designer Blog Designer Blog. Design is about thinking on your feet — coming up with simple design solutions to problems that are often very complicated. In a great example of keeping it simple, IKEA created a brilliant product for the launch of their iPAD catalogue in Norway: the Ikea Beröra. It's a sewing kit equipped with specialized conductive thread to sew into a glove, so gloved users in frigid countries like Norway could use their iPad outside without freezing their fingers. All 12,000 kits of these were sold out in just two weeks.
Goes to show the power of simple solutions, doesn't it? Reader (60) Graphic Design, Referenced by Bryony Gomez-Palacio and Armin Vit. Graphic Design, Referenced is a visual and informational guide to the most commonly referenced terms, historical moments, landmark projects, and influential practitioners in the field of graphic design. With more than 2,000 design projects illustrating more than 400 entries, it provides an intense overview of the varied elements that make up the graphic design profession through a unique set of chapters: principles defines the very basic foundation of what constitutes graphic design to establish the language, terms, and concepts that govern what we do and how we do it, covering layout, typography, and printing terms. knowledge explores the most influential sources through which we learn about graphic design from the educational institutions we attend to the magazines and books we read.
Productivity Future Vision (2011) How do you build a country brand? You can't really, but you have to start somewhere. Big global brands such as Nike and IKEA are large enough in revenues to surpass the GDP of a small country. However, their brands are managed better than most countries. This is a shame because powerful country brands that are carefully managed tend to yield massive benefits for tourism, industry, politics and culture. 10 Unmissable TED Videos For Designers. TED (Technology, Entertainment, Design) has been existed since 1984 with the primary objective to spread some really great ideas and experience related with technology, entertainment and design.
You might not be familiar with this conference, but seriously, cool technological devices like Xbox Kinect is inspired by one of TED's talk. (Image Source: TED) For sure it's not just about complicated technology or hardcore design theory. Color Theory for the Color Blind. Color blindness is a mild disability through which the affected experience a decreased ability to distinguish colors from others. This can be a real drawback for anyone in the design field since color theory is an integral feature in successful design, and a lot of decisions are based on the feeling and emotion derived from design decisions, rather than a generic set of guidelines and taxonomies. You've probably heard a lot about accessibility in web design already; it's important to cater for the widest audience, who could potentially have problems with your website if not designed in the right way. As a bonus, we'll touch on that a bit later, but the main focus of this article is actually looking at how a color-blind designer can still successfully tailor a website's design.
A Guide to Creating Professional Quality Logo Designs. What makes a great product design? From thoughts to reality. The Elements Of Design Part I: Introduction. Points, Dots, And Lines: The Elements Of Design Part II. Forms: Surfaces And Planes, Volumes And Mass: The Elements Of Design Part III. Structures As Patterns and Textures: The Elements Of Design Part IV. Visual Grammar: How To Communicate Without Words. The Meaning Of Shapes: Developing Visual Grammar. The Meaning of Lines: Developing A Visual Grammar. The Inverted Pyramid Of Visual Design. Design Criticism and the Creative Process. Symmetry in Design: Concepts, Tips and Examples. Do You Know When To Communicate Verbally And When To Communicate Visually?
The Principles of Design: For the Web. Good design: Dieter Rams. Printing Techniques.
---