Health and Beauty
Get flash to fully experience Pearltrees
Preparation Whisk together lime zest and juice, butter, oil, sugar, 1/2 teaspoon salt, and 1/4teaspoon pepper in a large bowl.
The following article was written by Alexis Wise. Found the love of your life?
The following article was written by Lauren Gordon, who is PETA's celebrity marketing coordinator and also a certified holistic health counselor. Cool down this summer with homemade popsicles, like these refreshing Creamy Raspberry-Orange Popsicles.
There are a lot of salads with tomatoes and cucumbers on this blog.
Check out this chard: It went limp two days after I bought it…
Use toothpaste on yellow nails. This usually happens when you let nail polish stay on your nails for very long and when you've used cheap nail polish. Whiten them all up by rubbing toothpaste to remove the stains.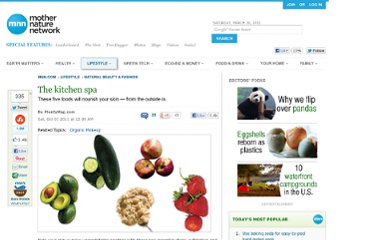 Help your skin survive unpredictable weather with these two essential steps: exfoliation and moisturization. Skin-cell buildup leads to dryness, poor circulation and blemishes. Exfoliation eliminates these dead cells, revealing fresh skin that is better able to absorb moisture.