Languages
Languages~distance~learning. Vocabulary websites. Grammarly - English grammar checker, proofreader &plagiarism scanner - StumbleUpon. Languages - Homepage: All you need to start learning a foreign language. Forvo: the pronunciation guide. All the words in the world pronounced by native speakers. Freerice.com. Internet Slang words - Internet Dictionary. Free Online Pronunciation Guides with Instant Sound: English + 9 Languages.
Learn 40 Languages for Free: Spanish, English, Chinese & More. How to learn languages for free?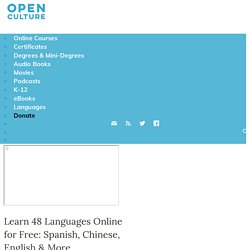 This collection features lessons in 40 languages, including Spanish, French, English, Mandarin, Italian, Russian and more. Download audio lessons to your computer or mp3 player and you're good to go. Arabic Arabic for Global Exchange – Web siteFrom Carnegie Mellon, a mini-course for individuals with no proficiency or extremely limited knowledge of Arabic language and culture who are about to begin study or work in an Arabic-speaking context.Arabic Language Lessons - iTunes FreeThe US Peace Corps serves up 10 free lessons that will teach you the Arabic spoken in Jordan.
The web site includes a useful transcript.Arabic for Beginners 1 – YouTube FreeA series of video lessons from Dalarna University in Sweden.ArabicPod - iTunes FreeIncludes mp3s and PDF transcripts.Foreign Service Institute Basic Amharic - Web siteLessons in dialogues, drills, exercises, and narratives. Dictionary.com | Find the Meanings and Definitions of Words at Dictionary.
English to French, Italian, German & Spanish Dictionary. Dictionary, Encyclopedia and Thesaurus - The Free Dictionary.
---