Online university lectures
Courses from Top Universities. Try Audible Now & Get a FREE Audiobook!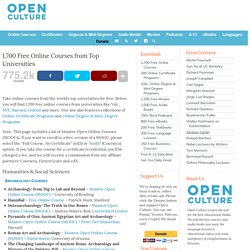 Get free online courses from the world's leading universities – Stanford, Yale, MIT, Harvard, Berkeley, Oxford and more. You can download these audio & video courses (often from iTunes, YouTube, or university web sites) straight to your computer or mp3 player. Over 30,000 hours of free audio & video lectures, await you now. Humanities & Social Sciences Art & Art History Courses. Universities -- Free Courses. See our list of the top schools offering free courses online.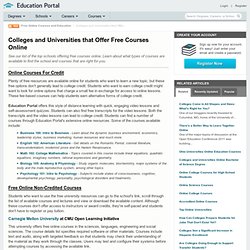 Learn about what types of courses are available to find the school and courses that are right for you. Online Courses for Credit Plenty of free resources are available online for students who want to learn a new topic, but these free options don't generally lead to college credit. Students who want to earn college credit might want to look for online options that charge a small fee in exchange for access to online lessons. UMass. UC Irvine. Water is the economic, social, and physical lifeblood of humanity, providing the bases for agriculture, industry, transportation, energy production, and life itself.
Despite its importance, alarming signs suggest that there are looming threats to this vital resource. The World Resources Institute contends that the world's thirst for water is… Read more. MIT. Notre Dame. Berkeley. Yale.
---