Online lecture websites
The Leo Strauss Center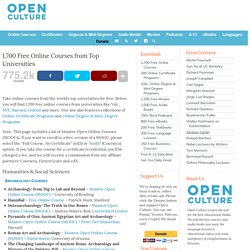 Get free online courses from the world's leading universities – Stanford, Yale, MIT, Harvard, Berkeley, Oxford and more. This collection includes over 875 free courses in the liberal arts and sciences. You can download these audio & video courses (often from iTunes, YouTube, or university web sites) straight to your computer or mp3 player.
Highlights of Calculus Highlights of Calculus is a series of short videos that introduces the fundamental concepts of calculus. Mathematics professor, Gilbert Strang, will guide students through a number of calculus topics to help them understand how calculus works and why it is relevant and important to understand. Darwin and Design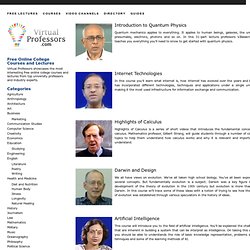 Subscribe to our newsletter to receive digest of activity European Data Forum (EDF), Athens 2014 The European Data Forum (EDF) is an annual meeting place for industry, research, policy makers, and community initiatives to discuss ... BBCI Winter School on Neurotechnology, Berlin 2014 Brain-Computer Interfaces (BCIs) and alternative applications of Neurotechnology based on sophisticated data analysis methods have become an active and flourishing ...
Welcome to the website of the Backdoor Broadcasting Company. We are a mobile audio webcasting service, which concentrates on recording academic research. We are hired by universities, learned societies and research institutes to record their research as presented at conferences, symposia, workshops, public lectures and seminars and to disseminate it to a ready-made world-wide audience. Once we have the recording, it is edited to the required specification and the sound is enhanced. Then each recording will be presented on its own individual webpage, with additional information, such as abstract and/or publications. Every page can be linked or embedded to other pages and all carry social network buttons, as well as RSS feeds.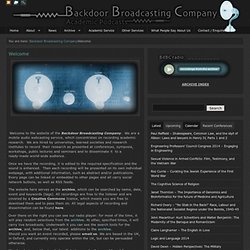 Academic Earth believes everyone deserves access to a world-class education, which is why we continue to offer a comprehensive collection of free online college courses from the world's top universities. And now, we take learning outside the classroom with our original series of thought-provoking videos, designed to spark your intellectual curiosity and start a conversation. Watch, learn, share, debate. After all, only through questioning the world around us, can we come to better understand it.