Online lecture websites
Courses. Free Online Courses. The Leo Strauss Center. Open Culture. Try Audible Now & Get a FREE Audiobook!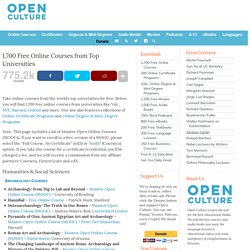 Get free online courses from the world's leading universities – Stanford, Yale, MIT, Harvard, Berkeley, Oxford and more. You can download these audio & video courses (often from iTunes, YouTube, or university web sites) straight to your computer or mp3 player. Virtual Professors. OpenLearn - The Open University. Videolectures.net. History of Philosophy without any gaps. Academic Podcasts - Backdoor Broadcasting Company.
Academic Earth | Online Courses | Academic Video Lectures. Forum Network.
---