Cooking
Healthy Vegetarian Recipes - Dr. Ozs Healthy Recipes. Tomatoes with a Surprise Filling. This is a quick an easy summertime appetizer!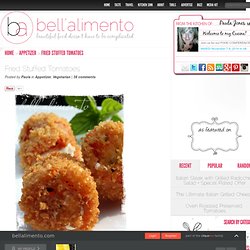 Pomodori a Sorpresa means tomatoes with a surprise! Who doesn't love a surprise right? Well, me actually LOL! I'd much rather know! Healthy Weeknight Dinners : Recipes and Cooking. How To… Cook Healthy Mozzarella Sticks | Things Every College Girl Should Know - StumbleUpon. Photo credit Who says our favorite cheesy foods have to be off limits?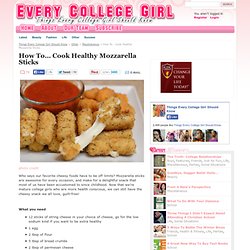 Mozzarella sticks are awesome for every occasion, and make for a delightful snack that most of us have been accustomed to since childhood. Now that we're mature college girls who are more health conscious, we can still have the cheesy snack we all love, guilt-free! What you need 12 sticks of string cheese in your choice of cheese, go for the low sodium kind if you want to be extra healthy1 egg2 tbsp of flour5 tbsp of bread crumbs2 tbsp of parmesan cheeseA dollop of olive oil, or cooking spray.
Naan Recipe - Allrecipes.com - StumbleUpon. Best Recipes 2011: Our 25 Most Popular Recipes - iVillage. Chipotle Chicken Marinade Recipe. Quick Links: Nutrition Info Message Board Free Account Recipe #1 (UPDATED: 7/20/10) Submitted by Ramya Maddela All Purpose Chipotlesque Marinade (EDITED) 1 (2 ounce) package dried ancho chiles 1 (7 ounce) can chipotle pepper in adobo sauce (discard chipotle pepper, skim out seeds) 1 teaspoon black pepper 2 teaspoons cumin powder 2 tablespoons fresh oregano, chopped 6 cloves garlic 2 teaspoons salt 1 red onion, quartered 1/4 cup oil (canola/vegetable/olive) 1 whole boneless, skinless naturally raised chicken (about 3 lbs, thighs work well too)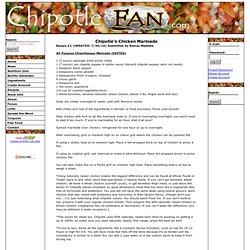 Spring Holidays: Mothers Day Brunch Recipes - Martha Stewart - StumbleUpon. Yongfook on Open Source Food / Cooking, Recipes & Food Photos. Culinary Digest | Food blog, recipes, cooking techniques, and food community. Bacon-Wrapped Chicken Tenders. Crispy Parmesan and Dijon Chicken Strips - The Scrumptious Pumpkin - StumbleUpon. This is my go-to recipe when I've had a crazy day, I'm running 30 minutes behind, and I'm starving .
These chicken strips are healthy, delicious and nearly as easy to throw together as the frozen chicken tenders you find at the grocery store. Served with a couple quick sides like a tossed salad and sliced carrots, it's complete meal that's ready in 20 minutes. Here are the key ingredients. Panko-Peanut Crusted Pork Chops or Tilapia . Kitchen Explorers . PBS Parents. Pin ItHardly a day goes by when I don't eat peanut butter.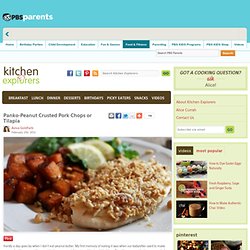 My first memory of eating it was when our babysitter used to make me mashed bananas with peanut butter as a special treat, and I just gobbled it up. Now I love peanut butter on my whole wheat toast, in my ice cream, covered in chocolate, with carrots or apples, and stirred into my Asian noodles and marinades. (I even enjoy licking it off a spoon.) Fortunately, this is a healthy indulgence (well maybe not so much when it's mixed into ice cream), as peanuts are powerful nutrients, full of healthy monosaturated fats, antioxidents, vitamin E, manganese, protein and fiber. I was in fourth grade in Glencoe, Illinois, when I first learned about the famous African American inventor and scientist, George Washington Carver, who popularized peanuts as a crop in the U.S. and created more than 300 products made from peanuts.
I Believe I Can Fry: Baked Rosemary Garlic Fries - StumbleUpon. Back in February, I visited one of my best friends in Cleveland.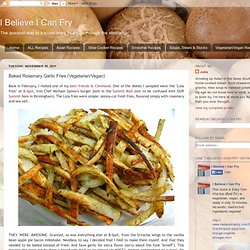 One of the dishes I sampled were the "Lola fries" at B-Spot, Iron Chef Michael Symon's burger joint in the Summit Mall (not to be confused with OUR Summit here in Birmingham). The Lola fries were simple; skinny-cut fresh fries, flavored simply with rosemary and sea salt. THEY. Baked Tomato, Garlic, and Basil Bruschetta Bites. Finger foods are my favorite kind of food—to eat but not to make.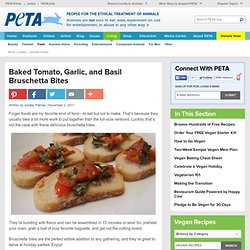 That's because they usually take a bit more work to put together than the full-size versions. Luckily, that's not the case with these delicious bruschetta bites. They're bursting with flavor and can be assembled in 15 minutes or less! So, preheat your oven, grab a loaf of your favorite baguette, and get out the cutting board. Bruschetta bites are the perfect edible addition to any gathering, and they're great to serve at holiday parties. Bacon Egg Pancake Cups | Kirbie's Cravings | A San Diego food blog sharing restaurant reviews and recipes - StumbleUpon.
Monday, April 11, 2011 Bacon Egg Pancake Cups About a month ago I made some bacon egg toast cups.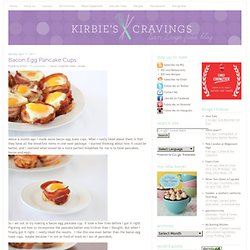 What I really liked about them is that they have all the breakfast items in one neat package. I started thinking about how it could be better, and I realized what would be a more perfect breakfast for me is to have pancakes, bacon and eggs. So I set out to try making a bacon egg pancake cup. Thai Chicken Pizza | livelovepasta. I hope everyone had a good weekend.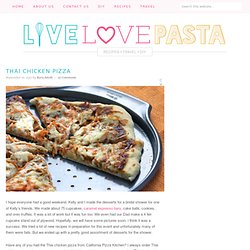 Kelly and I made the desserts for a bridal shower for one of Kelly's friends. We made about 75 cupcakes, caramel espresso bars, cake balls, cookies, and oreo truffles. The best taco seasoning recipe ever — Celebrities, Current Events, Health & Fitness, Northwest Indiana Mom Blog. Homemade Baked Mozzarella Sticks | Penelope's Oasis - StumbleUpon. Mozzarella sticks are a delicious treat, probably one of the most popular appetizers at restaurants, and a fun party food.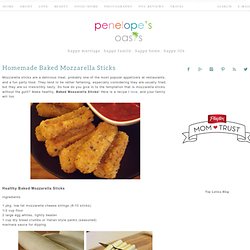 They tend to be rather fattening, especially considering they are usually fried, but they are so irresistibly tasty. So how do you give in to the temptation that is mozzarella sticks without the guilt? Make healthy, Baked Mozzarella Sticks! Here is a recipe I love, and your family will too. Ingredients. Healthy Brown Bag Lunches For Kids and Adults - YouBeauty.com - StumbleUpon. Be a healthy hero: Pack a daily lunch for yourself and your children. Not only will you give your diet a big nutrition boost, you'll save money too. We've got ten expert-approved, easy-to-pack lunch ideas—five for kids, and five for adults—to get you started. Now get packing! MORE: Six Foods That Could Save Your Life. Stocking Your Refrigerator.
In just a few short weeks the summer will be over and everyone will be heading back to school. Boston is a college town with thousands of students living in apartments for the first time. I often see many students doing their first grocery shop of the year. Bacon, Egg, and Toast Cups - Martha Stewart Recipes - StumbleUpon. Jennifer Segal: Broiled Salmon With Thai Sweet Chili Glaze - StumbleUpon. This recipe is so simple and yet so elegant. Salmon fillets are quickly marinated in Thai sweet chili sauce, soy sauce and ginger and then broiled until caramelized on top. Begin by making the marinade. Honey-Garlic Glazed Meatballs Recipe - Allrecipes.com - StumbleUpon. Caramelized Onion Tart Recipe | Savory Sweet Life - Easy Recipes from an Everyday Home Cook - StumbleUpon. Aramelized onions… need I say more? What's a girl to do when she has a package of puff pastry staring at her each time she opens the door to her freezer? Well my friends, it's your lucky day because I'm about to share with you an onion tart fancy enough to serve at your next dinner party and simple enough to enjoy at home any day you'd like.
There is something magical about caramelized onions. It reminds me of the stages of a caterpillar turning into a butterfly. With the help of butter and a few seasonings regular yellow onions transform into a soft heap of golden goodness. Almost-Famous Green Bean Fries Recipe : Food Network Kitchens : Food Network - StumbleUpon. Directions Make the dip: Puree the dressing, cucumber, horseradish, milk, vinegar, wasabi powder, cayenne pepper, and salt to taste in a blender until smooth. Cover and refrigerate until ready to serve.
Prepare the beans: Fill a large bowl with ice water. Bring the broth to a boil in a saucepan over high heat. Jalapeno Artichoke Party Dip | CakeMaven - StumbleUpon.
Picture the Recipe - StumbleUpon. Recipes for Authentic Cooking - SAVEUR.com - StumbleUpon. The Food in my Beard - StumbleUpon. A Cozy Kitchen - StumbleUpon. Caramelized Apple Crepes & Recipe & Zoom Yummy - StumbleUpon.
---