Video Games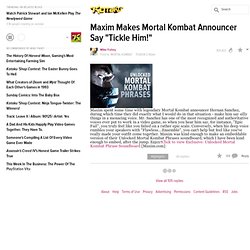 Maxim spent some time with legendary Mortal Kombat announcer Hernan Sanchez, during which time they did exactly what I would do in that situation - make him say silly things in a menacing voice. Mr. Sanchez has one of the most recognized and authoritative voices ever put to work in a video game, so when you hear him say, for instance, "Epic Fail", you truly feel like you failed on a rather epic scale. Conversely, when his deep voice rumbles your speakers with "Flawless....Ensemble", you can't help but feel like you've really made your outfit come together. Maxim was kind enough to make an embeddable version of their Unlocked Mortal Kombat Phrases soundboard, which I have been kind enough to embed, after the jump.
Maxim Makes Mortal Kombat Announcer Say "Tickle Him!"
Posted on December 2, 2010 It only seems right for me to begin this blog with the topic that inspired me to start it in the first place. Not too long ago, I came across Jamey Pittman's "Pac-Man Dossier", which is a ridiculously-detailed explanation of the mechanics of Pac-Man. I found it absolutely fascinating, so this site is my attempt to discover and aggregate similarly-detailed information about other games (albeit in much smaller chunks).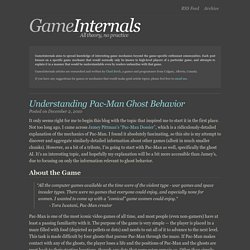 I Raff I Ruse
Minecraft is a game about breaking and placing blocks. At first, people built structures to protect against nocturnal monsters, but as the game grew players worked together to create wonderful, imaginative things. It can also be about adventuring with friends or watching the sun rise over a blocky ocean. It's pretty. Brave players battle terrible things in The Nether, which is more scary than pretty. You can also visit a land of mushrooms if it sounds more like your cup of tea.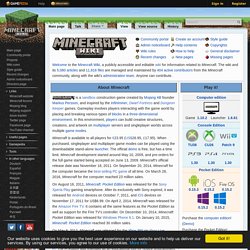 is a sandbox construction game, inspired by Infiniminer, Dwarf Fortress and Dungeon Keeper, created by Markus Persson, the founder of Mojang AB. The game involves players placing and breaking various types of blocks in a three-dimensional environment. The player takes on an avatar that can break and place blocks, forming fantastic structures, creations, and artwork, on multiplayer servers and singleplayer worlds across multiple game modes.
3D Printer for your Minecraft Designs
If you're one of the millions of Minecraft players out there, this is for you. Two students at MIT Media Lab have created a program that enables players to print 3D models of objects they create in the game. Items to be printed are designated by placing diamond, gold, obsidian, and iron blocks at opposite corners of the object, and the program does the rest. Now you can bring some of your favorite Minecraft objects into the real world! The resolution of the prints is pretty impressive too. Popular 3D Projects: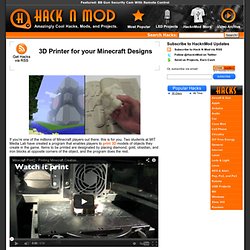 Motivational Poster - seems legit
"Where Were You Last Week?"
I Raff I Ruse
Show downloadable content Estranged: Act I Adventure, Free to Play - Released: 16 Jan 2014 Free SpellForce 2 - Demons of the Past - Soundtrack RPG, Strategy - Released: 16 Jan 2014