Yellow Thunder Media
How Leading Fashion Brands Are Embracing Online Video. A video commissioned by Kate Spade New York for its "Live Colorfully" campaign.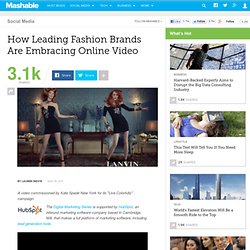 The Digital Marketing Series is supported by HubSpot, an inbound marketing software company based in Cambridge, MA, that makes a full platform of marketing software, including lead generation tools. Prohibitively high costs have historically kept TV out of the media mixes of all but the most securely backed fashion brands. But the web has given brands an opportunity to cheaply host and distribute video content for the first time, and many are now developing video content to bolster their online and offline retail businesses.
Cecilia Liu, digital marketing manager at Kate Spade New York, says that video had long been on the back burner for Kate Spade before it released its first "major" video in the spring of 2009. Say Media / Research. Beginner's Guide To Web Data Analysis: Ten Steps To Success. World Internet Usage Statistics News and World Population Stats. NOTES: (1) Internet Usage and World Population Statistics are for June 30, 2012. (2) CLICK on each world region name for detailed regional usage information. (3) Demographic (Population) numbers are based on data from the US Census Bureau and local census agencies. (4) Internet usage information comes from data published by Nielsen Online, by the International Telecommunications Union, by GfK, local ICT Regulators and other reliable sources. (5) For definitions, disclaimers, navigation help and methodology, please refer to the Site Surfing Guide. (6) Information in this site may be cited, giving the due credit to www.internetworldstats.com.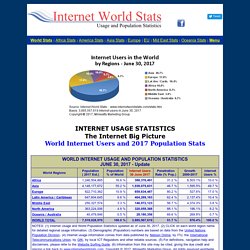 Copyright © 2001 - 2013, Miniwatts Marketing Group. All rights reserved worldwide.
---