Moda/Textil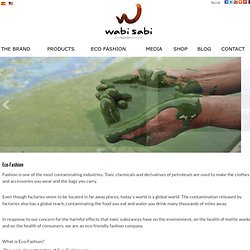 Fashion is one of the most contaminating industries. Toxic chemicals and derivatives of petroleum are used to make the clothes and accessories you wear and the bags you carry. Even though factories seem to be located in far away places, today´s world is a global world. The contamination released by factories also has a global reach, contaminating the food you eat and water you drink many thousands of miles away. In response to our concern for the harmful effects that toxic substances have on the environment, on the health of textile workers and on the health of consumers, we are an eco-friendly fashion company.
ECO FASHION
HandEye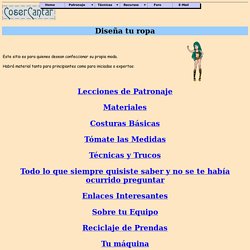 Cosercantar
Para empezar, necesitas saber qué quieres hacer. Una vez decidido y escogida la tela, debes tener en cuenta la cantidad que hará falta para el modelo deseado, no vaya a ser que te quedes a medias. Reúne los materiales necesarios y hazte con un rincón limpio y bien iluminado para trabajar. Coloca los patrones sobre la tela doblada –piensa que cada patrón suele representar la mitad de una pieza-, según la dirección del hilo (indicada por una flecha en la mayoría de patrones comerciales). Si estás tomando el modelo de una revista de patrones, fíjate en las indicaciones que ofrecen.
Método de corte París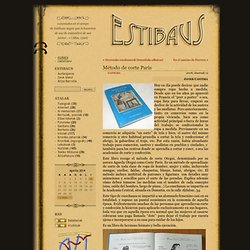 Javier Cantera Hoy en día puede decirse que nadie compra ropa hecha a medida. Desde que en los años 50 apareció en Francia el "pret a porter" o sea, ropa lista para llevar, empezó un declive de la actividad de los sastres y las modistas. Pero anteriormente, tanto en comercios como en la propia vivienda, bien sea como actividad principal o fuera de horas del trabajo, se confeccionaba la ropa a medida. Previamente en un comercio se adquiría "un corte" de tela y bien, el sastre del mismo comercio u otro habitual procedía a cortar la tela y confeccionar el abrigo, la gabardina el traje, etc. Por esta razón, había abundante trabajo para comercios, sastres y modistas en pueblos y ciudades, y también para los centros donde se aprendía a cortar y coser, o sea las academias de corte y confección.
shingo sato
Patternmaking for Fashion Design (5th Edition): Helen Joseph Armstrong: 9780136069348: Amazon.com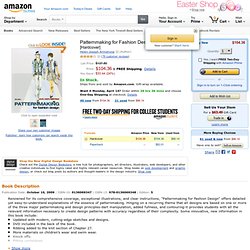 I wanted to give a review about this book but before I do, I feel that you need to know something about my background and how it relates in my synopsis of the text. I am a freelance patternmaker that lives in New York. I have a BFA in Fashion Design and Marketing and I have been making patterns for roughly about 16 years. I have also taken some additional classes in recent years to learn new techniques and enhance previous ones I have learned. I own several other books ranging from basic patternmaking, books that specialize in lingerie patterns, and menswear pattern books.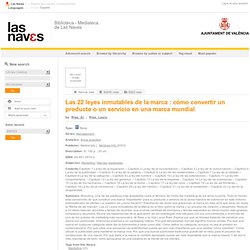 Fondo Publicolegiocv Capítulo 1 La ley de la expansión -- Capítulo 2 La ley de la concentración -- Capítulo 3 La ley de la comunicación -- Capítulo 4 La ley de la publicidad -- Capítulo 5 La ley de la palabra -- Capítulo 6 La ley de las credenciales -- Capítulo 7 La ley de la calidad -- Capítulo 8 La ley de la categoría -- Capítulo 9 La ley del nombre -- Capítulo 10 La ley de las extensiones -- Capítulo 11 La ley del compañerismo -- Capítulo 12 La ley del genérico -- Capítulo 13 La ley de la empresa -- Capítulo 14 La ley de las submarcas -- Capítulo 15 La ley de los hermanos -- Capítulo 16 La ley de la forma -- Capítulo 17 La ley del color -- Capítulo 18 La ley de las fronteras -- Capítulo 19 La ley de la coherencia -- Capítulo 20 La ley del cambio -- Capítulo 21 La ley de la mortalidad -- Capítulo 22 La ley de la singularidad. Branding.
Biblioteca - Mediateca de Las Naves Catálogo › Detalles para: Las 22 leyes inmutables de la marca
Knock-off designer handbags, shoplifting, sweatshop labor, provocative advertising, these are just a few examples of complex ethical issues in the fashion industry today. Ethics are about making good decisions, and in the fashion industry—where it is essential to work cooperatively with many different people—understanding ethics is key to being an honest, informed, and effective employee. Ethics in the Fashion Industry provides readers with the tools they need to develop and practice ethical decision-making skills.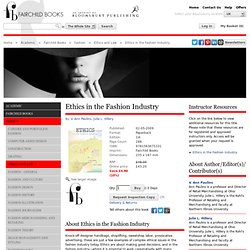 Ethics in the Fashion Industry
Reviews 'If sustainable goods are your thing, this is an enticing guide to the growing fair-trade fashion movement.' Christina Binkley, Wall St Journal'Insightful, inspiring... a book I will be recommending to all students of fashion.' Caryn Franklin, style guru, presenter, writer and campaigner'Showing fashion at its worst while providing upbeat solutions is a tough call but Safia Minney has achieved it with Naked Fashion.'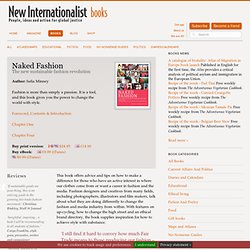 Naked Fashion
Where am I Wearing?: A Global Tour to the Countries, Factories, and People That Make Our Clothes, Revised and Updated - Kelsey Timmerman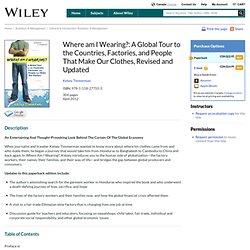 Preface xi Prologue: We Have It Made xv Part I The Mission 1 Chapter 1 A Consumer Goes Global 3
Fashion & Sustainability: Design for Change
Paperback 300 illustrations 208 pages 245 x 210 mm ISBN 9781780673011 Published October 2013 The area of recycling and upcycling is a rich and growing source of innovative design in the fashion and accessories industries. In a fast-fashion world of throw-away clothing, it is the ultimate expression of the slow-fashion movement, with each piece individually conceived and crafted from scratch, using different materials each time.
ReFashioned: Cutting-Edge Clothing from Upcycled Materials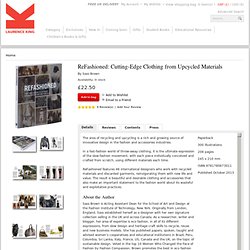 Thames & Hudson Publishers | Essential illustrated art books|Ultra Materials
'Truly useful … A designer's best friend' – The Art Book 'Unquestionably a vital point of reference for anyone whose professional fortunes depend on an open-minded and all-embracing approach to materials' – The Design Magazine 'If you're a designer looking for a new creative medium, this book could be the start of a whole new design adventure' – idFX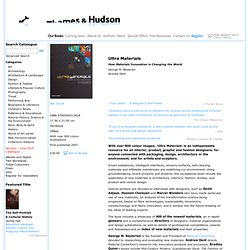 Thames & Hudson Publishers | Essential illustrated art books|Digital Visions for Fashion + Textiles
A richly illustrated survey of advances in creative computing and its impact on fashion, textiles and related digital sectors The invention of the Jacquard loom in the 18th-century century paved the way for computing and revolutionary change. Since then, code has evolved to enable new methods in design, visualization and production, achieving the previously unimaginable. Digital Visions for Fashion and Textiles considers how computing has reinvented image, material and structural processes, highlighting advancing 2D, 3D and interactive output. Digital/analogue fusions are defining new contexts for innovative fabrication.
'The definitive reference for 3D designers, product designers, architects and engineers' – New Design 'Does exactly what the title implies in an easy user-friendly manner … very useful and informative to designers and architects, whether students more experienced practitioners, as well as to anyone interested in the wider aesthetic and ethical issues of contemporary living … ' – The Art Book Today's product designers are presented with a huge number of choices when creating their work and preparing it for manufacture. With some 1,200 specially commissioned photographs and technical illustrations, this is the definitive, clearly organized reference for product designers, 3D designers, engineers and architects who need highly accessible and practical information. The book explores innovative production techniques and materials that are having an impact on the design industry worldwide.
Thames & Hudson Publishers | Essential illustrated art books|Manufacturing Processes for Design Professionals
'Irene Emery's great book is so well established as a work of reference that it is difficult to imagine how one previously muddled through without it' – Museum News 'Removes the mystery from textiles, once and for all. The lucid text, the superb photographs, the extensive bibliography and the detailed index all combine to make this book absolutely essential to museum workers and archaeologists' – Archaeology 'Will appeal to both the layman and the experienced textile specialist' – Handweaver and Craftsman In this monumental work, the structures of fabrics and the descriptive terms applied to them are clearly presented according to their logical relationships to each other, moving from the simplest to the most complex.
Thames & Hudson Publishers | Essential illustrated art books|The Primary Structures of Fabrics
'A colourful and exciting overview of textiles today, which does not just look forward, but also sideways in recognition of our cultural and historical connection to the fabric of our lives' – Embroidery The diversity of the textile world makes it both exciting and provocative as it brings together a wide range of otherwise fragmented perspectives. See the complete contents page Textiles owe their development to religion, commerce, exchange and travel, and their vibrant and creative preservation to tenacious regionalism. Artists and designers from India, Mali, Madagascar, Morocco, Burkina Faso and Nigeria have reinvigorated art and fashion by using the fabrics and graphic elements they find on the streets of London, Paris and New York and other cities.
Thames & Hudson Publishers | Essential illustrated art books|Textiles Today
Thames & Hudson Publishers | Essential illustrated art books|Advanced Textiles for Health and Wellbeing
Informative and inspirational, this is an essential resource for the design professional, fashion and design student, or anyone fascinated by cutting-edge technologies and innovative textiles. 'An authoritative guide to the technical textiles of tomorrow' – Embroidery From medical implants to spacesuits, advanced textiles have the potential to transform human habitats and transportation, protect the environment and support personal health and wellbeing. The world's most creative designers and engineers are working together to develop high-performance fabrics that are sustainable, fireproof, soundproof and anti-bacterial, and offer protection against extreme weather conditions and man-made disasters.
Thames & Hudson Publishers | Essential illustrated art books|The Fashion Resource Book
Christopher Ræburn
Clothing Design for Longevity
Love Your Clothes
Textile Futures Research Centre
The home of sustainable textile design research « Textiles Environment Design
The Ethical Fashion Source
Los 6 de Amberes
Portal profesional de la industria del textil y la moda
Fashion Revolution
Mary Brooks Picken
Clothing terminology
coolhuntermx
The Hunter - intelligent services
Televisión online, agencia de video y contenidos - Coolhunting - Tendencias.tv - Tendencias en moda, cultura, fashion, estilos de vida, street style
Cortana - Moda ready to wear, vestidos de fiesta, trajes de novia y accesorios de la diseñadora Rosa Esteva para Cortana
K-HOLE
Magnhild Kennedy
Reliquary
DANIEL SANNWALD: index
For Love & Lemons Butterfly Kiss Bralette at Free People Clothing Boutique
Eco Fashion Talk
Martinez Lierah
DELPOZO
Haute Hippie | Dresses | Tops | Bottoms | Sweaters | Jackets
Pinboard
EWGENIYA LYRAS
Hacienda
Showtime
Showtime
Guía de moda I: Slow Fashion - noticias - *faircompanies
SlowFashionSpain | La Plataforma de Moda Sostenible, Formaci
Duro Olowu
UTOPTION : Nadine Goepfert — Textile & Design
MIRANDA MAKAROFF
Hyères 2013 - 28E FESTIVAL INTERNATIONAL DE MODE & DE PHOTOGRAPHIE
House of Worth
Japanese Fashion Magazine Scans
Lorenzo Nanni
Nita Velvet Oxford - Starstruck in Shoes at Nasty Gal
MIND THE MUSTARD
Recetas caseras para aclarar el cabello
Fashion Week Autumn/Winter 2012
Fashionette, fashion for barbie, bratz and other dolls
LIBROS | Kireei, cosas bellas
Iso Textile
MARY KATRANTZOU - Currently in Design phase
Setareh Mohtarez
Jennifer Behr :: Hair Accessories
Robert Rydberg : Portfolio 1 : LinkDetails
NOIR FAÇADE - The place for fashion editorials.
Stolen Girlfriends Club
Welcome to Indiska - Indiska
Peep toe High - Swedish Hasbeens
DIY miu miu tights TUTORIAL
Sisters of the Black Moon
Paso a paso hormas de zapato.cambio radical***
Reserva de cera deretida para tenir tela
Historia Del Traje | Lic Alfredo Marino
Tokyo Jam
Swedish Hasbeens Peeptoe Super High
AlexandraValenti.com
Ze Cali Fairy's Photostream
Canal de LorealParisES
Páginas sobre: pintar medias de nylon