Recipes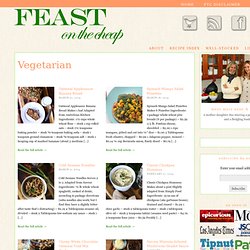 Crispy Kale Chips December 22, 2011 Mary Anne here.
Vegan and Vegetarian Recipes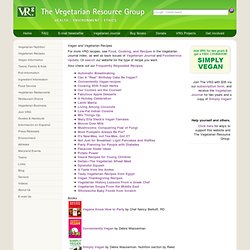 Poppy Seed Ramp Dressing
Ramps are a seasonal spring delicacy: a wild-foraged allium that only grows for a few weeks out of the year in our North Eastern region.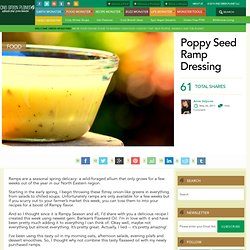 Gluten Free Mocha Ice Cream Sandwiches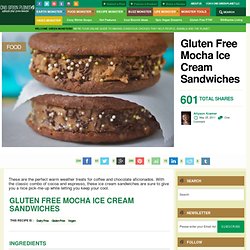 These are the perfect warm weather treats for coffee and chocolate aficionados.
People who are unfamiliar with the vegan diet may think that vegan food would lack in flavor, but they couldn't be farther from the truth. Just be sure to use herbs and spices to amp up the flavor of your favorite vegan dishes. These vegan recipes showcase the wonderful flavors of rosemary (in the soup), and parsley and basil (in the garlic bread).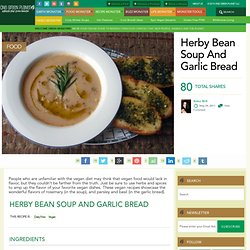 Herby Bean Soup And Garlic Bread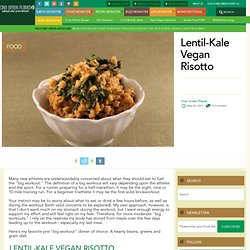 Many new athletes are understandably concerned about what they should eat to fuel the "big workout."
Fueling Your Workout with Lentil-Kale Vegan Risotto
Marrying together ingredients from different global cuisines makes for a great kitchen adventure. A hint of Mexican chipotle chili in a Moroccan chickpea stew.
Tofu Pakoras
Vegan Dumplings
Whether you call them dim sum, dumplings or pot stickers, these delectable Asian snacks are hard to resist.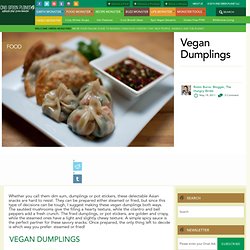 Giouvarlakia (Greek "Meatball" Soup)
This soup was one of my favorite soups in my pre-vegan days.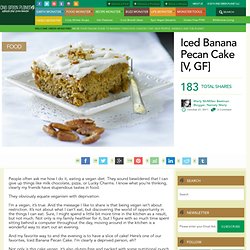 Iced Banana Pecan Cake
People often ask me how I do it, eating a vegan diet.
Vegan Sloppy Joes
Having once been a terribly picky eater, sloppy Joes are one of those meals that I remember loving as a child. There's something to be said for a dish that you're supposed to eat with your hands and get all over your face!
Tofu Scramble
One of the first things I missed when I went vegan was scrambled eggs in the morning. This recipe is more delicious, much healthier, and no animals were harmed in the making of this scramble. It's the perfect breakfast meal for my family!
Do you have one of those recipes that have been passed around from generation to generation or from friend to friend? I have several of these, some of which are just handwritten scribbles on a piece of paper.
Orange Poppy Seed Muffins
Spring is finally upon us!
Cupcake Cones
Walnut-Crusted Artichoke Hearts
Considering my Italian heritage, I admit that I may be partial to Italian cuisine.
Creamy Chocolate Torte
Swedish Vegan Chocolate Balls
Artichoke Paella
Happy Herbivore's Plastic-Free, Oil-Free Mexican Frittata
Getting Creative with Nut Milks
Spring Salad Throwdown!
Cooking with Seasonal Vegetables: Spinach
A Decadent Brunch without Eggs
Pumpkin Cheesy Shells Casserole with Broccolini
Daily Fuel For the Vegan Athlete
Recipe Ideas For A "Hoppy" Easter And Healthy Passover
Vegan and Grainfree Passover Macaroons
Gluten-Free Blueberry Apple Pie Cake
Raspberry Jam Spelt Crumb Bars
Low Fat Banana Chocolate Chip Crumb Muffins
Tempeh Picatta
The Low-Down On Veganizing Popular Baked Goods
Quick & Cheesy Uncheese Sauce
Chocolate Truffles: A Perfect Vegan Valentine Recipe
Corn Dog Cornbread & Baby Bella n' Basil Pita Pizza
For The Winter Blues: Tomato Soup and "Grilled Cheese" Hummus Quesadilla
5 Homemade Natural Energy Drinks For Your Workout
Walnut, Squash and Apple Bread
Muhammara Spread
DIY Almond Milk
Redefining Traditions — Quinoa-Stuffed Thanksgiving Squash Recipe
Make Your Own Tofu
Chocolate Chunk Cookies
Super-Thick Strawberry Shake
Green Tea and Mango Sandwiches
Homemade, Veggie-Full Ground "Meat"
Sweet Potato Pancakes With Cinnamon Maple Sage Butter
Banana Watermelon Seed Muffins
Nanaimo Bars
Roasted Red Pepper Hummus
Vegan Lasagna
Breakfast Poha (Flattened Rice Flakes Cooked with Veggies and Nuts)
Cashew Cream Cups
Chocolate Tart
Zucchini Blueberry Muffins
Lentil Crusted Tofu with Awesome Dipping Sauce
Raw Harvest Soup
Carrot-Apple Muffins
Vegan Green Eggs (and Ham)
Vegan Student Eating 101: Breakfast Options
Fregula with Butternut Squash and Sage
Coconut Macadamia Blondie Pie
Eggplant Burger
Raw Caramel Apple Pie
Herbed Chickpea and Sesame Crackers
Greek Nachos
Coco-NO-Chick Pasta
Breakfast Blueberry Chia Pudding