Lifehacks
Ten-ways-to-cheat-life_o_243619.jpg (400×869) 50 Life Secrets and Tips. Life Hacks 2.0. Creative Mind Hacks. Tapping Your Superconscious: How Da Vinci, Edison, Aristotle and Other Great Minds Accessed Extraordinary Creativity And You Can Too!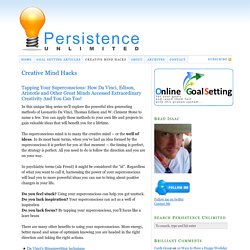 In this unique blog series we'll explore the powerful idea generating methods of Leonardo Da Vinci, Thomas Edison and W. Clement Stone to name a few.
Lifehacker.com. How to become an early riser. By Leo Babauta I've found that waking early has been one of the best things I've done as I've changed my life recently, and I thought I'd share my tips.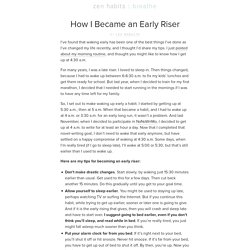 I just posted about my morning routine, and thought you might like to know how I get up at 4:30 a.m. For many years, I was a late riser. I loved to sleep in. 120 Ways to Boost Your Brain Power. Here are 120 things you can do starting today to help you think faster, improve memory, comprehend information better and unleash your brain's full potential.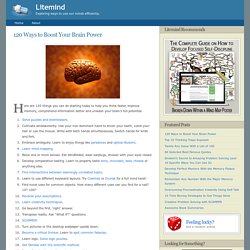 Solve puzzles and brainteasers.Cultivate ambidexterity. Use your non-dominant hand to brush your teeth, comb your hair or use the mouse. Write with both hands simultaneously. Switch hands for knife and fork.Embrace ambiguity. 10 Ways To Be Happy, On Purpose | PickTheBrain | Motivation and Self... - StumbleUpon. "He who depends on himself will attain the greatest happiness" ~Chinese Proverb I was at a Women's Leadership Conference about a year ago and had an "ah-ha moment".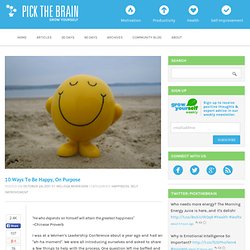 We were all introducing ourselves and asked to share a few things to help with the process. Feeling Stuck? 100 Ways to Change Your Life. Wise Bread Picks You've got 20 minutes to change your life in 100 ways.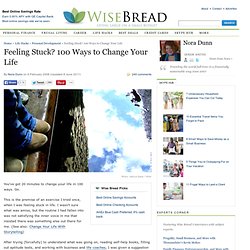 Go. This is the premise of an exercise I tried once, when I was feeling stuck in life. I wasn't sure what was amiss, but the routine I had fallen into was not satisfying the inner voice in me that insisted there was something else out there for me. How to Trick Your Brain for Happiness. This month, we feature videos of a Greater Good presentation by Rick Hanson, the best-selling author and trailblazing psychologist.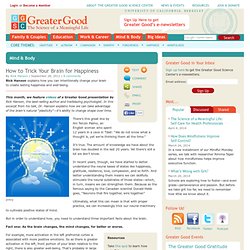 In this excerpt from his talk, Dr. Hanson explains how we can take advantage of the brain's natural "plasticity"—it's ability to change shape over time. gobyg. Life hacks. Mind Hacks. 10 Life-Enhancing Things You Can Do in Ten Minutes or Less. By It usually takes us much longer to change our moods than we'd like it to take.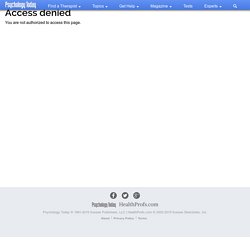 Here are ten things you can do in ten minutes or less that will have a positive emotional effect on you and those you love. . See it online at Oprah.com . This is a deeply moving segment that may be the best ten minutes you've ever invested in front of a computer. 50 Life Secrets and Tips. 50 Life Secrets and Tips. 100 Tips to Improve Your Life. Behance just started collaborating with a group of fourteen established blogs, all very different, but all with a shared interest in helping people increase productivity (among other self-improvements).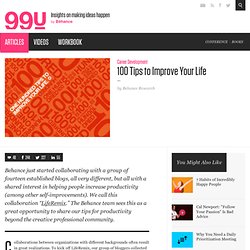 We call this collaboration "LifeRemix." The Behance team sees this as a great opportunity to share our tips for productivity beyond the creative professional community. Collaborations between organizations with different backgrounds often result in great realizations. To kick off LifeRemix, our group of bloggers collected a list of our 100 best "tips to improve your life."
---