Learn
Edit Edited by KnowItSome, Bo, LB.StorM, Chris Hadley and 49 others There are many ways to classify a genius. But if you look at the historical figures whom most people would consider geniuses, such as Albert Einstein, Leonardo Da Vinci, and Beethoven, you can see one thing they all share in common: they were all able to think in a way different from the mainstream, and thus made connections that no one else did. Based on that pattern, this article will address some of the ways you can think like a genius. Edit Steps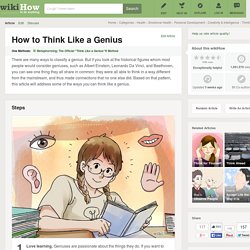 How did you do on the observation test? If you found your observation skills lacking, it may be something to consider working on, as … For people who plan to become the leaders of tomorrow, developing a keen sense of observation is a must.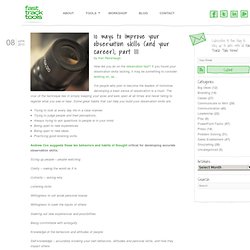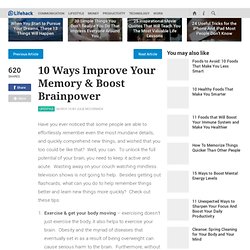 Have you ever noticed that some people are able to effortlessly remember even the most mundane details, and quickly comprehend new things, and wished that you too could be like that? Well, you can. To unlock the full potential of your brain, you need to keep it active and acute. Wasting away on your couch watching mindless television shows is not going to help. Besides getting out flashcards, what can you do to help remember things better and learn new things more quickly? Check out these tips: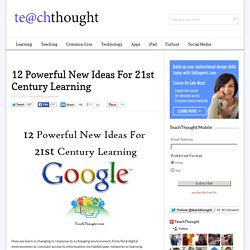 How we learn is changing in response to a changing environment, from fluid digital environments to constant access to information, incredible peer networks to learning simulations, 21st century learning is teeming with possible learning pathways. So it seemed appropriate to take a look at a handful of these new approaches–not so much formal learning approaches such as project-based learning or mobile learning, but rather some of the platforms and tools themselves. The immediate benefit is to take inventory in what's available now.
12 Powerful New Ideas For 21st Century Learning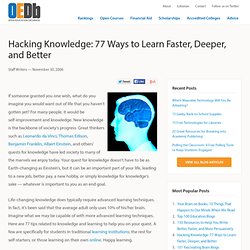 Thursday 30th November, 2006 If someone granted you one wish, what do you imagine you would want out of life that you haven't gotten yet? For many people, it would be self-improvement and knowledge. New knowledge is the backbone of society's progress. Great thinkers such as Leonardo da Vinci , Thomas Edison , Benjamin Franklin , Albert Einstein , and others' quests for knowledge have led society to many of the marvels we enjoy today.
Whenever the subject of why some people learn faster comes up, I get a whole host of common answers: Some people are just naturally smart . (Often implying you can't improve) Everyone is "smart" in their own way . (Nonsense, research indicates different "intelligences" often correlate) IQ is all in the genes .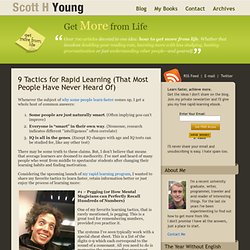 post written by: Marc Email All education is self-education.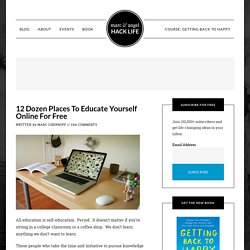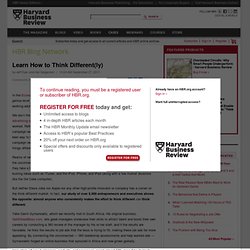 by Jeff Dyer and Hal Gregersen | 10:24 AM September 27, 2011 In the Economist review of our book, The Innovator's DNA , the reviewer wondered whether genius-level innovators such as Marc Benioff, Jeff Bezos, and Steve Jobs challenge the idea that working adults can really learn how to think differently and become innovators. We don't think so.
Whether you're a student looking for supplemental learning or you're in the workforce but thirsty for knowledge, you don't have to drop thousands of dollars in tuition to enjoy a top-notch education from some of the best schools in the world. Computer photo by marcopako ; university building photo by J-a-x . While most online resources won't grant you a college degree, there's a lot more to the internet than Wikipedia when it comes to learning. Whether you learn best through video or text, want to take a year-long course or just to touch up on a few topics, there are more than a few places online that can give you the full experience.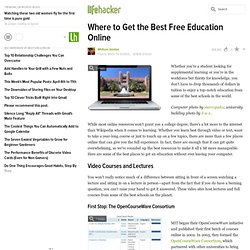 A weekend may not seem like a lot of time, but you might be surprised by what you can learn in just 48 hours. Here are a bunch of new skills you can pick up on the weekend, or at least master the basics. Learn to Code, Design and Create a Web Site, and Other Computer Skills It's hard to get involved and obsessed with technology without wanting to make some of it. That might mean designing a cool web site or developing an app of some kind. We've put a lot of effort into bringing relevant lessons and resources to help get you started in all those areas.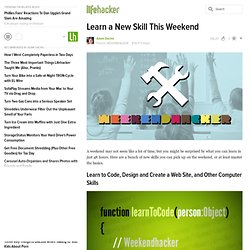 It's that time of year when we all start to make "New Year's resolutions", which is a fancy way of saying we'll try forming better habits. Here are a few tips to make sure they stay habits beyond the month of January. Photo by Steven Fernandez . Often, our New Year's resolutions are us promising ourselves we'll form good habits this year: whether it's something big like " I'm going to eat better " or " I'm going to keep my computer backed up " to "I'm going to actually start flossing every day".
Dedicate 30 Minutes a Day to Learn Something New
You're likely aware that 30 minutes is the recommended amount of time you're supposed to spend exercising every day, but productivity blog Stepcase Lifehack suggests using that same time allotment to exercise a different part of your body: your brain. It's easy to get stuck working only on the skills you use for your career or your daily life. Stepcase Lifehack recommends setting aside 30 minutes a day to work on a new skill or to learn about a new subject you're interested in.