CSS tools
Get flash to fully experience Pearltrees
v. 1.00
Cool Tools and Toys for Web Developers
Here on webdesignshock.com we're always on the lookout for the latest and everything fresh in web designs plug-ins, tools, etc. for all our web knowledge enthusiastic readers, although sometimes it's not necessarily time to highlight the new but to acknowledge an on growing plug in use trend that solidify its acceptance amongst users, thanks to its outstanding features. Having said this, a successful website nowadays is considered to be one that responds to the time constraints and thirst for information demands of web surfers. In this sense, the hit of a site depends to the amount of information supplied vs. the speed that it's provided in. Surely enough, if users enter a web where they must bear a never ending waiting loading period of 5 or 10 clicks until finally being able to access concrete information of their search for topic, in the future these will be users that quickly run away for your site, or even worse, that will avoid entering your site ever again.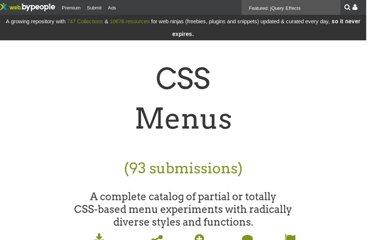 Bien que les spécifications CSS 3 soient encore en phase de maturation, il devient acquis qu'un certain nombre de ses composantes sont déjà exploitables en production sur les navigateurs actuels , moyennant quelque gymnastique pour notre attachant boulet à tous qu'est Internet Explorer.
Après mes petits journaux permanents consacrés à la typographie et à HTML5 , voici un numéro spécial qui fait la part belle à CSS3. Ces nouvelles propriétés proposent des effets graphiques ou typographiques à votre page Web, mais pas seulement : CSS3, ce sont aussi des sélecteurs et des pseudo-classes qui vont nous faciliter l'intégration et nous permettre de repousser encore plus loin les frontières de l'univers et au-delà ! En attendant, voici des générateurs de code CSS3 en ligne classés par propriétés ; des ressources pour vérifier la compatibilité des navigateurs et quelques liens pour faire entrer dans le rang les plus récalcitrants ; des tutoriels et des exemples de tests et d'expérimentations diverses avec CSS3 qui devraient vous inspirer.
Boutons CSS
Vous prétendez maîtriser le CSS et pourtant vous n'utilisez que les sélecteurs de base du genre #mon_id , .ma_classe , #mon_id div li .