WORLD TOURIST INFORMATION
interesting places around the world
A View On Cities
Bonjour :-))) Je n'ai surtout rien à vous vendre ; en effet, dans un système qui nous écarte de plus en plus de nos vraies valeurs, nous nous sommes rendus compte, au fil de nos voyages à travers le monde, que l'humanité ne demandait qu'à aider et porter secours à son prochain. C'est grâce à toutes ces personnes que ce site existe. Il est un témoignage, un remerciement, un hommage à ces centaines d'hommes et de femmes, toutes nationalités et religions confondues, qui nous ont nourris, désaltérés, lavés, soignés, blanchis, sortis de situations délicates au niveau administratif, dépannés, invités dans leur campement, hôtel, laissés leur maison, alors que notre seul refuge était notre 4x4. C'est cette solidarité mondiale qui se met très vite en place, lors de soucis, qui nous a toujours ému, et confirme que les hommes sont éminemment ouverts aux autres, et qu'il ne faudrait pas grand chose pour que tous en prennent conscience.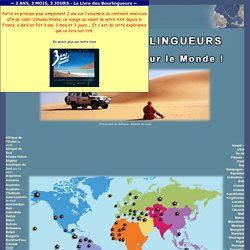 World Map - EveryTrail
PlanetWare TravelGuide
Spain is a land of beautiful cities, quaint towns, ancient sites, and coastal beaches. The world renowned cities of Madrid and Barcelona will surely enchant visitors. Italy is world renowned for ancient monuments and the historical city of Rome.