OUTILS
MediaWiki est un ensemble wiki à base de logiciels libres Open source développé à l'origine pour Wikipédia , et utilisé aujourd'hui par plusieurs autres projets de l'association à but non lucratif Wikimedia Foundation ainsi que par beaucoup d'autres wikis , y compris ce site web, base de MediaWiki. Utilisez les liens ci-dessous pour explorer le contenu de ce site.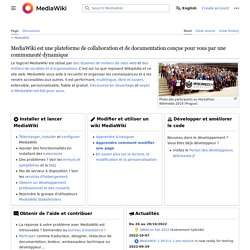 fr - MediaWiki - Aurora
Tutoriels - Cyberfox (Build 20130804175208)
Téléchargement de LibreOffice » LibreOffice - Cyberfox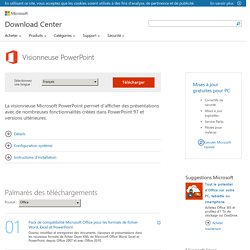 Télécharger Visionneuse PowerPoint depuis le Centre de téléchargement officiel Microsoft - Waterfox
Présentation
Appointron is a special web app for blogger that you install in your sidebar and your website visitors (customers) can interact with the app to book an appointment directly with you.
for Blogger - Easy online scheduling app for booking appointments! - Cyberfox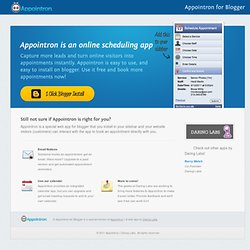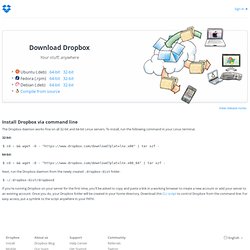 Téléchargement de Dropbox - Aurora
The Dropbox daemon works fine on all 32-bit and 64-bit Linux servers. To install, run the following command in your Linux terminal.
Epic Browser - the first web browser for India - safer, faster, better - Type in Indian Languages, BrowseSafe Protection against 3 million malicious websites, 1500+ Sidebars, YouTube Download Button, Live Indian TV, TV Shows, Films, National & Regional Ne
Aurora
Nous tenons à préciser que ce forum n'est pas officiel en quelque manière que ce soit. Les membres de l'équipe vBulletin-fr travaillent sur ce site à titre de bénévoles et ne touchent aucun salaire de la part de la société Internet Brands (IB) ou vBulletin Solutions (vBS).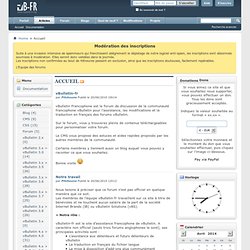 K-Meleon - IconsButtonsBanners - Aurora
log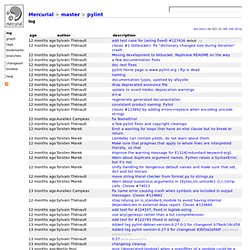 pylint: log - CometBird
Hébergement de texte - TextUp - Aurora
Free large file hosting. Send big files the easy way! - Aurora
Dexpot Freeware download and reviews - SnapFiles.com - Aurora
Notepad++, Compare | nliautaud.fr - Aurora
Ce plugin permet de déterminer les différences entre deux fichiers dans Notepad++.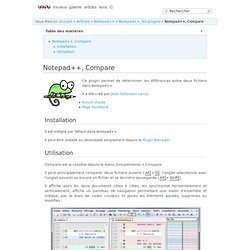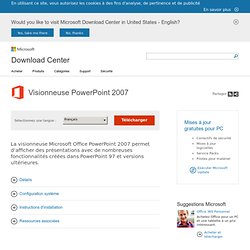 Visionneuse PowerPoint 2007 - Microsoft Download Center - Download Details - Aurora
Présentation
Empower your video. Add apps to any video: YouTube, Vimeo, Facebook. Add a call-to-action. - CometBird
What is Viewbix? Viewbix adds interactive apps to your videos, engage viewers and drive calls to action. The apps display dynamic content on top of any video, including YouTube, Vimeo Pro or self-hosted videos, that can be shared across the web, social and mobile platforms.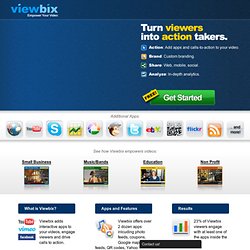 Adding repositories You can add any repository already on your hard drive by dragging a folder in from Explorer.
for Windows - Help - Aurora
Différences entre deux texte, deux chaines - Logiciel en ligne - Aurora
Rechercher un outil sur dCode.fr Différences entre deux textes La recherche de différences « diff » entre deux chaines de caractères va permettre de mettre en évidence les modifications qui ont pu être apportées à un texte.
Transferts d'argent Western Union - Envoyer de l'argent en ligne - Transferts bancaires internationaux France - Pale Moon
Optimum X Downloads - Freeware Utilities
Below is a collection of freeware utilities for command-line network administration, software distribution and login scripts. Account Manager v2.10 (AccountManager.exe) Last Updated: 08/17/2006
Sign In - Pale Moon
On the road or in the office, you will always have the necessary credentials to remotely access important computers or contacts at your fingertips through your TeamViewer Account. Whether on Windows, Mac, Linux, iOS or Android, the TeamViewer Management Console automatically logs your connection data.
8 – Vue d'ensemble complète des nouveautés - Pale Moon
France Podcast - Comment créer un Podcast ? - CometBird
Aegisub Advanced Subtitle Editor - Pale Moon
Translations – Aegisub - Pale Moon
BBCode - Wikipédia - Pale Moon
Images OpenWith Enhanced - Pale Moon
Correcteur d'orthographe et de grammaire – français – Reverso - Pale Moon
Clownfish for Skype: Free realtime language translator - download - CometBird
Cacoo - Créez des schémas en ligne Collaboration en temps réel
Top Freeware and Software Solution Provider | AthTek.com - CometBird
Download B1 Free Archiver - CometBird
Pale Moon Profile Backup Tool - CometBird
Collusion :: Add-ons for Firefox - CometBird
Weirdmaker * Genérateur de texte écriture en caractères spéciaux. Pseudo MSN et symboles sur Facebook. - CometBird
Free Image Hosting, Free Audio Hosting, Free Music Hosting, Free Video Hosting, Ringtone Hosting, Free Movie Hosting - CometBird
Capture d'écran, Présentations, Tests d'utilisabilité - TechSmith Corporation - CometBird
Revolver Maps - Free 3D Visitor Maps - CometBird
CDex.fr - CometBird
TinyPic - Free Image Hosting, Photo Sharing & Video Hosting - CometBird
Gagnez de l'argent avec votre talent - TextMaster - Aurora
Earn money with your talents - TextMaster - Aurora
Créer un site gratuit | Créer un site web gratuit sur Wix | Wix.com - CometBird
Créer un blog, gratuit, faire un blog - EklaBlog - CometBird