Silk screen
Ray Caesar - Work
Like many others I find myself captivated with vintage advertising. There have been numerous articles, blog posts and websites dedicated to the subject and I just can't seem to get enough. Specifically, it is the advertising of the 50′s and 60′s that is most aesthetically pleasing to me. It seems every ad in that era was either a beautifully shot photograph or a stunning Rockwellian painting.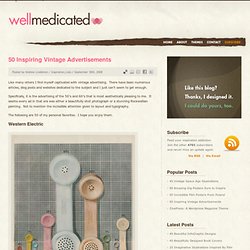 Huge street art by ARYZ
chchln
Born in 1968 in Yokohama, Japan, Nobuyuki Taguchi first began his photography back in 1991, when he was studying Fine Art in Sculpture at University in London. After finishing his MA course in 1995, Nobuyuki soon developed a deep interest in Information Technology and he became an IT professional.
Random Got Beautiful
mentalgassi
oil & water do not mix poster
first image image: happiness brussels the 'oil & water do not mix' poster created by british designer anthony burrill may look like another graphic poster, but the unique design is actually printed using spilt oil from the gulf of mexico. the project was organized by happiness brussels, who will donate all proceeds from the posters sold to the coalition to restore coastal louisiana. the posters are being sold for 150 euros each in a limited edition of 200 signed and numbered prints. the oil was picked up on the beaches of grand isle, louisiana and printed using silk-screening at purple monkey design in new orleans, louisiana. the printers simply used the slurry of dirt and oil as they would normal paint. the end result is a rich brown tone that is a direct reminder of the oil spill disaster.