Silk screen
Sophie Griotto. Color flip .com by rafa?l rozendaal, 2008, collection of s?bastien de ganay. Cristiana couceiro. Ray Caesar - Home Page. Ray Caesar - Work. 50 Inspiring Vintage Advertisements. Like many others I find myself captivated with vintage advertising.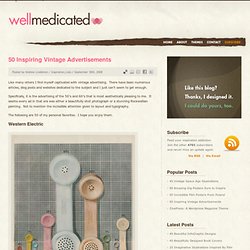 There have been numerous articles, blog posts and websites dedicated to the subject and I just can't seem to get enough. Specifically, it is the advertising of the 50′s and 60′s that is most aesthetically pleasing to me. It seems every ad in that era was either a beautifully shot photograph or a stunning Rockwellian painting. Huge street art by ARYZ. Chchln. Black and white photography by Nobuyuki Taguchi :: koikoikoi.com - Visual Arts Magazine, graphic design, illustration, photography, interviews, inspiration, tutorials. Born in 1968 in Yokohama, Japan, Nobuyuki Taguchi first began his photography back in 1991, when he was studying Fine Art in Sculpture at University in London.
After finishing his MA course in 1995, Nobuyuki soon developed a deep interest in Information Technology and he became an IT professional. In 1999 he started "Digital" photography and has been spending more time on his photography since. In 2007 he started publishing his Black and White Photography on the internet. In May 2009 Nobuyuki's photography article "Eye for a difference" was published in "Amateur Photographer" magazine. I selected 28 subjects that i most like, to see more you can surf nobuyukitaguchi.com. Random Got Beautiful. Mentalgassi.
---