Plutot Photo
Open Source Linear Bearing System. The MakeSlide Project. MakerSlide Camera Slider Control Program at Buildlog.Net Blog. December 14th, 2011 by bdring There has been a ton of interest in camera slider applications for MakerSlide.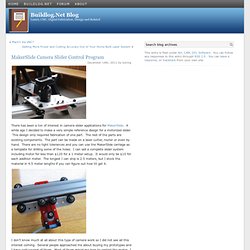 A while ago I decided to make a very simple reference design for a motorized slider. This design only required fabrication of one part. The rest of the parts are existing components. DPTnT - Digital Photography Tips and Techniques. FocalBlade - Tutorials. Welcome to optikVerve Labs - Home of virtualPhotographer. TimeTraveler. Fotoopa's unbelievable Nikon custom rig for capturing insects in flight. I have covered Flickr member Fotoopa and his custom made Nikon rig for capturing insects in flight in the past.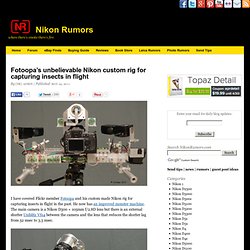 He now has an improved monster machine. The main camera is a Nikon D300 + 105mm f/2.8D lens but there is an external shutter Uniblitz VS14 between the camera and the lens that reduces the shutter lag from 52 msec to 3.3 msec. Merlin-Style DIY Camera Stabilizer/Steadicam Build Tutorial | DO IT: Projects, Plans and How-tos. DIY Steadicam by StudioAmarelo.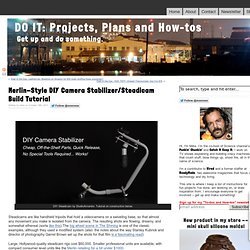 Tutorial on construction below. Steadicams are like handheld tripods that hold a videocamera on a swiveling base, so that almost any movement you make is isolated from the camera. Thomas Shahan. Www.ThomasShahan.com If you are interested in contacting me for using my images in books / ads / publications, send me a message on Flickr, or send me an e-mail at: opoterser@hotmail.com I always welcome others to link to my photos on blogs/websites, but make sure you e-mail me about it first - and most importantly: credit me and link back to my photos here on flickr!
Drop By Drop. Cowboystudio Macro Focusing Rail Set with 4 Way, Fine Control and Camera Focusing Rail for Macro Photography: Camera & Photo. The Comprehensive Guide To Macro Photography. When we photograph something very small we call it a macro photography.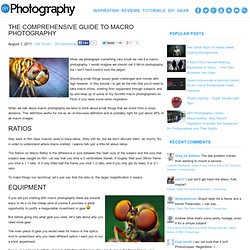 I would imagine we should call it Micro photography, but I don't have control over the jargon. Shooting small things poses great challenges and comes with high rewards. In this tutorial I to get all the info that you'd need to take macro shots. starting from equipment through subjects and tip and wrap up of some of my favorite macro photographers on Flickr if you need some extra inspiration. When we talk about macro photography we tend to think about small things that we shoot from a close distance. This definition works for me as an on-the-nose definition and is probably right for just about 95% of all macro images. Three Super Macro Rigs You Can Build At Home. After posting the big Macro tutorial, I thought it would be interesting to see what extreme macroists (yea, it's a new word) use to get those super detailed shots.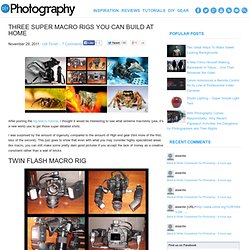 I was surprised by the amount of ingenuity compared to the amount of High end gear (hint more of the first, less of the second). This just goes to show that even with what you may consider highly specialized areas like macro, you can still make some pretty darn good pictures if you accept the lack of money as a creative constraint rather than a wall of bricks. RED Camera Keeper. How To Build A Beautiful Camera Stabilizer. A few day ago we featured the EZ-Steady as a smart camera stabilizer.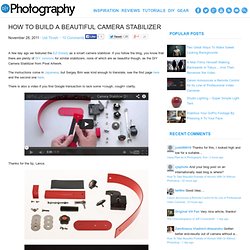 If you follow the blog, you know that there are plenty of DIY versions for similar stabilizers, none of which are as beautiful though, as the DIY Camera Stabilizer from Pixel Artwork. The instructions come in Japanese, but Sergey Brin was kind enough to translate, see the first page here and the second one here. There is also a video if you find Google transaction to lack some <cough, cough> clarity.
Thanks for the tip, Lance. Polaroid Automatic Motorized Pan Head With Wireless Remote Control For SLR Cameras & Camcorders: Camera & Photo. Polaroid Wireless Motorized Pan Tilt For SLR. Polaroid Motorized Pan Tilt Here's an interesting product that was linked to from Venga.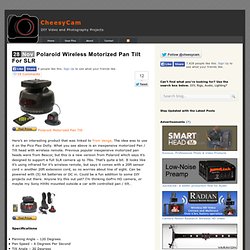 The idea was to use it on the Pico Flex Dolly. What you see above is an inexpensive motorized Pan / Tilt head with wireless remote. Previous popular inexpensive motorized pan heads were from Bescor, but this is a new version from Polaroid which says it's designed to support a full SLR camera up to 7lbs.
MagicLantern
Color Pouring Photography Technique. Color Pouring Photography Technique Photography tutorial video demonstrates how to create beautiful designs of color in water.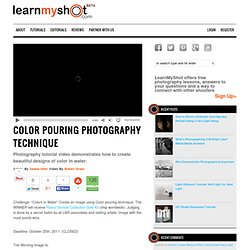 Challenge: "Colors in Water" Create an image using Color pouring technique. The WINNER will receive Rosco Strobist Collection Gels Kit (ship worldwide). Arduino Pan&Tilt-System | Zipfelmaus - Blog. On this page we present the Arduino Pan&Tilt-System.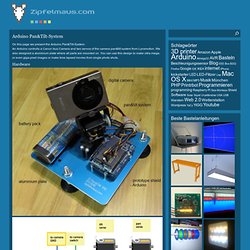 An Arduino controlls a Canon Ixus Camera and two servos of the camera pan&tilt system from Lynxmotion. We also designed a aluminium plate where all parts are mounted on. You can use this design to make ultra-mega- or even giga-pixel images or make time lapsed movies from single photo shots. Hardware - Arduino Duemilanove (at Ebay, around 20€/$) - Arduino Prototyping Shield (at Ebay, around 8€/$) - 7.2V racing battery pack (NiCd or NiMh) (around 15€/$) - Lynxmotion Pan&Tilt system (Link , around 45€/$) - digital camera (see our hack here) - milled 160x170mm aluminium plate (you can create and upload a design to www.schaeffer-ag.de using the Frontplatten-Designer tool, around 35€/$) You can download the plate design in the download section. - screws and other assembly material (around 8€/$) Wall (mains) Power for an Olympus E-510. Learn how to build an AC/DC interface for an Olympus E-510.
Unfortunately, Olympus didn't bother to make an AC/DC adapter for the Olympus E-510 camera. This typically isn't a problem as you can just tool around with a bag full of fresh batteries. It does become an issue if you decide to use your camera for time-lapse photos and don't want to replace batteries constantly during a long time-lapse sequence.
Not only is replacing batteries a hassle, but it also shifts the position of the camera and makes the finished product not as smooth. The EZ-Steady Is One Smooth Camera Stabilizer. It is no secret that I am a big fan of photography makers and tinkers. I am one myself with a few (smallish) inventions of my own. It is also no secret that Kickstarter is a great place for photo-tinkers. This is why I love sharing photography related projects on Kickstarter.
---