En vrac ... pour l'instant
3D printing, laser cutting – design, make & build your own products with Ponoko.
Plutot Photo. The Original Egg-Bot Kit. The Eggbot is an open-source art robot that can draw on spherical or egg-shaped objects from the size of a ping pong ball to that of a small grapefruit-- roughly 1.25 to 4.25 inches in diameter (3 - 10 cm).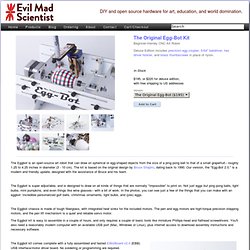 The kit is based on the original design by Bruce Shapiro, dating back to 1990. Our version, the "Egg-Bot 2.0," is a modern and friendly update, designed with the assistance of Bruce and his team. The Eggbot is super adjustable, and is designed to draw on all kinds of things that are normally "impossible" to print on. The Art of Motion Control : Eggbot. One of my students created this pattern to have eggbot draw a face My fascination with motion control began with this simple device-- a two axis egg plotter (see right).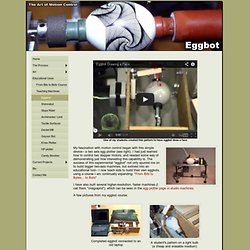 I had just learned how to control two stepper motors, and needed some way of demonstrating just how interesting this capability is. The Original Egg-Bot - Home. Wiki. Edit is restricted to the sysop group (set from the "protect" tab)move is restricted to the sysop group (set from the "protect" tab) RepRap is humanity's first general-purpose self-replicating manufacturing machine.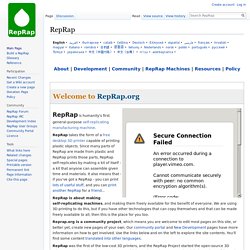 RepRap takes the form of a free desktop 3D printer capable of printing plastic objects.
Strobo et Flash. TUTO ARDUINO. Arduino:tutorial [DokuWiki] 133679-my-diy-cree-led-fixture-w. Hey folks - just thought I'd post a separate thread on my lighting given the recent interest in DIY LEDs.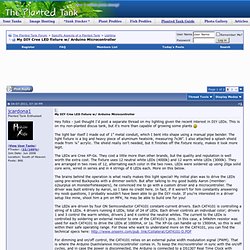 This is on my non-planted discus tank, but it's more than capable of growing some plants The light bar itself I made out of 1" metal conduit, which I bent into shape using a manual pipe bender. ARDUINO.
---