Innovation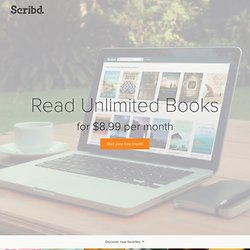 What do I get with my subscription? Your subscription enables you to read thousands of professionally published, popular books in a wide variety of genres on Scribd.com and on supported mobile devices. In addition, you will have full access to millions of user-contributed written works that have been published on Scribd like short stories and essays. How many books can I read each month? Read as much as you want, whenever you want. Scribd doesn't limit the number of books you can read.
Scribd
Voici une idée lumineuse de système "D" qui apporte une petite lumière dans nombre de bidon-villes et pourquoi pas aussi dans nos cabanes de jardin ? Cette courte vidéo présente comment, avec une bouteille d'eau en plastique transparent additionnée d'un peu de javel, il est possible de bricoler un petit éclairage écologique sous un toit en tôle ondulée comme il y en a des millions dans de nombreux pays... Concrètement et au sens propre, cet exemple de petite lumière ne changera peut-être pas le monde mais il éclaire une voie d'innovation possible ... celle de la simplicité. La voici:En quoi sommes-nous concernés ? Certes, nous n'installerons pas tous cette "ampoule" solaire dans nos salons européens ... et c'est sans doute encore heureux. Cependant, je connais des bricoleurs qui auraient pu le faire dans leur cabane de jardin ou dans un débarras sombre.
Le Dire et le Faire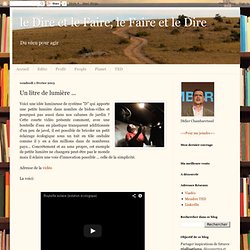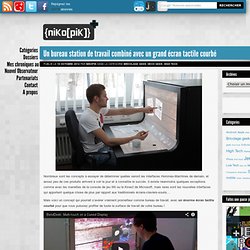 Nombreux sont les concepts à essayer de déterminer quelles seront les interfaces Hommes-Machines de demain, et assez peu de ces produits arrivent à voir le jour et à connaître le succès. Il existe néanmoins quelques exceptions comme avec les manettes de la console de jeu Wii ou le Kinect de Microsoft, mais rares sont les nouvelles interfaces qui apportent quelque chose de plus par rapport aux traditionnels écrans-claviers-souris… Mais voici un concept qui pourrait s'avérer vraiment prometteur comme bureau de travail, avec un énorme écran tactile courbé pour que vous puissiez profiter de toute la surface de travail de votre bureau !
Un bureau station de travail combiné avec un grand écran tactile courbé
The Language of Discovery: Designing Big Data Interactions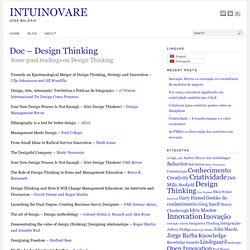 Doc – Design Thinking
Some good readings on Design Thinking Towards an Epistemological Merger of Design Thinking, Strategy and Innovation – Ulla Johansson and Jill Woodilla Design, Arte, Artesanato: Territórios e Práticas de Integração: – 2º Fórum Internacional De Design Como Processo
Buff Your Brain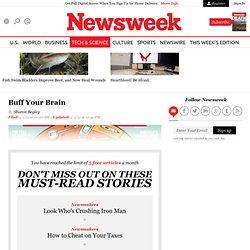 Brain training to sharpen memory. Aerobic exercise to preserve gray matter. Meditation to hone connections between reason and emotion. It all sounds great, but there's something that has long bothered us about the growing number of studies pinpointing ways to buff your brain: they don't go far enough. Sure, exercises to improve memory are better for your brain than, say, watching reality TV, but the most you're going to gain is more reliable access to knowledge already scattered around your cerebral cortex. If the information isn't in there, no amount of brain training will tell you how the Federal Reserve system functions, why the Confederacy lost the Civil War, the significance of Picasso's Demoiselles d'Avignon, or why Word just crashed.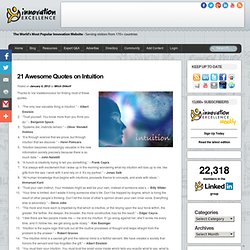 21 Awesome Quotes on Intuition
Thanks to Val Vadeboncoeur for finding most of these quotes. "The only real valuable thing is intuition." – Albert Einstein"Trust yourself.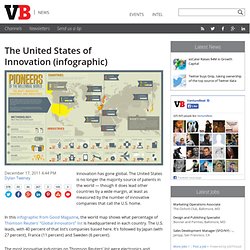 The United States of Innovation (infographic)
Innovation has gone global.
The Montessori Mafia - Ideas Market
By Peter Sims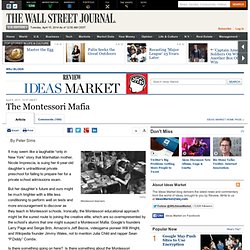 The creation of NeXT and the sequential pivoting of the company from hardware to software to acquisition is one of the most fascinating episodes in the career of Steve Jobs.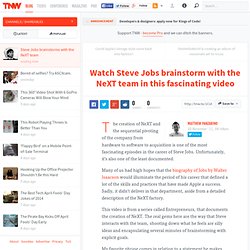 Steve Jobs brainstorms with the NeXT team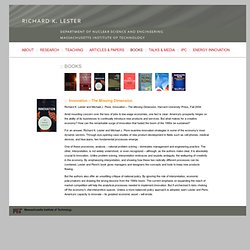 Innovation - The Missing Dimension | Books | Richard K. Lester
Richard K. Lester and Michael J. Piore, Innovation – The Missing Dimension, Harvard University Press, Fall 2004.
Emergence: The Connected Lives of Ants, Brains, Cities, and Software (9780684868769): Steven Johnson