Art Inspiration
The Contrast of the Seasons Expressed in 50 Pictures
Creative Europe Showcase | Create Free Portfolio
Belgian Graphic Design | Veerle's blog 3.0 - Webdesign - XHTML CSS | Graphic Design
Art and Design Inspiration Category Illustration «
pawel dabrowski >> portfolio
isover calendar New Balance isover nowe motywacje animals desktopography National Museum hf session FRH posters outgrowth "Move" Serie restaurant Percheron Books aphros depthcore 3d Abstract Can-pack selected adv projects selected illustrations Personal portfolio of a graphic designer, illustrator based in Krakow, Poland.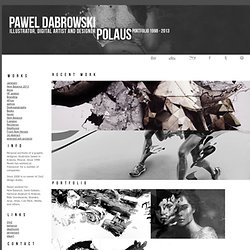 indeed a real great resource for arts & design :) by phil.graphics May 23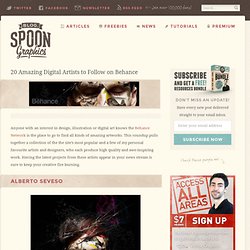 Anyone with an interest in design, illustration or digital art knows the Behance Network is the place to go to find all kinds of amazing artworks. This roundup pulls together a collection of the the site's most popular and a few of my personal favourite artists and designers, who each produce high quality and awe-inspiring work. Having the latest projects from these artists appear in your news stream is sure to keep your creative fire burning.
20 Amazing Digital Artists to Follow on Behance
Inspiration
Illustration
Amazing Concept Art by Alector Fencer Claudya S. aka Alector Fencer is a female freelance artist and illustrator living and working in Germany. She spends most of her time travelling around the world with her friends and drawing pictures of the places she has been.
Illustrations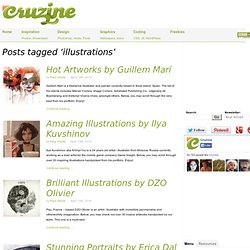 Get inspired by everything around you!
Inspiration | DeviseFunction - Tutorials and Resources
Unknown Picture
20 Creative Ads for your Inspiration
Inspiration
50+ Creative Chocolate Package Designs | Designious Times
Dimensional Photography
Digital Art Inspiration Through Text Art & Typography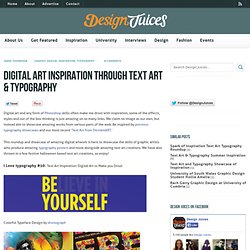 Digital art and any form of Photoshop skills often make me drool with inspiration, some of the effects, styles and out of the box thinking is just amazing on so many links. We claim no image as our own, but instead aim to showcase amazing works from various parts of the web. Be inspired by previous typography showcases and our most recent 'Text Art from DeviantART.'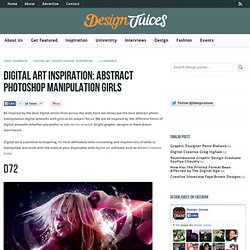 Be inspired by the best digital artists from across the web, here we showcase the best abstract photo manipulation digital artworks with girls as its subject focus. We are all inspired by the different forms of digital artworks, whether you prefer to see vector artwork , bright graphic designs or hand drawn sketchwork. Digital art is a positive its inspiring, its most definately time consuming and requires lots of skills to manipulate and work with the tools at your disposable with digital art software such as Adobe Creative Suite
Digital Art Inspiration: Abstract Photoshop Manipulation Girls
Desktopography
Arts Thanea Blog » Design & Art
Overlapps If you are interested in mobile application design, the overlapps is something for you. It showcases the greatest apps for yours iPhone, iPad and Android. You can find there lots of applications, links to them and their rating, issued by the users. Very recommendable. Related links: Overlapps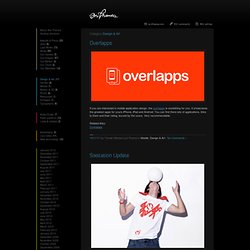 2010-in-Graphic-Design-459 from designerscouch.org
You asked for more, so you got it. We've covered Latin American, Middle Eastern, Dutch, Chinese and Japanese graphic design. It was a beautiful introduction to art from our brothers who speak different tongues. Graphic Design can be dramatic, emotional, powerful, romantic, serene, political or even all of the above. Now we're going to cover lesser known, but still equally powerful and equivocal graphic design from around the world. This time we hand the floor to Scandinavia, Israel, Russia and Africa.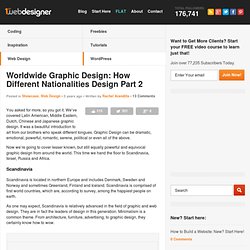 Graphic Design Examples Worldwide: How Nationality Reflects In Artworks Part 2
Artworks
Collection / Shop / Blog / About / Contact Dawn Of Man Annalemma First Breath Second Breath Mathmatical Nurture Birth Of Man Virtues Of Man Moons Of Triopus In The Crush Of The Dark Strombus Fractalious Dawn of Man: Our future is in the ancient — crafted through mistakes, explorations and triumphs. Peering into an alternate reality as man evolves his higher thinking through the discovery of mathematics and expansion of mind. These are the artifacts from a future society, still doomed with it's imminent annihilation. Dystopian Birth Wingdingography Terrarium Metropolis Evolutionaries The Arrival From Dust To Dust Limbs Of Destiny Mystic Monolith Egg Beast Discovery Of Mind Leaders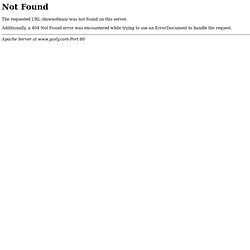 Dawn Of Man
red-design
a selection of graphic projects