Europe
Hotel in Paris | Official Site Shangri-La Hotel Paris | Luxury Hotels
Boutique & Luxury Hotels - Rome, Paris, Florence, Amsterdam - Luxique
Manoir de Lébioles - Hotel, Spa, Wellness, Restaurant
Elounda Luxury Hotels & Resorts, Suites, Villas - Hot Deals in luxury rooms - honeymoons Elounda, Lassithi, Crete, Greece
One of the most famous hotels in Paris, L'Hotel has been a secret hideaway over the past two centuries. With quintessential French charm and glamour, L'Hotel is nestled in the heart of the Left Bank, amidst the cultural riches, bohemian soul and high fashion of St Germain-des-Prés. Oscar Wilde's last home, and the heart of Parisian society in the swinging sixties, it has been remodelled by renowned designer Jacques Garcia. It is one of the original Hip Hotels and is home to the acclaimed one Michelin star Le Restaurant. Contact Us
L'hotel introduction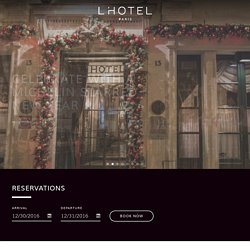 Hotel Royal St Honore Paris - Official Website - Luxury Hotel Paris Opera
Paris Hotel des Grands Hommes - 3 star left bank hotel Paris Saint Germain des Pres (official web site)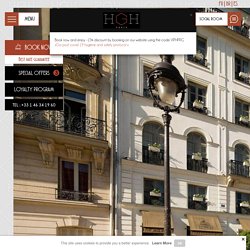 Hotel des Grands Hommes Paris In front of the Pantheon, walking distance from the Luxembourg Garden, a beautiful XVIIIth century hotel, XXIst century comfort... history and luxury await you in one extraordinary, sumptuous left bank hotel in Paris in Saint Germain des Pres... The Rooms of the Grands Hommes Ultimate luxury and effortless style. Calm and comfort and character. Our beautiful furnishings will enchant you, the bathrooms will seduce you, and finally your view overlooking the Paris Pantheon will take your breathe away...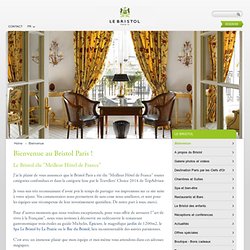 HOTEL LE BRISTOL PARIS | HOTEL DE LUXE 5 ETOILES PARIS
Le Bristol consacré par une quatrième étoile Après l'obtention de la 3ème étoile d'Epicure en 2009, le 114 Faubourg se voit honoré d'une première étoile au Guide Michelin. Le Bristol Paris devient en quelque sorte le seul palace parisien couronné de « 4 étoiles ». Un palace se doit de mettre en avant son patrimoine gastronomique et cette reconnaissance en est légitime.
Hôtel Saint James Paris
Hotel Center Paris - Hotel Montalembert Paris - Official web page - luxury boutique hotel in Paris Rive Gauche
Hotel in Paris, Hotel Design Sorbonne in Saint Germain des Pres (official web site)
Des fleurs ! You want to surprise your partner? Contact our reception and you'll have a fantastic bouquet in the room upon your arrival! reservation@hotelsorbonne.com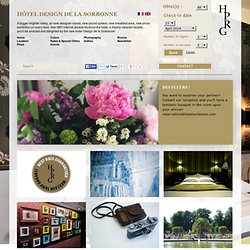 Hôtel de Crillon Paris - Le Site Officiel - Official Website
The renovations will further enhance the majesty and elegance of this exceptional place, while conserving the spirit of its prestigious 18th century edifice. In 2015, the Hôtel de Crillon will reopen its doors and reveal its new appearance. In December 2013, it was announced that Hôtel de Crillon will be under the management of Rosewood Hotels & Resorts, one of the leading ultra-luxury hotel companies. For further information on Rosewood Hotels & Resorts, please click here : www.rosewoodhotels.com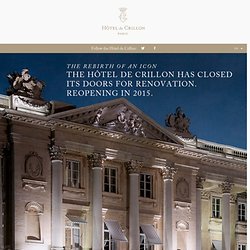 Badrutt's Palace Hotel, St. Moritz
→ GRAND HOTEL PARK GSTAAD - 5 STAR HOTEL GSTAAD- OFFICIAL WEBSITE -LUXURY HOTEL RESTAURANT SWITZERLAND
Gstaad Palace | five-star (5-star) luxury hotel | Bernese Oberland | Switzerland : Gstaad Palace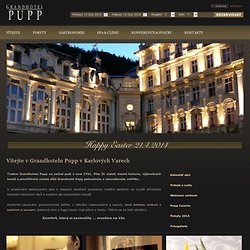 GRANDHOTEL PUPP - Komfort, který si zasloužíte... myslíme na Vás
Tradice Grandhotelu Pupp se začíná psát v roce 1701. Přes tři staletí slavné historie, výjimečných hostů a prvotřídních služeb dělá Grandhotel Pupp jedinečným v celosvětovém měřítku. V prostorném balneocentru jsou k dispozici lázeňské procedury, tradiční založené na využití přírodního bohatství Karlových Varů a moderní dle nejnovějších trendů. Komfortní ubytování, gastronomické zážitky v několika restaurantech a barech, nové wellness centrum s bazénem a saunami, butiková zóna a Pupp Casino Club přímo v hotelu. Těšíme se na Vaši návštěvu. Komfort, který si zasloužíte ... myslíme na Vás