As Seen On TV
Your Baby Can Read® - Receive free shipping and bonus 5-DVD set just for trying!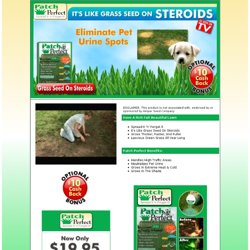 The PATCH PERFECT growing secret is its powerful fertilizer mulch cocoon, that surrounds each seed, soaking up and retaining water. It's like each seed has its own eco system, for faster, healthier germination. Remember, for each supply you order—we'll send a second supply absolutely free. That's enough to cover 100 square feet, at a 50% savings! Patch Perfect is just $19.95 plus $7.95 shipping and handling! Product includes: Patch Perfect.
Patch Perfect
iRenew - Energy Balancing Bracelet - Official As Seen On TV Webs
Pzizz | Solve sleep problems and feel energised today!