Social_Networking
Gridjit: A Social Portal. Facebook y los Vínculos Sociales. Clay Shirky's Internet Writings. Welcome. In July we launched Lively in Google Labs because we wanted users to be able to interact with their friends and express themselves online in new ways.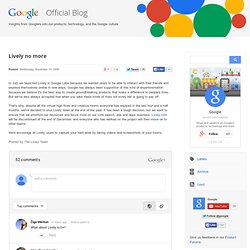 Google has always been supportive of this kind of experimentation because we believe it's the best way to create groundbreaking products that make a difference to people's lives. But we've also always accepted that when you take these kinds of risks not every bet is going to pay off. That's why, despite all the virtual high fives and creative rooms everyone has enjoyed in the last four and a half months, we've decided to shut Lively down at the end of the year. The Art and Science of Retweeting for Twitteraholics. This is a guest post by AJ Vaynerchuk.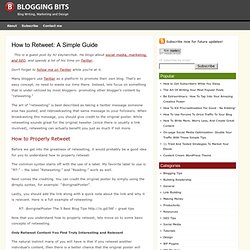 He blogs about social media, marketing, and SEO, and spends a lot of his time on Twitter. Don't forget to follow me on Twitter while you're at it. Many bloggers use Twitter as a platform to promote their own blog. Twitterific - the top Mac client. T N T — The Network Thinker: Twitter. Pizarra: Red social de la educación : Portada.
Econosociofisica -   var gaJsHost = (("https:" == document.location.protocol) ? " : " docume. Your life, on the line - Plurk.com. Governance » "Google humano" Voy leyendo el libro 'El futuro es tuyo: La revolución social de las personas' y me he detenido en el capitulo escrito por Miguel Ángel López Trujillo: '"Google Humano".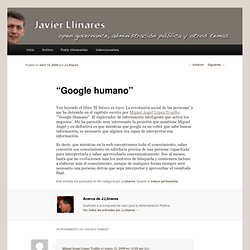 El explorador de información inteligente que activa los negocios'. Me ha parecido muy interesante la posición que mantiene Miguel Ángel y en definitiva es que mientras que google es un robot que sabe buscar información, es necesario que alguien sea capaz de interpretar esa información. Es decir, que mientras en la web encontramos todo el conocimiento, saber convertir ese conocimiento en sabiduría precisa de una persona 'capacitada' para interpretarla y saber aprovecharla convenientemente. Eso al menos, hasta que no evolucionen más los motores de búsqueda y comiencen incluso a elaborar más el conocimiento, aunque de cualquier forma siempre será necesario una persona detrás que sepa interpretar y aprovechar el resultado final.
Edición escaneada en PDF de La Gran Guía de los Blogs 2008 en Bitacoras. El anillo Minoic.net, Bitacoras.com y nativos2020.com, con la colaboración de la colección Planta29, ponen a disposición de todos la edición escaneada en PDF de La Gran Guía de los Blogs 2008 de Rosa Jiménez Cano y Francisco Polo.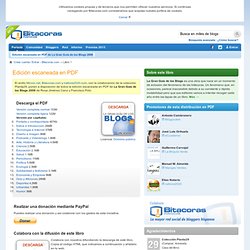 Realizar una donación mediante PayPal Puedes realizar una donación y así colaborar con los gastos de esta iniciativa. Colabora con la difusión de este libro Colabora con nosotros difundiendo la descarga de este libro. Copia el código HTML que indicamos a continuación y añádelo en tu web. European Commision | SELF. Facebook, OpenSocial y la Gran Pesadilla Social. This article will take approx 4 minutes to read.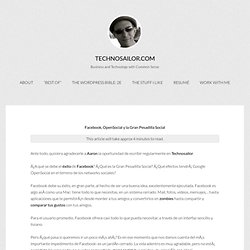 Ante todo, quisiera agradecerle a Aaron la oportunidad de escribir regularmente en Technosailor. ¿A qué se debe el éxito de Facebook? ¿Qué es la Gran Pesadilla Social? ¿Qué efectos tendrá Google OpenSocial en el terreno de los networks sociales? Feevy home. Elgg.org.
El futból y los atentados del 11M protagonistas de los bulos y rumores que campan por la red. Angel Cortès - La Bomba, aunque en este caso informativa, exploto el pasado sábado 17 en un foro de los más visitados por la afición al deporte rey en España, el fútbol.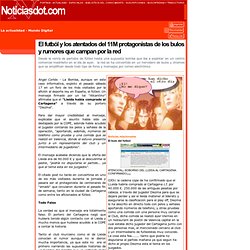 Un mensaje firmado por un tal "Alicantino" afirmaba que el "Lleida había comprado al Cartagena" a través de su portero "Diezma". Para dar mayor credibilidad al mensaje, explicaba que el asunto había sido ya destapado por la COPE, adonde había acudido el jugador contando los pelos y señales de la operación, "aportando, además, números de teléfono como prueba y una comida que se realizó en Valencia, donde el estuvo presente junto a un representante del club y un intermediario de jugadores".
El mensaje acababa diciendo que la oferta del Lleida era de 40.000 € y que al descubrirse el pastel, "podría no disputarse el partido... ya que el tema esta en los juzgados". Fotos y videos de Mariangela Petrizzo. Cooperación 2.0 - Comunicaciones. Eadminwiki » Quién es quién. Internet y Participación Ciudadana (eParticipación, e-Participación, eParticipa) Aprendices » home. [Social Design for the Web] Special report : science career issues and alternative jobs for scientists : Naturejobs. A crop of websites is making networking among scientists easier than ever.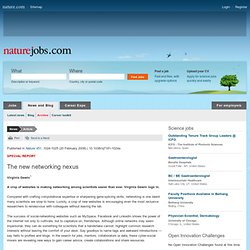 Virginia Gewin logs in. Compared with crafting computational expertise or sharpening gene-splicing skills, networking is one talent many scientists are slow to hone. En Línea. Friends:Social Networking Sites for Engaged Library Services. Elgg Social Networking. Elgg is an open-source social web application licensed under GPL version 2, and runs on the LAMP (Linux, Apache, MySQL, and PHP) or WAMP (Windows, Apache, MySQL, PHP) platform.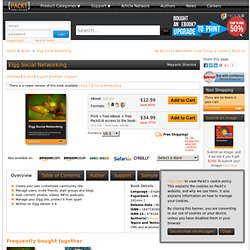 It offers a networking platform combining elements of blogging, e-portfolios, news feed aggregation, file sharing, and social networking. Elgg has its own plug-in architecture, and can use plug-ins to provide a calendar and a wiki. It supports a number of open standards including RSS, LDAP for authentication, FOAF, and XML-RPC for integration with most third-party blogging clients. You Are What You Share › Dawud Miracle @ dmiracle.com. I get asked all the time why a business owner should be blogging or engaged in social media.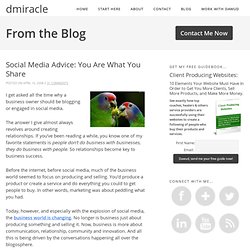 The answer I give almost always revolves around creating relationships. If you've been reading a while, you know one of my favorite statements is people don't do business with businesses, they do business with people. Social Network Sites: Definition, History, and Scholarship. Friends:Social Networking Sites for Engaged Library Services: <strong> Facebook : The New Study Hall For The Wired Generation?</strong>
Student Faces Facebook Consequences Freshman hit with 147 academic charges for online study network at Ryerson UniversityMar 06, 2008 04:30 AMLouise Brown / Toronto Star /Education Reporter Ryerson student Chris Avenir is facing expulsion for taking part in a Facebook study group for one of his engineering courses.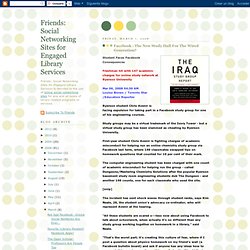 Study groups may be a virtual trademark of the Ivory Tower - but a virtual study group has been slammed as cheating by Ryerson University. Internet: Facebook crece un 270% en un año. Steve Jackson | Six Degrees of Separation. A week later, I logged on and, when I saw the numbers had jumped from 3,000 to 30,000, thought my eyes were playing tricks. The following day was our first six figure day – 141,000 new members joined up. The next 16 days were a complete rollercoaster ride. Video: Social Networking in Plain English | Common Craft - Explanations In Plain English. Networks get things done. Whether it's sending a letter or lighting your home. Networks make it happen. To get from Chicago to Santa Fe, we need to see the network of roads that will get us there. We see that Chicago is connected to St Louis, which is connected to Dallas, which is connected to Santa Fe. SPREE community. Linked.
---