Divers
Nambodaï | Café - Restaurant. Happa Tei (japonais) The Flying Muffin in Paris: Happa Teï. En furetant comme d'habitude sur le blog de François Simon, une adresse n'est pas tombée dans l'oreille d'une sourde...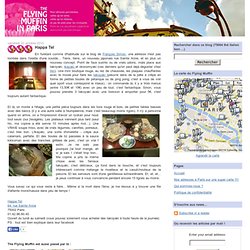 Tiens, tiens, un nouveau japonais rue Sainte Anne, et en plus un nouveau concept. Point de faux sushis ou de vrais udons, mais place aux takoyaki, ikayaki et okonomyaki (ces derniers qu'on peut déjà déguster chez Aki). Une mini boutique rouge, au rez de chaussée, les plaques chauffantes avec le moule pour faire les takoyaki (pieuvre dans de la pâte à crêpe en forme de petites boules de pétanque ou de ping pong, c'est à vous de voir quel sport vous correspond le mieux) : on commande là, il y a trois menus (entre 13,50€ et 15€) avec un peu de tout, c'est fantastique. Sinon, vous pouvez prendre 3 takoyaki avec une boisson à emporter pour 5€, c'est toujours autant fantastique.
Okonomiyaki ! | L'Effet Chocolat. Voici une excellente découverte culinaire que nous avons faite au Japon, cuisine simple et bon marché : l'Okonomiyaki.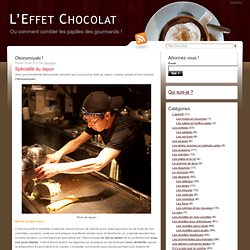 Photo de Jiquem Qu'est ce que c'est ? C'est une sorte d'omelette à base de choux chinois, de viande (porc, bœuf japonais) ou de fruits de mer (crevettes, poulpes), cuite sur une plaque chauffante devant vous. Goldilocks.jpg (Image JPEG, 582x900 pixels) J.-scott-campbell.-beauty-and-the-beast.-001.jpg (Image JPEG, 580x900 pixels) J.-scott-campbell.-sleeping-beauty.-001.jpg (Image JPEG, 581x900 pixels) Les princesses Disney vues par J.Scott Campbell.
Game Girl Under Water – Les jolies filles de Sakimichan. Mythology Pinups. Girls in their undies VS. Zombies – Filles en sous vêtements contre zombies. Michael Jackson, Bruce Lee, Dark Vador – La vie des célébrités racontée en pictogrammes. I got 5 on it et les tatouages princesses Disney – 11 superbes illustrations de Telegrafixs. Strawberry Girls – 11 illustrations pop et colorées par ElectronicRainbow. Water Lilly et autres illustrations de Cellar-fcp. Babydoll – Les filles de Warren Louw, illustrations et CG. Flesh – 12 créations à tomber de l'artiste Stuntkid. Jessica Rabbit – 15 illustrations en hommage à la plus sexy des femmes en rouge. Jessica Rabbit – 15 illustrations en hommage à la plus sexy des femmes en rouge Une sélection de 15 très belles illustrations du personnage de Jessica Rabbit, la sexy et pulpeuse femme en rouge du film "Qui veut la peau de Roger Rabbit".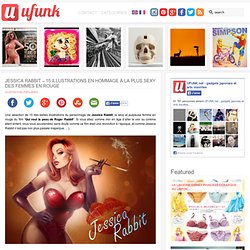 Si vous étiez comme moi en âge d'aller le voir au cinéma étant enfant, vous vous souviendrez sans doute comme ce film était une révolution à l'époque, et comme Jessica Rabbit n'est pas non plus passée inaperçue… ;) Filles Sexy et Univers Geek – 22 illustrations de Artgerm. Le calendrier sexy 2012 des Princesses Disney Pin-Ups de J.Scott Campbell. Fresh Love – Faire l'amour sous plastique, un projet de Photographer Hal. Goth beauty. Paquerette bleue (felicia amelloides) - JardinBrico. Gothic Burgundy Black Lace Satin Bow 5 Inch Heels 7.
Sale Sale Sale. Sterling Silver Amethyst Dragon Cigarette Holder. Cigarette Holders - Formal Opera, Theatre, and Dinner Length, Meerschaum, Gold, Silver, Telescoping. Slim Cigarette Holders - The Lady Smokes. Cigarette Holders - Formal Opera, Theatre, and Dinner Length, Meerschaum, Gold, Silver, Telescoping. Fume-cigarette - Pipe Chacom - Traditionnellement... Moderne - Depuis 1825, créateur et distributeur de pipes - CHACOM Jura.
Fume cigarette chacom lady irisé mauve. Fume cigarettes Chacom trois longueurs violet pour trois styles, élégance sans pareil. Fume cigarette - 42.00 € TORAYA -Wagashi?- Tamayura : le bel Esprit du Thé Japonais. SAISON :: restaurant JapaneseMediterranean. A LA CARTE. Just like a circus. Just Bento | a healthy meal in a box: great bento recipes, tips, and more. Makiko Itoh : Not a nameless cat. | profoundly irrelevant. Just Hungry | Japanese food! Authentic, mostly healthy Japanese recipes for everyone.
Boucles d'oreilles diamant noir 0,210cts | Doux Joaillier | Caratime.com. Or jaune, or blanc, platine ou palladium | Bijoutier à Paris.
---