English language
Thesaurus.com | Find Synonyms and Antonyms of Words at Thesaurus.com. The Top 10 Relationship Words That Aren't Translatable Into English | Marriage 3.0. Here are my top ten words, compiled from online collections, to describe love, desire and relationships that have no real English translation, but that capture subtle realities that even we English speakers have felt once or twice.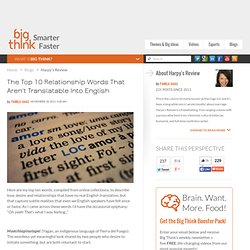 As I came across these words I'd have the occasional epiphany: "Oh yeah! That's what I was feeling..." Mamihlapinatapei (Yagan, an indigenous language of Tierra del Fuego): The wordless yet meaningful look shared by two people who desire to initiate something, but are both reluctant to start. Oh yes, this is an exquisite word, compressing a thrilling and scary relationship moment.
It's that delicious, cusp-y moment of imminent seduction. Steve Jobs' 2005 Stanford Commencement Address. English Language (ESL) Learning Online. Longman English Dictionary Online.
---