Inspiration
Get flash to fully experience Pearltrees
Fast Company wants you to have your best year yet in 2012; click for more advice and tips on how to work smarter, manage your career, and lead a more meaningful life. "You get up at what time?" I hear that a lot, along with "You are so lucky." So, I'm going to help out here and let you in on the secrets of my success. Well, not all of them--but enough to show you the foundation I build on every day. 1.
Are you asking the right questions? Inspiring minds want to know. The right question can be just the right prompt to inspire you to action, gain better perspective, or help you make the most of any situation. Here is a set of 101 of my favorite questions that I draw from whether it's to shape my day, solve a problem, figure out next steps, or get "on path." What's the way forward?
Saturday, January 2nd, 2010 Cross Posted (& Edited) from Linda's Yoga Journey HEALTH: 1.
Developing good habits is the basic of personal development and growth.
Email When we were young life was easier, right? I know sometimes it seems that way. But the truth is life still is easy. It always will be.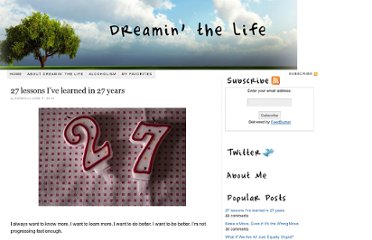 I always want to know more. I want to learn more. I want to do better. I want to be better. I'm not progressing fast enough. But sometimes you have to stop, and look back and realize you've come along way.
Image by kalandrakas . Assuming rapport. This is definitely one of the best social skill tips I have ever learned about. Unfortunately I've forgotten a bit about it lately.
Photo by The Half-Blood Prince
By It usually takes us much longer to change our moods than we'd like it to take. Here are ten things you can do in ten minutes or less that will have a positive emotional effect on you and those you love. . See it online at Oprah.com . This is a deeply moving segment that may be the best ten minutes you've ever invested in front of a computer.
Contrary to popular belief, you don't have to make drastic changes in order to notice an improvement in the quality of your life. At the same time, you don't need to wait a long time in order to see the measurable results that come from taking positive action. All you have to do is take small steps, and take them consistently, for a period of 100 days. Below you'll find 60 small ways to improve all areas of your life in the next 100 days. Home