Google+
Monday, 18 July 2011 20:00 Google+ , Google's new social network, counts already 10.000.000 users! If you are a Google plus user here are some extensions for Chrome that will improve your experience!
Useful Google+ extensions for Chrome
18 Essential Google+ Tools, How To's, And Resources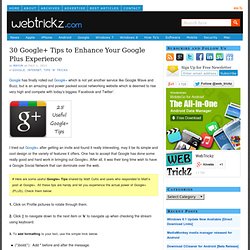 Google has finally rolled out Google+ which is not yet another service like Google Wave and Buzz, but is an amazing and power packed social networking website which is deemed to rise very high and compete with today's biggies 'Facebook and Twitter'.
Google+ Cheat Sheet
List of hangouts at Google+