Google+
Homepage - Google+ Suggested Users. Useful Google+ extensions for Chrome. Monday, 18 July 2011 20:00 Google+, Google's new social network, counts already 10.000.000 users!
If you are a Google plus user here are some extensions for Chrome that will improve your experience! 18 Essential Google+ Tools, How To's, And Resources. If you are beginning to spend time exploring Google's new social network, Google Plus, check out these posts to see how they might be relevant to you.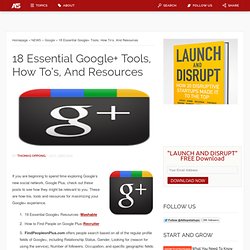 These are how-tos, tools and resources for maximizing your Google+ experience. 25 Google+ Tips to Enhance Your Google+ Google has finally rolled out Google+ which is not yet another service like Google Wave and Buzz, but is an amazing and power packed social networking website which is deemed to rise very high and compete with today's biggies 'Facebook and Twitter'.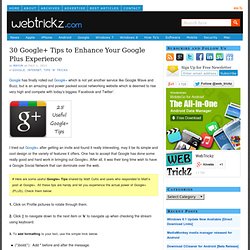 I tried out Google+ after getting an invite and found it really interesting, may it be its simple and cool design or the variety of features it offers. One has to accept that Google has done some really good and hard work in bringing out Google+. After all, it was their long time wish to have a Google Social Network that can dominate over the web. Google+ Cheat Sheet.
[+]Hangout. Google Plus | LiveOn+ Google+ Getting Started. Google+ Powerful Circles. List of hangouts at Google+ News on Google+
---